Maybe the word receding hairline might be new to you! Yes, a receding hairline is the process of hair thinning and hair loss due to aging and other factors. When you enter the age of 35 plus, it's normal for all, that the hairline will move slightly upward above your forehead and the hair starts thinning from the crown area. For men, typically starts from the age of 35 plus and in case, if its starts happening between your teenage or 20 plus, then it needs to be treated immediately to reverse the effects.
Continue reading this article to know more about receding hairline and its treatment procedures.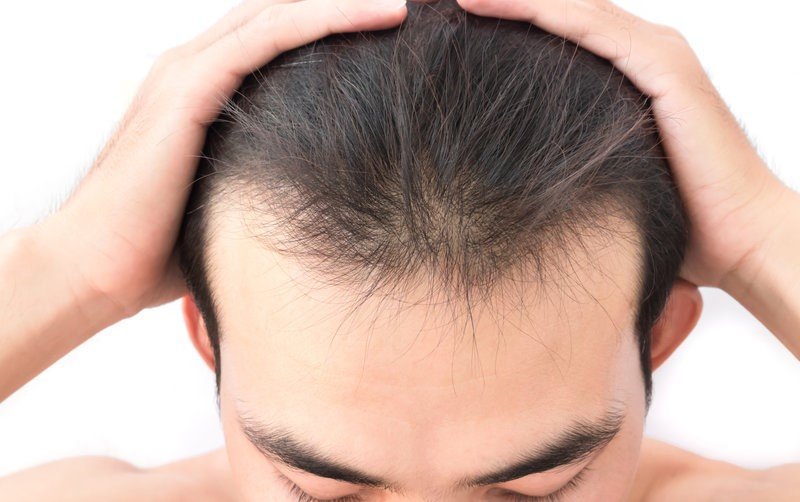 Receding Hairline and Age
Receding hairline is most common among men and it can start to develop as they get older. Women may experience hair thinning, and men may undergo the phase of hair receding. In rare cases, women also have the chance to have a receding hairline. 
This condition probably starts once we enter the age of 35, irrespective of gender.
How to Stop & Control Hair Fall with PRP Treatment?
What are The Symptoms of a Receding Hairline?
Commonly, a receding hairline can start after the age of 3o, but in some cases, a receding hairline can start at any time after the end of puberty. In the initial stage, the receding hairline starts above the forehead and then to the crown area. Under this condition, this receding hairline leaves a ring shape or M shape baldness around the top of the head. For some people, the receding hairline can start above the temples, and in the middle area, hair may stay closer to the forehead. And this results in V-shaped hair growth and this is called a "widow's peak".
What Causes a Receding Hairline?
Do you know, on average a person's scalp has about 100,000 hair that grows from hair follicles beneath the scalp surface? Usually, hair falls will happen and this will be replaced by new hair strands. You might have noticed that more hair loss every day. If your scalp condition is good and if you have healthy hair growth, then you will experience hair regrowth. In case, if your hair follicles are damaged, or there is some reason that collapses the hair growth cycle, then receding hairline & hair thinning will occur.
Family history
The main reason behind receding hairline is due to hereditary problems. It has been stated that hair follicles are more sensitive to certain male hormones. So, men, who have a family history of baldness, is more likely to lose their hair. Even the thinning of hair is also often similar from generation to other.
Hormone changes
The next thing that induces a receding hairline is – Hormonal Fluctuation. Hormones play an important role in hair growth and hair loss. For example:  when you are in the menopause stage, you may experience thinning of hair.
How is a Receding Hairline Diagnosed?
Once you start noticing a receding hairline or unusual hair loss, you need to consult your dermatologist to understand the type of hair loss you are having. Your doctor will ask about your personal life, medications, and family medical history to confirm whether its hairline receding or normal hair loss.
Your doctor will perform a test called "Pull Test". While performing this test, your doctor will pull out few strands of hair from your head to see how strong it is or how easily it can fall out.
They can also perform a biopsy of scalp tissue or hair strands to determine whether the hair loss is due to scalp infection. To do this biopsy, your Trichologists will remove a small amount of tissue from the scalp, and then it will be tested in a lab for the symptoms of infection.
There are many conditions such as thyroid, blood pressure, and stress which can contribute to hair loss. So you may also have a blood test to look for other conditions.
How is a Receding Hairline Treated?
After diagnosis, your doctor will come to a conclusion whether the receding hairline is due to age-related problems or due to scalp infection. In case, if the hair thinning and hair receding is due to the aging factor, and then there is no need for treatment. If a scalp infection or any other medical condition is causing hair loss, then proper medication needs to be administrated.
Medications
If you want to slow down or revere hair loss, you can try out medications such as Minoxidil (Rogaine). This over-the-counter medication is very effective in treating scalp infections. This medication comes in the form of liquid, which you can rub into the scalp. Doing this regular basis will help in restoring hair growth and reduce the chances of hair thinning. In some cases, there are some possible side effects such as – scalp irritation. So, it is advisable to consult your doctor before using this medication.
There is also another drug available in the market which is called finasteride (Propecia). This comes in the form of a pill and this can promote hair growth. Like Minoxidil, this will also come with certain side effects such as reduced sex drive and a higher risk of prostate cancer.
Finasteride for Hair Loss: Uses, Dosage & Side Effects
Surgery
Next to medications, people who are suffering from the utmost risk of receding hairline can go through hair restoration surgery. Under this process, a small section of scalp and hair follicles from the back of the head will be transplanted to areas that have ceased to grow hair. This will help to grow hair healthily in the new location.
What is the Outlook for a Receding Hairline?
Once you enter into the phase of receding hairline, it will look like a bald or a slight change in your hairline. Further, hair thinning can start around the forehead area which makes things very worsen. Fortunately, there are few medications and surgery which can help to restore hair growth in the affected areas.
Are you experienced receding hairline or hair thinning? Book your FREE Consultation with our experienced dermatologists in Hyderabad at ChooseClinic and regain the look of your natural hair!