Are you facing severe hair loss? It's a common problem faced by both men and women irrespective of their ages. Hair loss has become a major problem for this generation due to environmental issues such as pollution, food habits, stress & anxiety, and improper hair care routine, and so on. Are you looking for the best treatment to stop and control hair fall? Say a big "NO" to those chemical supplements, oils, and false-proved shampoos. Today we are going to discuss the FDA Approved hair fall treatment called PRP Treatment. This treatment is now considered a boon for all those who are suffering from severe hair loss and small batches of baldness. Okay, let us continue discussing – What causes hair fall and the hair loss treatment in Hyderabad.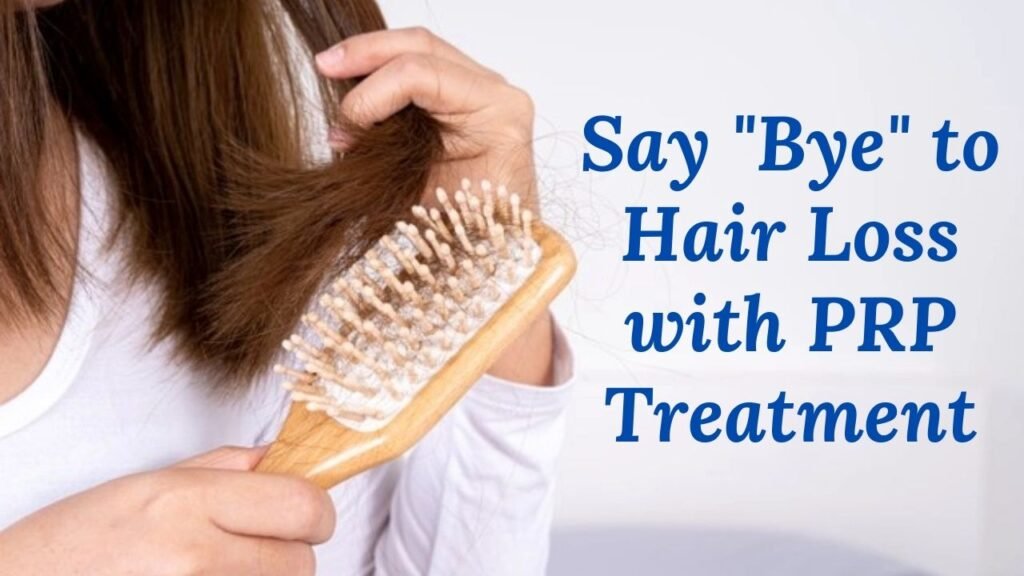 What Causes Hair Fall?
Normally, humans shed between 50-100 strands of hair per day. Hair shedding is a normal process, some hair falls out and others might grow in. When the hair regrowth phase is stopped and hair loss exceeds the normal limit, then the problem arises. The severe hair loss and the interruption of hair regrowth will be called Alopecia Areata.
The common cause of hair fall includes:
Hormonal imbalance
Vitamin deficiency
Pregnancy or menopause
Health issues such as thyroid, depression, arthritis, etc.
If you face severe hair loss, consult with your dermatologist to analyze & to determine the underlying reason behind your hair loss. Once you diagnose the cause for your hair fall, then you can get advice from your doctor to find a better hair care treatment to stop and to control hair loss.
Factors Influencing Hair Fall
There are many factors that can speed up hair fall in both men and women and listed below are the few among them:
Age – Once you crossed the age of 35, your hair becomes weak and tends to fall and this results in the reduction of hair density.
Stress – Stress and anxiety can increase the secretion of hormones such as cortisol and adrenaline which triggers hair fall.
Smoking – Smoking can damage the blood vessels, and this reduces the supply of blood circulation to the hair follicles and scalp which makes the hair strands weaker and results in hair loss.
Diet Routine – Foods you intake affect the health and appearance of your hair. If you follow a diet low in protein, iron and folic acid, and vitamins, you may experience severe hair loss. So maintaining a healthy diet is a must to stop and control the hair shedding process.
Environmental Things – Air pollution and water pollution play a major role in damaging your hair and make your hair dry and brittle.
Hair Loss Treatment in Hyderabad
In Hyderabad, you can find some of the best treatments for hair fall and one of the most popular treatments is called PRP (Platelet Rich Plasma). This is an advanced procedure to control the hair shedding process and to restore the growth of new hair in the bald area. The procedure used for PRP treatment is simple, wherein, the platelets are being separated from the client's blood and the health-rich portion of the blood is injected into the client's scalp using fine syringes.
Why Choose PRP Treatment at ChooseClinic?
Are you looking to get PRP treatment to stop or control hair fall? ChooseClinic is one of the best aesthetic clinics in South India. We have successfully assisted thousands of clients with all their derma issues. Below we have enlisted the reasons why you choose ChooseClinic for your PRP treatment, have a look:-
We work with a team of experienced, professional, and friendly dermatologists and trichologists who are always available to assist you.
All our therapists are thoroughly trained and certified to carry out PRP procedures.
We provide a FREE initial consultation with our expert's prior PRP treatment; which helps you to know more about us and the results after treatment.
The equipment we use for all the aesthetic treatments are US FDA Approved; also, we sterilize all the machinery to ensure 100% safety.
For this PRP treatment, we use a double spin procedure to separate the high rich plasma content; to ensure you receive the highly concentrated plasma which gives 100% results.
We ensure the session will be completed within an hour with ZERO downtime.
Benefits of PRP Treatment
Have you decided to undergo the PRP treatment at ChooseClinic? It's really a good decision! Now let me explain the benefits you will enjoy after undergoing the PRP treatment:-
Since we are inserting the rich platelets into the scalp, you will see noticeable benefits such as – reduction in hair loss; and hair will be regrown as thicker and stronger.
ZERO side effects or infection will be there, as PRP treatment is considered to be very safe; also, doesn't cause any form of allergy or irritation.
PRP treatment for hair loss is the non-surgical treatment is efficient and safe for all; irrespective of their gender and ages.
Since no chemicals or fillers are used for this treatment, it is 100% safe and pain free. This process requires your own blood and its rich platelets.
Summary!
Hope now you are aware of – Why to Choose PRP treatment and the benefits of opting PRP treatment in Hyderabad. With this advanced treatment, now there is no need to worry about your hair fall.
Book your FREE Consultation with us at ChooseClinic & get ready to enjoy your curls again!