Is your bundle of joy is smiling at you, while you are reading this blog! A new baby brings so much joy and happiness to a family! It's an exciting time to spend your little one, but at the same time, you should take some time in your hectic schedule to take of your health. With a long list of post-partum issues, hair loss after delivery stands at the first. Not only you, but most women experience significant hair loss after giving birth. As there are so many other things to discuss, usually as a new mom, you will not notice that you are losing your locks. Within few months, you will start noticing the visible signs of hair loss, when you look at the mirror. At that time, you will realize the post-partum effects on hair loss. If you're the one who is suffering from hair loss after delivery, then continue reading this article to know the tips on How to Reduce Hair Loss after Delivery.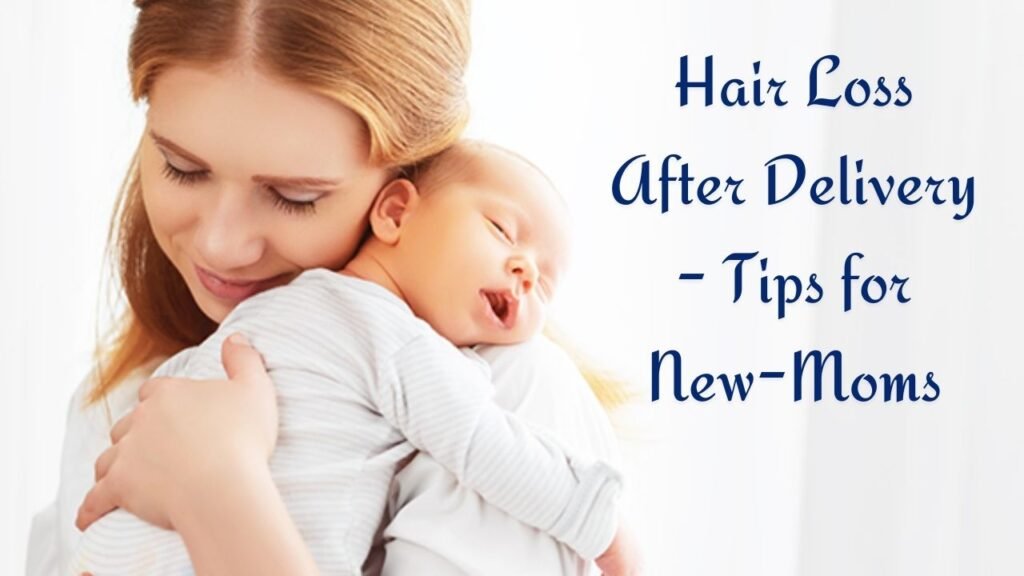 What Is Postpartum Hair Loss?
Pregnancy is the most mesmerizing moment for any woman. The joy of carrying the small baby brings more pleasure, fun, and makes those baby bump days more memorable. While preparing to welcome the new little one to your family, you may experience many biological and emotional changes which affect your physical and mental health. Once you delivered the little one, your body will start its journey to go back to the pre-pregnancy state. And these hormonal changes add more stress and anxiety and all these will end up in postpartum hair loss. However, this post-partum hair loss is not permanent, as mostly stays until a year or two. So you need to follow a proper hair care routine to reduce or stop hair fall post-delivery.
Read more about Causes Of Hair Loss In Teenagers: Treatment And Prevention
Is Hair Loss Normal After Delivery?
Yes, experiencing hair loss after delivery is normal. Most of the women face these hair loss issues right after the delivery and a few within 1 or 2 years after the delivery. So, if you start experiencing hair fall and hair thinning, don't ever get panic and stress. All you need to do is give bit attention and maintain your healthy & balanced diet; so it will help to bring the things back to normal within a year.
Signs of Postpartum Hair Loss
Usually, for women, it's common to lose around 50-100 strands in a day. But right after the delivery, you will see a lot of hair falling out each day. Few signs of postpartum hair fall include:
You will notice a chunk of hair coming out every time whenever you comb your hair
You can see more hair strands on your pillow when you wake up in the morning
While taking bath, you can experience hair clogging the drain
When you try to de-tangle your hair, you would see a lot of hair coming out.
Try out these: 7 Best Tips to Regrow Thicker Hair Naturally
What Are The Causes Of Hair Loss After Pregnancy?
New-moms are always experienced continuous stress due to sleepless nights, delivery pain, and hormonal changes, and so on. Since we can't able to undo the effects of hormonal changes, but we can do something from your end to take the stress level at bay, which causes hair loss & hair fall. To initiate the procedure to take care of a hair routine, first, you need to be aware of the causes of hair loss after pregnancy. Let us discuss that first here:
Oestrogen Hormone – During the months of pregnancy, you may experience a rapid increase in the level of Oestrogen hormone, especially during the 1st trimester. But right after the delivery, the level of this hormone drops down and this affects the hair growth cycle which results in hair loss.
Stress – Right after your childbirth, your stress will be at the next level. There will be immense emotional, physical and mental stress, all these will trigger hair loss and will reduce hair thinning.
Postpartum Thyroiditis – Even though, it is not common for all. But for few new moms, will experience a spike in thyroid gland inflammation, right after the delivery. And this will also be the reason behind a lot of hair fall.
Lack of Balanced Diet – During your delivery phase, your body undergoes immense hormonal changes and blood loss, this makes your body feel tired and unhealthy. And this makes your hair follicles weak which results in hair loss. So to make this, you need to intake a balanced healthy diet.
Lack of Blood Flow – During the delivery phase whether it's normal delivery or C Section, there will be blood loss, and this spikes anemia. And this results in a lack of blood flow on the scalp and which results in hair loss.
Lack of Proper Sleep – As everyone understands, being a new mom the first thing which you will sacrifice is your sleep and rest. Lack of sleep will make you feel tired and this increases your stress level. This causes a lot of hair to fall after post-delivery.
What Is The Treatment For Hair Loss After Pregnancy?
Are you looking for a treatment for hair loss after pregnancy? For normal postpartum hair fall, doctors will not prescribe any medications or hair loss treatments but in case of severe cases, you would need the below.
PRP (Plasma Rich Platelet) – It's a therapeutic treatment that helps in regrowth and restoration of the receded hairline. In this process, the plasma extracted from the patients' own blood is injected into the scalp. And this rich plasma stimulates the growth of hair follicles and brings about new hair growth.
For more info on PRP: PRP Hair Loss Treatment in Hyderabad
Medications – Approved by USFDA, the drug named minoxidil (foam or solution form) can be used for hair regrowth. This will work better in treating hair loss and hair thinning.
Biotin Supplement – To reduce postpartum hair loss, you can use biotin-rich shampoos and conditioners which are fortified with Biotin. If required, you can consult your dermatologist before you start using this supplement.
Include more Vitamins Supplements – Make sure to include more vitamin-rich foods in your daily diet after postpartum. You can get help from your doctor or dietician who can guide you on the best dosage of vitamin to be included daily.
Note: Before trying to incorporate any of these tips or treatments, it's always advisable to check with your gynecologist.
Read more about Minoxidil Topical Solution For Hair Loss & Its Uses, Side Effects
How to Reduce Hair Loss Post Delivery?
Since the hair loss after delivery is because of hormonal changes. You can't able to control the hair fall, but you can do something from your end to prevent it from getting severe. Here are a few of the tips which you can follow to reduce hair fall soon after the delivery:-
Focus on your diet – After delivery, make sure to take a balanced diet in terms of vitamins and minerals. We understand that you will never get that much time to take care of your health, as you were busy with your little one. But you must find your own time to make sure that you eat a good and healthy diet.
Get a Good Sound Sleep – This may sound funny for new moms, but you should find some time to take proper sleep. This is because your body needs more rest after delivery. The best way to get some sleep is to try sleeping while your little one is asleep.
Read more about Alopecia Areata – Symptoms, Causes and Treatments
Follow a Good Hair Care Routine – Wash your hair regularly with mild shampoo and conditioner. And avoid excessive brushing of hair, as your hair follicles are weak, it may fall out.
Don't tie your Hair Too Tight – Using tight hair accessories such as rubber ponytail holders or hair clips can break your hair. So use bandanas, scrunches to keep your hair in place.
Summary!
Hope I have shared the ideas which I found in regards to hair loss after delivery! If you are facing severe hair loss after delivery or looking for the best solution to take care of those curly locks, Book your Free Consultation with our experts at ChooseClinic.
Get ready to flaunt with healthy & glowing hair in front of your bundle of joy!