Hair is the most important feature that enhances your beauty. Hair regains your confidence. Due to modern lifestyle, food habits, genetics, hair fall or hair loss became major problem almost among the people of all age groups. Hair loss is most common in both men and women. Baldness is seen in most men at the age of 30, not only men, women also experience with baldness. In women it is less noticeable due to the long hair.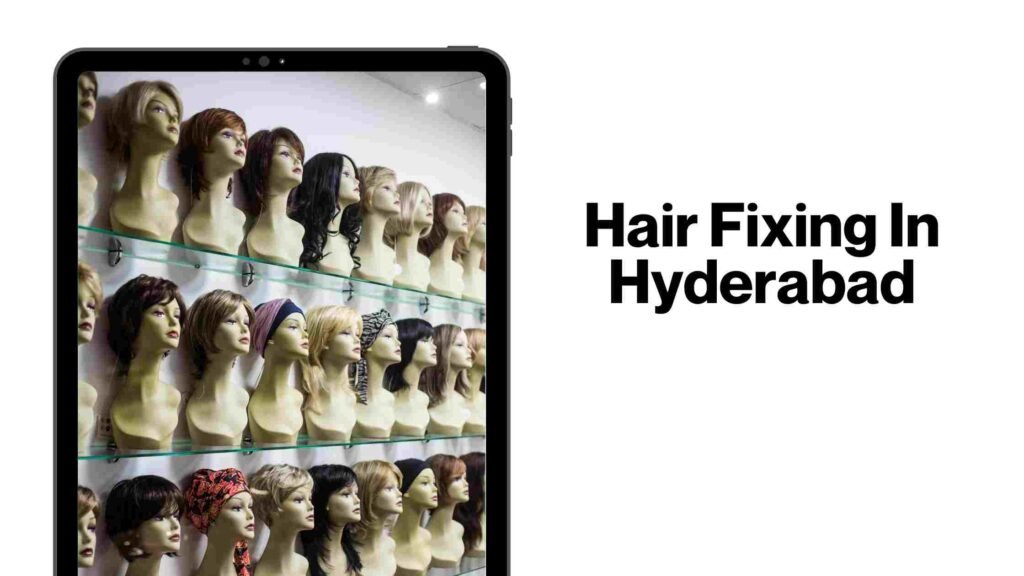 Now, you no need to worry about your hair loss or baldness. Hair fixing can give younger look and enhances your beauty, and boost your confidence too. Wig hair is the best option and gives you smart solutions to your baldness and hair loss.
Read more about PRP Hair Loss Treatment in Hyderabad
Know Why To Go For Hair Fixing Treatment?
Hair fixing treatment is a non-surgical method for treating your baldness and hair loss of all age groups. It is convenient for both male and female suffering with thinning of hair or hair loss. Hair fixing treatment or attachment can be done without surgery. This is pain free process and there is no recovery time you can do all your regular activities without any hesitation.
   It is non- surgical hair replacement to cover up your bald area. This treatment uses best quality of silicon adhesive to fix your patch which is skin friendly. After this treatment you can travel with out no restrictions, shampoo your hair etc.
Read more about Best Topical And Oral Antibiotics For Acne In India
Benefits Of Hair Fixing
Benefits of hair fixing are:
Fast method to treat baldness
Customized
Non-surgical method
Low maintenance
Makes you look younger
Looks natural
Boost your self-confidence
Available in various colours and textures
Can be customized as per your comfort
Done by professionals
Read more about PRP for Hair Loss: Does it Work, and Is It Safe?
Our Non- surgical treatments give you guaranteed results for many people. Hair fixing is a best solution for the people who are suffering with baldness, androgenic alopecia and it is best for people who are looking for non-surgical methods to regain head full of hair.
Hair loss is a very common issue faced by many people and continues hair fall and no regrowth of hair can be considered as baldness. We prescribe you a specialist to analyse your hair condition and suggest you about alternative treatments.
Our expert team will provide remarkable hair fixing service and also capable to meet customers demands and provides you best solution in hair fixing.
Cost Of Hair Fixing
Cost of hair fixing usually ranges between RS.40,000 to Rs. 1,00,000. It is based on the type of hair colour, length, density, texture etc. May vary in price, also based on the reputation and brand of the clinic.
FAQ'S
What is Hair Fixing?
Hair fixing is a non-surgical hair replacement method to cover your baldness. Hair fixing can be done by professional hair experts. It is best treatment to solve your baldness solutions, it is time saving process in affordable prices.
Will Hair Fixing Procedure Give Natural Look?
Yes, hair fixing procedure gives you natural look and also provides you head full of hair and natural feel as that of your hair.
Can I do regular activities after this treatment?
Yes, hair fixing treatment cannot disturb your regular activities, after the treatment you can go for swimming, can wash your hair, can sleep and also exercise etc. It also best for any weather conditions.
Will it Detectable?
There are no worries this is completely undetectable and gives you natural look with natural head full of hair, volume, length, texture and makes you look young and most beautiful.
Hair fixing is painful?
Hair fixing is a non-surgical method which covers your baldness on the head and it is completely painless procedure to treat your hair thinning or hair loss.
Non- surgical hair replacement is a best solution for the people who are facing with baldness in both men and women. We provide hair pieces by taking measurements of your balding area and it matches your original hair texture and colour and also it is skin friendly. If you are looking for best hair fixing services book an appointment with us.