Male pattern baldness – this is the most common form of hair loss, which men used to suffer a lot. As per the research, nearly 58% of men experience male pattern baldness once they enter the age of 30-50 years. The main reason behind this baldness is mostly due to a hereditary form of hair loss. Are you the one suffering from pattern baldness? Are you looking for a solution to get natural-looking hair? Continue reading this article! For sure, you will find out the right solution for your pattern baldness issue.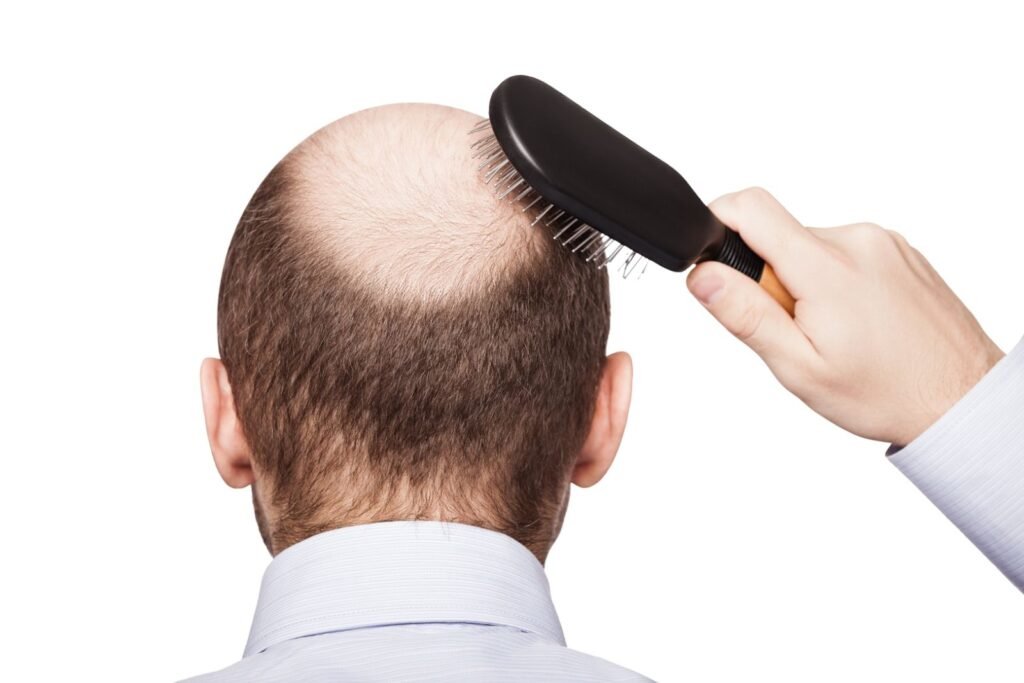 What is Male Pattern Baldness?
As mentioned above, this hereditary hair loss is called androgenetic alopecia. This condition causes progressive hair thinning and this ultimately reduces the growth of hair in the head. Under this male baldness, men usually start losing hair from their forehead and then the hairline starts to lose gradually at the back of the head and on the center part.
Having pattern baldness can affect your personality & also your confidence. So, don't wait too long! Contact your Trichologist and get the right treatment for your hairs loss issue.
Why Do I Have a Receding Hairline?
Things to Know About Male Pattern Baldness
If you are newly experiencing male pattern baldness, there are many more things that you need to make count. Below are a few of the important facts that you need to know about pattern baldness.
Not only you, more than 55% of men in India are affected with pattern baldness
Starts from frontal headline, the hair starts receding and form a letter "M" shape and bald patches on the crown area.
This is the most common condition which can be dealt easily when it is detected in the early stages.
Before undergoing the treatment, you need to do a thorough medical history and physical examination with the help of an experienced dermatologist
This condition mainly affects the men who are in the age group of 30-50 years.
What Causes Male Pattern Baldness?
One of the main causes of male baldness is a genetic disorder. If you have a family history of baldness, then you may have more chances of getting baldness. Pattern baldness is mainly associated with the male sex hormones called androgens. This hormone plays an important function in regulating hair growth.
Each hair strands in your head have its own growth cycle. Once you enter the age of 35, the growth cycle of the hair starts to become weak, and the hair follicle shrinks and affects the growth of hair.  And this makes the growth cycle of the hair end and no new hair will grow in its place.
If you are having pattern baldness due to a genetic disorder, then there are no side effects of having that. On the flip side, if you are taking medications for – cancer, thyroid conditions, or anabolic steroids, then also your hair strands will become weaker. So, if you notice that you are losing hair after taking any new medications, see your doctor immediately to figure out the right solution to reduce hair loss and strengthen your hair growth cycle.
Your doctor may perform a medical history and analyze whether the male pattern baldness is caused due to genetic disorder or due to such fungal condition of the scalp or other disorders.
Other scalp issues such as peeling of the scalp, rashes and redness, hair breakage, and patchy hair loss, may also result in inducing patchy pattern baldness accompanied with severe hair loss.  During the consultation with your doctor, a skin biopsy along with blood tests to diagnose the responsible for the hair loss.
Who's at risk?
Male pattern baldness can begin in your teenage years, but it more commonly occurs in adult men, with the likelihood increasing with
Commonly male pattern baldness occurs in men when they entered the age of 35 plus. But in certain cases, male pattern baldness can begin in your teenagers. In male-pattern baldness, genetics plays a big role. The chances of getting male pattern baldness are higher when your family members or relatives are on the maternal side of the family.
Am I losing my hair?
If you experience hair loss at the forehead or the crown of the head, then you may have pattern baldness. Some men will get a single bald spot or some will have patchy baldness.  And some people will experience hair receding in a form of "M" Shape. In some serious cases, hairline receding will occur until all or most of the hair falls out.
Tips to Regrow Thicker Hair Naturally
Techniques to address hair loss
Until and unless the hair loss is severe, there is no medical treatment is required! If you are unhappy with the way you look with male baldness and would like to have the appearance of thicker hair, then follow the below tips:-
Hairstyles
You can try different hairstyles and different hair cut to hide the places of patchy baldness. You can ask your hairstylist to look for a creative haircut that can make your head look fuller.
Wigs or hairpieces
In the market, you can find a different range of wigs, thinning hair, receding hairlines, and complete baldness. You can choose the best one based on your preferred color, styles, & textures. You can find get help from professional wig stylists who can help you to find the best wigs that look more natural.
Weaves
Weaves are also the same as wigs that is sewn into your natural hair. You must have enough hair to sew the weave. Compared to wigs, the main advantage of using weaves is, you can keep them on your head all the time, even you are swimming, showering, sleeping, or even while doing exercises.
Hair transplants
Compared to all the above mentioned, the best way to regain your lost hair is undergoing Hair Transplants. These hair transplants work by removing hair from areas for the scalp that has active hair growth and transplant them to balding areas of the scalp.
To get the best result of hair transplants, multiple treatment sessions are required. The advantage of undergoing hair transplant treatment is – it will look more natural and it's permanent.
Can hair loss be prevented?
Even you maintain a good skincare routine and good nourishing foods; there is no way to prevent male pattern baldness. Stress can also cause hair loss by increasing the production levels of sex hormones. So you can reduce stress by participating in stress relaxing activities by doing yoga, listening to calm music, etc.
Final Thoughts!
Male pattern baldness is something that we may experience in our life, so be prepared to face it! If you have any queries regarding male pattern baldness, you can get FREE Consultation with our dermatologist and Trichologists at ChooseClinic, the best skin clinic in Hyderabad!