PRP means Platelet-rich plasma therapy. RPP is a one of the most advanced procedures for treating hair loss or hair thinning which causes due to androgenetic alopecia, one of the common conditions that shrinks the hair follicle, this condition is known as pattern baldness. PRP is most effective method to regrowth the lost hair and also reduces the hair fall.
In this article you know more about PRP and its effectiveness, procedure, benefits, side-effects etc.
What is PRP?
PRP (platelet-rich plasma) treatment for hair loss is a three-step procedure in which a person's blood sample will be collected and separates the blood components with the help of a centrifuge machine which spins at a rapid speed. Then extracts platelets from the blood components.
These platelets are re-injected to the persons scalp, which have a wide range of growth factors and proteins that stimulates the hair follicles and promotes the hair growth.
  PRP is most popular method for restoring hair growth. PRP injections triggers natural hair growth by increasing supply of the blood to the hair follicle which results in increasing the thickness of hair shaft. Earlier PRP therapy is used to treat problems like injured tendons, muscles, ligaments PRP is very effective in treating injuries.
If you reside in Hyderabad, Choose Best Clinic with Choose Clinic for PRP Hair Loss Treatment in Hyderabad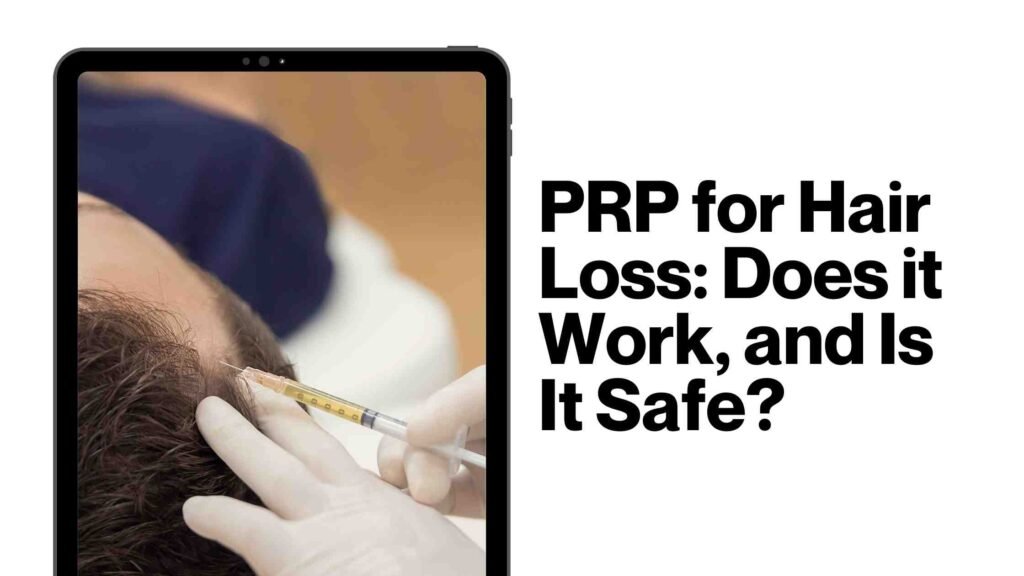 PRP Hair Treatment Procedure
PRP hair treatment is a three-step procedure it is explained below:
Step 1
In this procedure individuals' blood is collected from your arm region and blood is put in to the centrifuge. centrifuge machine is used to separate the blood platelets from the blood.
Step 2
Centrifuge machine ensures the optimal concentration of growth rich factors known as platelets. Your blood will have separated in to three layers.
Platelet-rich plasma (PRP)
Platelet-poor plasma (PPP)
Red blood cells
Step 3
Before injecting platelets in to individuals scalp trichologist activate the growth factors using activating agent. Later doctors inject the platelets in to the scalp with the help of microneedles.
They injected in to the scalp at the places of hair loss areas with the help of local anaesthesia to the scalp margin, so that you don't feel ant pian. PRP requires three treatments apart 4-6 weeks.
Is PRP IS Effective?
PRP hair restoration show effectiveness up to 70-90% on an average person. Usually, after two to three treatments a person begin to see increase in the rate of hair thinning and shows some hair regrowth. After 4-6 treatments of PRP also requires yearly maintenance. It tends to work better in younger people which causes due to genetic hair loss and thinning.
Some factors may reduce the effectiveness of PRP are smoking, if you continue to smoke it shows effects on hair thinning or hair loss or if the hair loss is due to some other medical conditions.
Most of the studies shows that PRP injections reduce the hair fall or hair loss and also increases the diameter of hair and improves hair density. PRP effects can vary from person to person based on their findings. However, it is difficult to conclude that PRP treatment is effective.
PRP Treatment Side Effects
   As PRP treatment involves, injecting persons own blood components in to the scalp. There are few risks for getting some communicable disease.
People Undergoing PRP procedure for hair loss may experience some side effects:
Swelling
Injury to blood vessels
Headache
Tenderness in the scalp
Itching
Pain and temporary bleeding at the injection site
Read more about PRP (Platelet -Rich Plasma) Hair Treatment Success Rate In India
Benefits Of PRP Treatment
PRP hair treatment is a safe procedure as it is performed by using person's own blood platelets.
Therefore, no risks of any infections, allergies.
Experienced dermatologists or trichologists perform this procedure with all the precautions and with safety.
Pain and discomfort during this procedure are minimal.
PRP treatment has no downtime and you can continue your works.
PRP is very effective in hair regrowth and stimulates the hair follicle.
The cost of PRP procedures is affordable to avail the benefits of hair regrowth.
PRP hair treatment leads to hair regrowth and reverse the hair loss process.
PRP treats the genetic hair loss alongside, people with androgenic alopecia or male/female patterned baldness.
You have to take follow sessions after the completion of the treatment to maintain hair growth.
How long does it last?
A person who are undergoing PRP treatment would receive multiple sessions up to 4-6 sessions to gain minimal results, also take follow up sessions yearly once to maintain hair growth results. At the same time medication which doctors used commonly to treat androgenic alopecia such as topical minoxidil and oral finasteride.
PRP sessions are based on the individual's response towards the treatment and conditions. Sessions may vary person to person. However, your doctor may suggest the treatment every 3-6 months, one year once your hair loss is under control.
PRP is the safest and non-surgical method for treating hair loss or hair thinning and reduces hair fall. If you are looking for the best PRP treatment for your hair loss problems choose the right clinic with choose clinic.