Now a days body hair removal for men has become a trend, Men also prefers hair removal as apart of grooming. Men also wants to clean their chest and stomach along with the facial hair.
   How to remove chest hair? There are many temporary solutions, but the laser hair removal is the best solution in long-term. It offers effective and painless procedure that one can get rid of unwanted chest hair.
 In this article, you learn more about the temporary methods and permanent methods and Laser removal for unwanted hair and its cost and how does laser work and many more.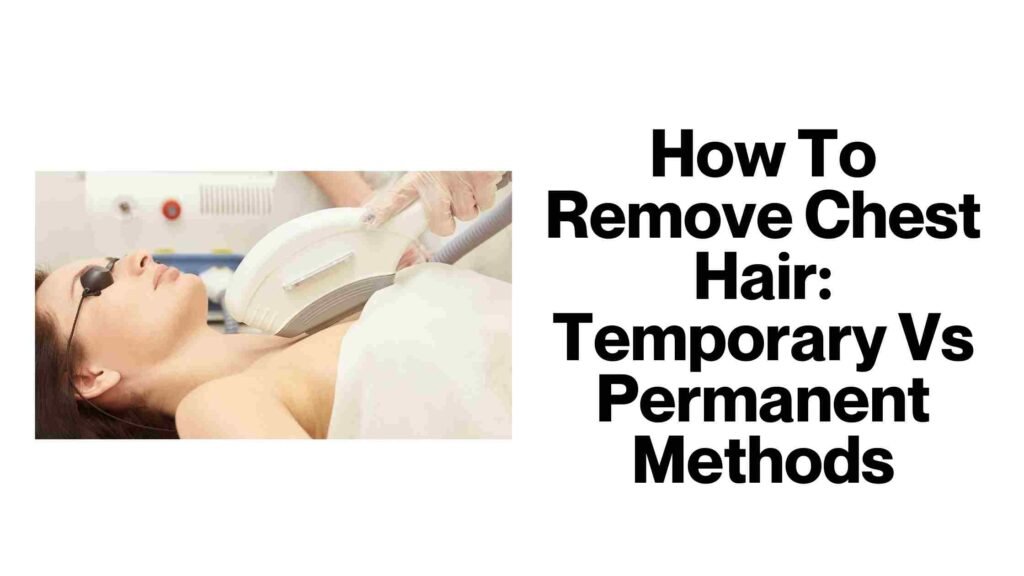 Read more about Laser Hair Removal in Hyderabad
What causes Excessive Hair Growth On Chest?
There are many factors that triggers hair growth rate in your body. It is better to understand about them that what are the reasons for having excessive hair.
Various studies indicated that genetic factors are mainly responsible for hair growth such as length of hair, color of hair, density of hair and texture and thickness of hair. As we know many people get effected by genetic hair loss, other cases have the genetic hair growth.
Hormonal imbalance causes due to the busy life, stress levels and related to the food we take etc. This can cause health issues. Some other factors such as sleeplessness or improper sleeping and food habits, not taking food in time etc can disturb your hormonal balances. As a result of this you may have noticeable changes in your body. One of such change is growth of unwanted hair in the chest, stomach, back areas etc.
Read more about Laser Hair Removal Cost for Face – Benefits, Procedure, Treatment
How to Remove Chest Hair?
There are several methods to remove the unwanted hair in men. Here are some hair removal methods for men:
Shaving:
Men can shave the chest with their regular razor and with a shaving foam as they shave their face. It is very common method to get rid of unwanted hair on the chest area at your door step with in few minutes. Although shaving the chest can irritate your skin and also causes rashes and razor burns and sometimes cuts due to razor are common.
Electric Trimming:
An electric trimmer is another best option after the razor, as it saves time and it is fast and easy method to remove unwanted hair at your door step. Whenever you need a hair free chest it is useful in hurry situations also. But the results of this last for very short time, the hair starts to grow within 2 days. It is a temporary solution.
Hair Removal Creams:
There are plenty of gels, creams, lotions and roll-on forms, presently available in the market. These types of depletions are very easy and temporary method to remove unwanted hair over your chest area. But it doesn't suit to everyone, some may cause burning and itching when they are using because these are alkaline and acidic in some cases. They may affect your skin and hair texture.
Waxing:
Waxing is a most common hair removal method in women and men. But most of the men cannot opt this method as it is very painful. You may have dense and thicker hair at the chest region and it is very painful. If you can bear the pain it can give to the smooth texture because it removes the hair shaft from the root by plucking.
Electrolysis:
Electrolysis is the oldest and permanent method for hair removal. It destroys the hair follicle. In this treatment they use a shortwave radio frequency for removing unwanted hair. They treat follicle by follicle as it is a time-consuming process. This treatment may include some risks such as scarring and infection due to unsterile needle.
Epilators:
Using epilators is an easy, fast, temporary methods to get rid of unwanted hair on the chest area. For this method you need an epilator. It doesn't give hair-free chest more than a week or 2.
Threading:
Threading or tweezing your chest hair may require more patience, as it is time-consuming process. It is painful and it is recommended if we have few strands of hair on your chest area.
Laser hair removal is the permanent and convenient method to get rid of unwanted hair.
Read more about Bikini Laser Hair Removal Cost in Hyderabad
Laser Chest Hair Removal
Laser hair removal is one of the common methods for the reduction of unwanted hair. It targets the hair follicle and destroy it. It may take number of sessions to get rid of unwanted hair based on the thickness and density your dermatologist may suggest you before the procedure.
How Does Laser Treatment Work?
It is an FDA approved technology. Laser hair removal is treatment uses an intense pulse beam light (IPL) sent through each shaft int o the hair follicle to destroy the root, that weakens the follicle and the hair follicle gradually fall out. Hair growth reduces in the area being treated. Some times it may leave baby hairs which are unrecognizable. Laser is the best method to reduce the hair on the chest. It is very advanced procedure.
Laser Chest Hair Removal Is The Best Option?
There are many benefits related to the laser hair removal, they are:
Painless procedure
Very effective
Safe method
Quick procedure
Performed by experienced dermatologists
Works on all skin types
Risk- free and convenient treatment
Read more about Laser Hair Removal Vs Electrolysis
Is It Safe?
Many people who are taking laser hair removal treatment they find that it isa pain free and safe treatment. Some experience minor side effects like itching, swelling, redness and pricking and it may disappear with in few days. There are no long- term side effects associated with this procedure.
What Is The Cost Of Laser Chest Hair Removal?
The cost of the laser chest hair removal varies between RS.5000 to RS.7000 per session. The cost of the laser hair removal may vary based on the factors like density of the hair on the chest, strength of hair, color of hair and skin, experience of the dermatologist who is performing the procedure, reputation of the clinic and the area it is located.
The hair on the chest and stomach are very course and dense and for each session up to 20% of hair responds for each session. So that you need 6-8 sessions of treatment is recommended and it might be different for every individual.
Conclusion
Laser hair removal is the most effective treatment for the reduction of chest hair, it is always important to get a customized treatment from an expert dermatologist, also avoid skin care products and parlour treatment before the appointment. After removal of the chest hair post care important and follow up the suggestions by your dermatologist. If you are looking for laser chest hair removal choose the best clinic with choose.clinic and seek treatments with best experienced dermatologists today.