PRP or platelet-rich plasma injections are gaining popularity for many conditions, including sports injuries to hair loss. In this treatment, the patient's blood cells accelerate healing in specific areas. PRP therapy for hair loss is a treatment done in 3 steps in which the patient's blood is extracted, centrifuged, and injected into the scalp.
Most doctors believe that PRP injections help in natural hair growth by increasing blood supply to the hair follicles and the hair shaft's thickness. However, sometimes PRP therapy is combined with other medications and hair loss procedures to achieve desired results.
Read more about Hair Transplantation Cost in Hyderabad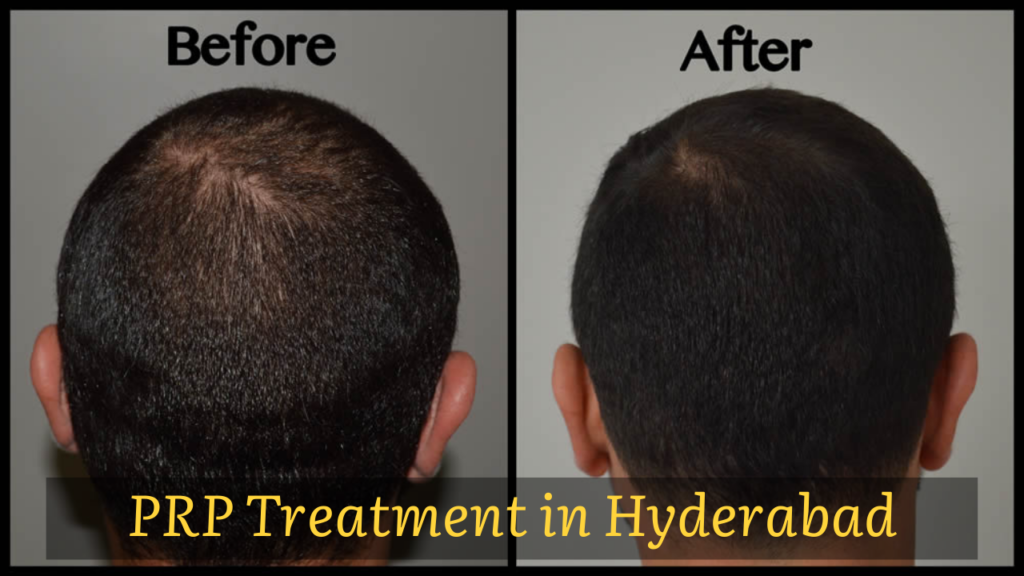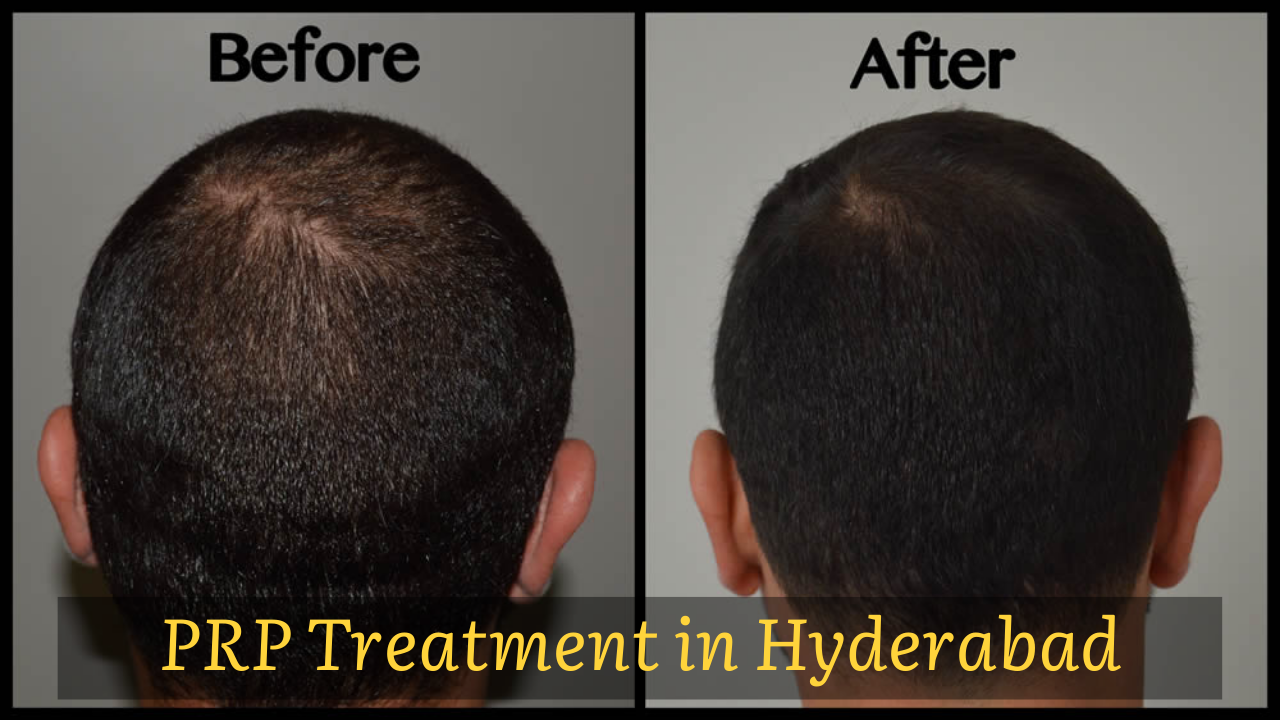 Since the 1980s, PRP for hair loss has been used. Still, there is not enough research to prove that PRP is an effective treatment for hair loss. Simultaneously many case studies have been published through multiple studies and research to establish the success of PRP In hair loss.
However, if your doctor has suggested PRP for hair loss and you are trying to do your homework before undergoing the treatment, this article will be helpful. We have gathered authentic information about platelet-rich plasma treatment for hair restoration from published medical literature to help you in your early stage of research in PRP treatment.
Read this article until the end to know everything you need about PRP for hair loss.
Try Out This: 7 Best Tips to Regrow Thicker Hair Naturally
| | | |
| --- | --- | --- |
| Treatment | Price | Sessions |
| PRP Hair Loss Treatment | 6999 | 3 |
| PRP Hair Loss Treatment | 9999 | 5 |
| PRP Hair Loss Treatment | 14999 | 7 |
PRP Hair Loss Treatment in Hyderabad for Reducing Hair Loss and Thick Hair
Read more about Minoxidil Topical Solution For Hair Loss & Its Uses, Side Effects
What Is PRP?
Plasma is a liquid component present in our blood. It is composed of proteins and water and provides some medium for red blood cells, white blood cells, and platelets to circulate throughout our bodies. Platelets, also called thrombocytes, are the blood cells responsible for blood clots and other healing functions. Platelet plays a crucial role in activating our body's natural healing process.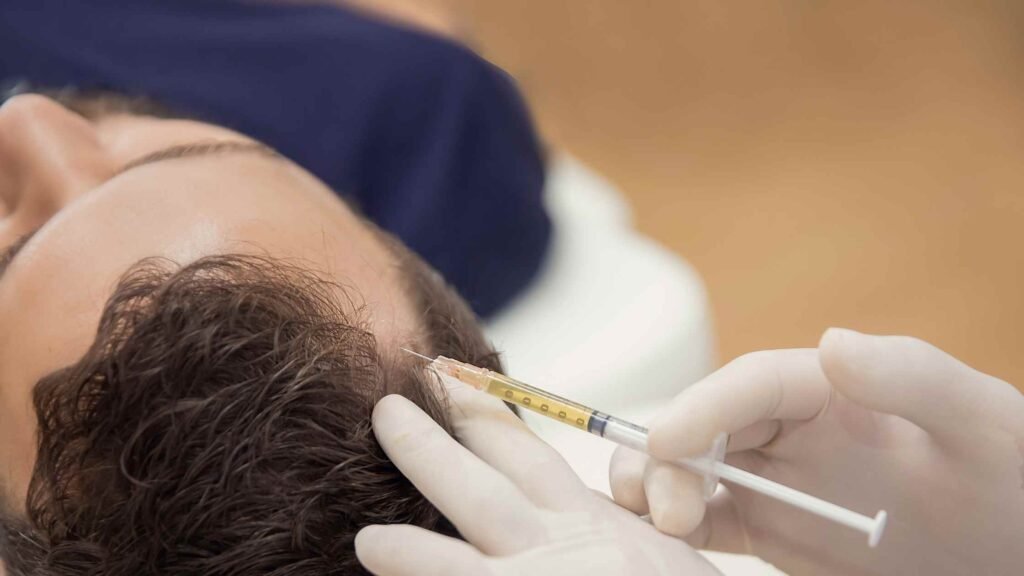 In platelet-rich plasma therapy, the doctors use injections concentrated with the patient's platelets to heal the injured ligaments, muscles, tendons, and joints. And that way, platelet-rich plasma injections are used for each patient's healing system and improve musculoskeletal problems.
To make the PRP injections, your doctors might take somewhere between one to a few tubes of your blood. Your blood is then centrifuged to concentrate the platelets. The activated platelets are then injected directly into the area where you want to release the growth factors and stimulate the number of reparative cells.
The doctors might take the help of ultrasound images to place the injections in the right places.
The History Of Platelet-Rich Plasma Therapy
Though platelet-rich plasma therapy is gaining momentum in the current scenario for being a safe, non-invasive and natural alternative that supports our body's ability to repair rapidly and regenerate from within, PRP treatment is not something that came into existence recently. PRP was first developed in the 1970s and used in 1987 in Italy in an open heart surgery procedure. Gradually platelet-rich plasma therapy was used for bone healing after spinal injuries and soft tissue recovery after plastic surgery in the mid-1990s.
After 2008, platelet-rich plasma emerged as a new treatment modality for hair regrowth. Additionally, many group studies and comparative analyses with PRP have been done, and the data highlighted the positive effects of PRP injections on male pattern hair loss.
On the other hand, Androgenic alopecia is a disorder characterized by progressive hair loss and can affect both males and females. And platelet-rich plasma technology has proven its benefits for the treatment of alopecia in recent reports. Studies of PRP to improve cutaneous ischemic conditions and increase vascular structures around her follicles have also been demonstrated, thereby making the PRP procedure an effective clinical treatment that brings quality results.
What Is The Process Of PRP For Hair Loss?
Platelet-rich plasma therapy is a 3 step process, and the doctors suggest at least three therapies 4 to 6 weeks apart. Every 4 to 6 months, the patients are also suggested to go for maintenance treatments to retain the results achieved from the treatment.
Now let's look at the steps of PRP therapy for hair loss.
Step 1:
In the first step, the doctors draw out blood from the patient's arm and put it into a centrifuge that rapidly spins the blood and separates the fluids based on their densities.
Step 2:
The centrifugation is done for 10 minutes, in which the blood separates into three layers, and platelet-rich plasma is extracted.
Step 3:
In the last step, your doctor draws the platelet-rich plasma into a syringe and then injects it into your scalp, which needs increased hair growth.
Studies are still going on to prove whether PRP is compelling enough for every patient with hair loss issues. It is also unclear under which circumstances PRP therapy is most effective. Though there is enough theoretical scientific basis to support that PRP therapy is used for hair restoration, its efficacy is still in its infancy.
How Is PRP Therapy Beneficial For Hair Growth?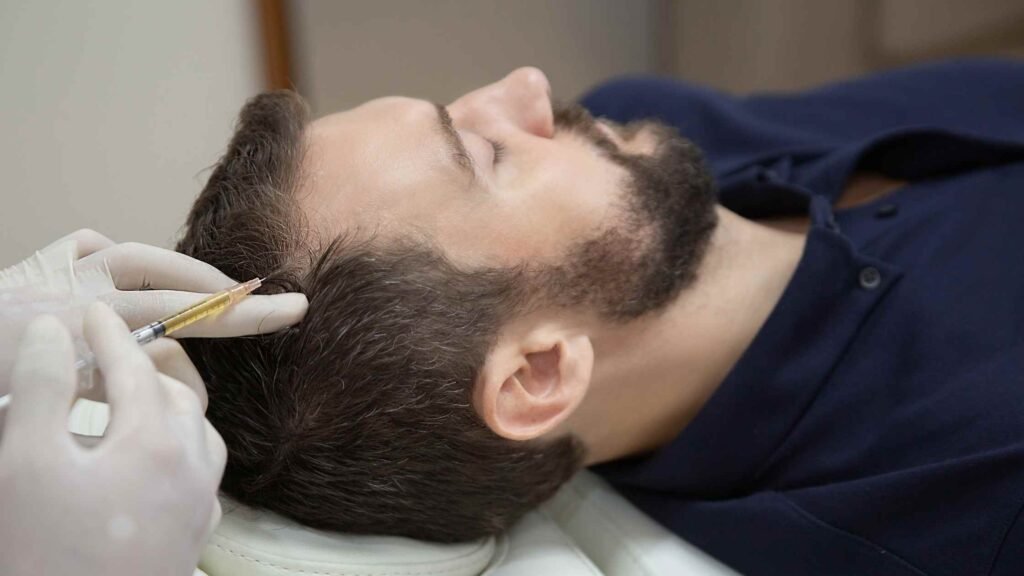 PRP treatment is effective if the patient has no bald patches and if their hair roots are still alive. PRP treatment can effectively rejuvenate the hair roots as it consists of specific growth factors to promote hair growth and make the hair stronger and denser again.
If you are using many treatments to bring back the lost shine of your hair, you can try PRP. And we ensure you will be surprised looking at its results. But remember, PRP treatment is only effective if your hair roots still survive on your scalp.
Some of the most commendable benefits of PRP therapy are:
· It provides strength to your hair and protects your hair from thinning.
· Increases the diameter of your hair.
· There are no cuts or incisions involved in this therapy since it is non-invasive
· It is a non-allergenic process since it uses your material.
· It limits hair loss within a month following the treatment.
· You get rid of fat dandruff on your scalp.
The Advantages Of PRP Therapy In Hair Transplantation:
Instead of getting a PRP therapy done as an independent treatment, if you are undergoing the same treatment for hair transplantation, you will get a different set of benefits from the therapy, including:
· Decrease sensitivity in the surgical field during the procedure and after the procedure as well.
· You can avoid possible post-surgical complications.
· It accelerates and promotes the adhesion of transplanted grafts.
· A reduction in the redness and swelling following the surgery.
· Faster healing
· Quicker tissue regeneration
·      Limited hair loss
Read more about What Is Scalp Folliculitis- Symptoms, Treatments, Prevention and More to Know.
Why Do Patients Go For PRP Therapy?
While many other hair loss treatments are available, why do patients prefer PRP hair loss treatment? Here we will tell you why PRP hair loss treatment is gaining more and more popularity daily.
· Have very minimal side effects: Since PRP therapy is done by drawing out your blood cells and injecting the platelets derived from your blood into your scalp, there is no chance of rejection; therefore, you are not at risk of getting a communicable disease.
· It's non-invasive: PRP treatment is a non-invasive procedure. Therefore, you will not experience any scars or cuts during and after the procedure. The doctors inject platelets into your scalp using syringes that cause no pain or hurt and don't leave any signs behind.
· You get natural-looking results: Your blood cells are collected and centrifuged in PRP treatment. And the platelets collected during the centrifugation are used in the procedure. Therefore whatever is injected into your scalp has the same DNA structure as yours. That is why the treatment appears to be long-lasting and brings natural results.
· No hospitalization involved: PRP is an outpatient procedure that takes up to 60 minutes maximum to perform. Therefore, you don't need to stay in the hospital for a whole day, and you can come for the procedure at your convenience.
·      Have zero downtime: There is no downtime involved in PRP therapy, and you can get back to your routine right after the procedure.
Read more about Keratin Treatment In Hyderabad
What Are The Side Effects Of PRP Hair Loss Treatment?
In PRP therapy, the doctor injects your blood into your scalp. Therefore, you are not at any risk of getting a communicable disease. Have but since the therapy involves injections, there are mild risks and side effects such as:
· Injury to your nerves and blood vessels
· Infections
· Scarred tissues
· Calcification at the injection sites
During the procedure, your doctor uses an anesthetic, and therefore, there is a chance that you get an adverse reaction. If you are getting PRP therapy for hair loss, inform your doctor about your previous anesthetic experiences.
Read more about Dandruff Treatment In Hyderabad
What Are The Risks Associated With PRP Treatment For Hair Loss?
If you are following any prescription or taking any medication, report everything to your doctor before the procedure, even if you are taking supplements and herbs.
In some cases, your doctor might ask you not to go for PRP therapy soon after the initial consultation if you are:
· A heavy smoker
· On blood thinners
· Have a history of drug or alcohol
Your doctor might also reject you for treatment if you have been diagnosed with:
· Cancer
· Chronic liver problem
· Chronic skin disorders
· Hemodynamic instability
· Acute infections
· Metabolic disorders
· Platelet dysfunction syndrome
· Low platelet count
· Thyroid
What Is The Cost Of PRP Hair Loss Treatment In Hyderabad?
The PRP treatment cost for hair loss in Hyderabad ranges somewhere between ₹3000 to ₹5000 per session. PRP hair loss treatment generally consists top 3 sessions over 4 to 6 weeks with follow-up or maintenance sessions every 4 to 6 months.
However, the PRP treatment cost in Hyderabad is significantly less than in other metro cities of India. The cost varies from one clinic to another depending upon a few factors such as:
City: If you choose a Tier 1 city to get your PRP treatment done, the cost will be higher than what you need to pay for PRP hair loss treatment in Hyderabad. Expenses in Tier 1 cities such as Mumbai and Delhi would always be higher than in Tier 2 or Tier 3 cities.
Experience of the doctor: The doctor's experience and knowledge also determine the cost of PRP hair loss treatment. If the doctor has more experience and is well known in the PRP treatment or is a celebrity hair transplant surgeon, the treatment cost will automatically be higher.
The clinic's popularity: The status of cosmetic clinics also determines the cost of treatments. If you are going to a clinic that is recognized in a specific market, you will be charged higher.
The number of sessions suggested: Up to 3 sessions are required for PRP treatment. Sometimes the number of sessions may be more than that, depending upon your situation. Your hair expert decides how many sessions you require to examine the extent of baldness and the condition of your scalp.
Quality of equipment: The quality of instruments used in the procedure also influences the price of PRP hair loss treatment. However, the doctors and the patients jointly decide on which kind or standard of equipment will be used in the procedure.
How To Prepare For PRP Hair Loss Treatment?
As we mentioned earlier, you need to talk to your doctor frankly and keep them informed about the medicines you are currently consuming, such as any blood thinner. If possible, keep yourself away or minimize smoking at least three days before the treatment. Smoking impacts the healing time and oxygen delivery to the scale. Therefore the results you get from the treatment may improve if you stop smoking before and after the treatment. Also, minimize the consumption of alcohol at least a few days before your PRP treatment.
On the day of the treatment:
You also need to follow a few instructions on the day of the treatment. You must thoroughly wash your hair with regular shampoo on the morning of your treatment. Remember, do not apply gel, spray, or other styling products to your hair. If you are currently wearing a hair system, please remove it before shampooing and do not wear it before the treatment.
Have regular breakfast in the morning or for treatment, and please drink approximately 2 liters of water at least 2 hours before the treatment. If you are allergic to any sedatives, inform your doctor. Sedation is not required during PRP treatment. If you prefer receiving sedatives during the procedure, it can make you drowsy, and you cannot drive yourself home after the treatment.
What Are The Post-Treatment Instructions?
After your PRP hair loss treatment is done, here are a few things then you need to follow:
· Don't touch the treated area for at least 8 hours
· Avoid taking any medicines, including aspirin, ibuprofen, Vitamin A, Vitamin E, or oil for at least one week before and two weeks after the treatment.
· It is normal to experience redness and itching after the treatment, but if you experience any pain or discomfort, talk to your doctor before taking any medicine.
· Don't apply ice to the injected area.
· After the treatment, don't wet your hair for at least 3 hours
· Use a pH balance shampoo for the first three days
· Don't use hair products for at least 6 hours after the treatment.
· Stay away from vigorous exercises, sun and heat exposure, steam rooms, swimming, and other activities after the treatment. Increase your water intake for the first few weeks after the treatment.
Conclusion
If you are experiencing hair loss and are done trying other options, including medications, it is time to consider PRP therapy. Though there are limited clinical proofs that PRP works for hair loss, PRP is a safe and effective way to reverse hair loss and stimulate new hair growth. If you are looking for a clinic in Hyderabad that offers PRP hair loss treatment, visit choose.clinic. We have a list of trusted clinics that are known for providing exceptional treatments supervised by experienced doctors. We hope this article helped you gather enough information about PRP treatment, and we are ready to help you find the best PRP hair loss treatment clinic in Hyderabad.