Undoubtedly, hair is an essential parameter of our appearance. A head full of hair is associated with feminine beauty and male virility. The hair not only increases beauty but also protects the head from overheating by supporting the circulation of hair around the scalp and combating ambient heat. It is an ordinary struggle people face with emotions in response to experiencing hair loss. 
Read more about How to Stop Receding Hairline?
What is hair loss?
Hair shedding is an integral part of a natural balance. Everyday falling of 100-150 hair per day is average. But, beyond this, it affects the volume of the hair. The problem of hair loss takes place when new hair cannot replace the lost hair. That means the balance is interrupted when a lot of hair falls off, and little or no hair supports the balance. Hair loss happens due to several factors. Hair loss can affect any part of the body, especially the scalp.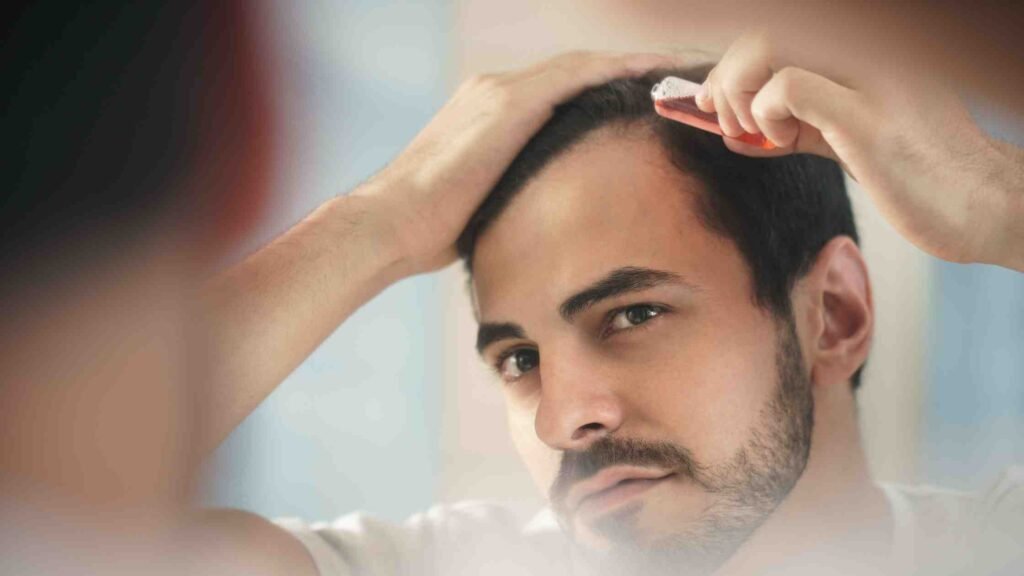 What is the cause of hair loss?
Hair growth follows a cycle that involves several phases like anagen (active growing period), catagen (inhibiting growth period) telogen (resting period of the follicles). If any disruption occurs in the cycle or damage to any hair follicle occurs, it leads to hair fall. Otherwise, some genetics and medical and behavioral reasons may cause hair fall. There are some reversible and irreversible causes of hair loss:
| | |
| --- | --- |
| Reversible reasons | Irreversible Reasons |
| Stress Over-heating and stylingDeficiency of nutrientsWeight lossEffect of certain medicationsHygiene and poor dietRegular smokingHarsh hair care productsHard water | Hereditary issuesProblems of Hypothyroidism and HyperthyroidismAging Alopecia PCOS in womenChemotherapy Radiation therapy |
What is hair loss treatment?
When the hair follicles become weak for several reasons, they tend to leave the head, making it empty. We need to take some measures and medical help to treat such problems. Preventing the falling of hair can reduce the severity of the problem. Fortunately, now we have several ways to treat hair fall with the help of medical experts.
Read more about Male Pattern Baldness- What Is It? How to Treat Male Pattern Baldness?
Can one cure hair loss by using home remedies?
Home remedies sometimes show effective results until you carry on the regimen regularly. The stopping of the same can turn you back to the same position. So, we cannot expect home remedies to be the best for stopping hair loss. Many try several remedies, but they get only disappointment in our busy and tight schedule to maintain such regimen regularly.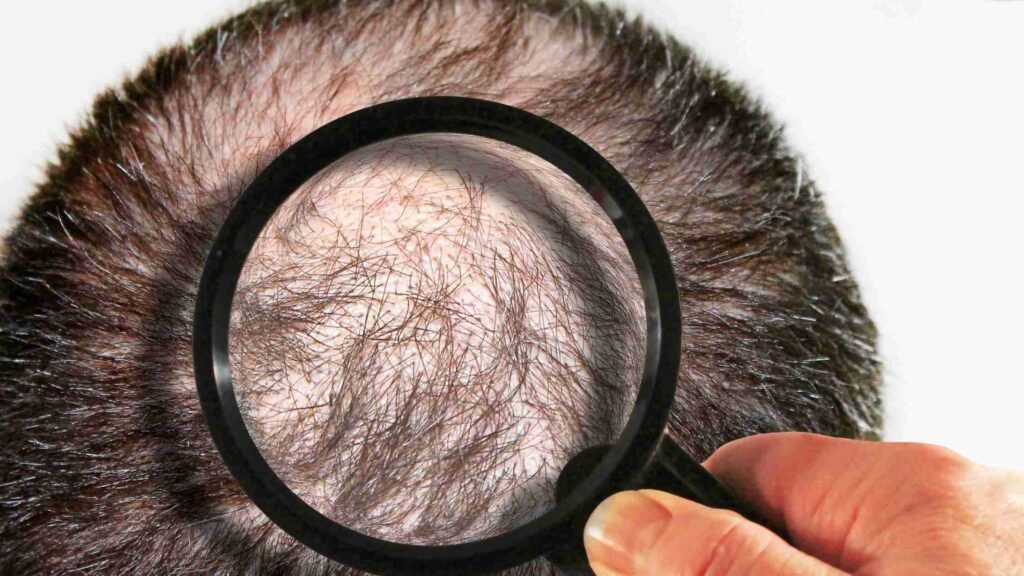 When to see a doctor?
Visit a doctor or a medical expert if you notice a sudden & more than usual hair loss while combing or washing your hair. Sometimes due to losing hair in clumps, one may develop bald patches. Your medical expert will go for an accurate diagnosis to find out the root cause of your hair loss. These doctors have in-depth knowledge about diverse causes of hair loss and considerable experience in treating such cases. So, only a doctor can suggest effective treatment for your hair loss problem after a proper diagnosis.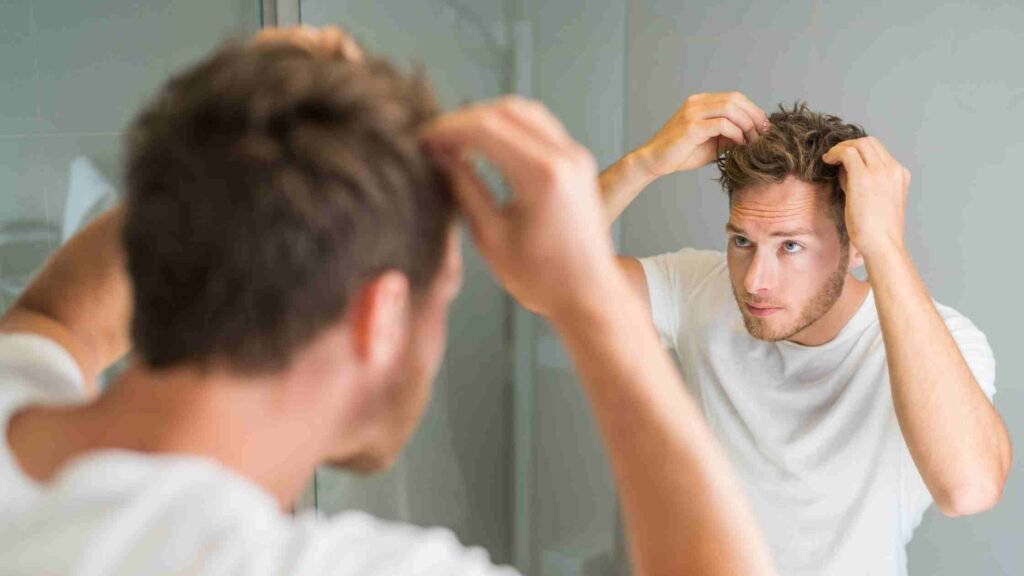 How can an expert diagnose hair loss?
If one is experiencing hair loss, taking the help of a medical dermatology clinic is the best decision. Along with assessing hair loss, an expert can pinpoint a particular diagnosis. They can also suggest if one needs any treatment or not. On visiting the expert, he would ask one a few questions regarding the problem and overall health condition. They would ask when you are facing the problem or whether one is consuming any medicines or not and even about the family history regarding hair loss.
The hair loss pattern is not the same for all, and the expert assesses them to suggest the best treatment. During diagnosis, the expert also checks the conditions of the nails and scalp as they are the indicators of any health issue. The dermatologist also suggests a blood test to check the medical condition causing the hair to fall off. For that, the expert usually performs a pull and tug test in which they pull the hair of a small area and gently tug them to check how many hairs are coming out.
Read more about Causes Of Hair Loss In Teenagers: Treatment And Prevention
If you are residing in Hyderabad and planning to have hair loss treatment, a couple of solutions are waiting below.
What are the different types of Hair Loss Treatment available in Hyderabad?
Nowadays, hair loss or baldness is a common problem among men and women. But with proper care and the right treatment, one can eliminate hair loss problems, and even hair regeneration is possible. Each individual's hair is different & has unique problems; therefore, one should choose the treatment with the proper guidance of a medical expert. Today, several advanced hair loss treatment options are available for males and females, young or old, among which the most effective treatments are:
Low-Lever Laser Therapy (LLLT)
Low-Level Laser Therapy is a very effective non-invasive modern technology to treat hair loss. It significantly induces the irradiation of photons using laser light to the weak cells to prevent hair loss and promote hair growth. It has got the approval of the FDA to treat hair loss in both men and women.
Procedure: The LLLT uses laser light that forms a specific wavelength, which has a unique capability to get absorbed by the hair follicles. The light beam helps the follicles shift into the growth phase in several ways. After penetrating the scalp, it induces the stem cells involved in regenerating the hair follicles, promoting hair regrowth.
The light stimulates the blood flow in the triggered site of the scalp and thus promotes the delivery of nutrients and oxygen to the hair follicles. It also influences ATP and the cells' metabolic activities for faster hair regeneration. This way, it helps to treat the loss and promotes thicker hair shafts to provide a fuller appearance to the patients.
Advantages: The Low- Level Laser Therapy has proven to slow or even stop hair loss and promote new growth by working on active hair follicles. Among the treatments available in Hyderabad, it is a ubiquitous method as it is safe and has no side effects or downtime. Another advantage includes its inexpensive cost, which is pretty affordable.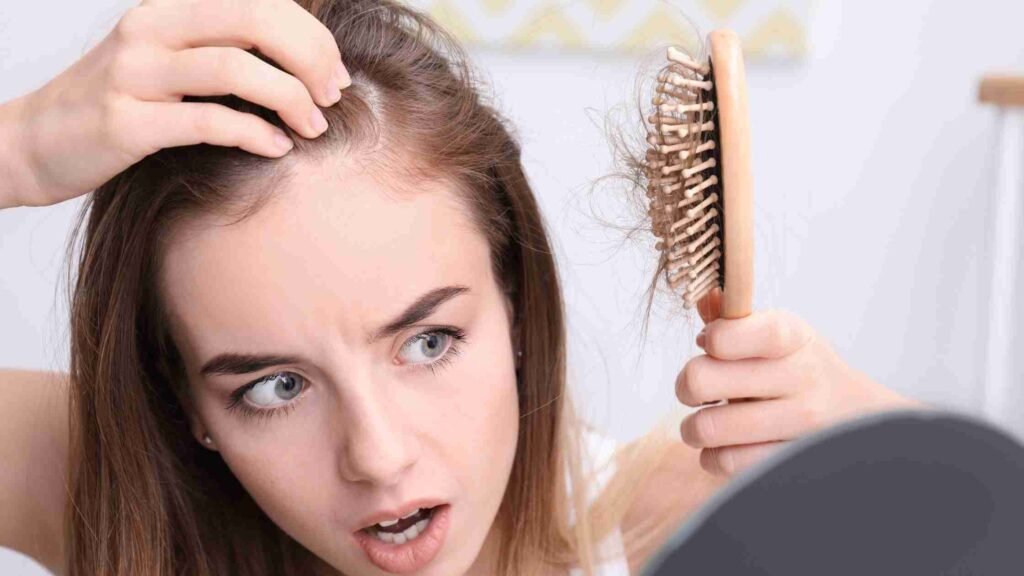 Platelet-Rich-Plasma (PRP) Treatment
It is a widely used medical treatment that involves three steps. In which one's blood is taken, processed, and then re-injected into the scalp. It is believed that PRP can trigger natural hair growth as it induces blood supply to the follicles and increases the hair shaft thickness. It can perform in combination with other therapies.
Procedure: The expert draws blood from the arm and puts it into a centrifuge machine to spin quickly to separate fluids of different densities. Then it allows the blood to get separated into three layers, first, platelet-poor plasma; second, platelet-rich plasma; and third, RBCs within ten minutes. Then, the expert draws up PRP into a syringe and injects it into the targeted sites of the scalp to stop hair loss and stimulate hair growth. 
Read more about Causes Of Hair Loss In Teenagers: Treatment And Prevention
Advantages: The treatment does not involve any cuts or incisions. It can treat the hair follicles that shrank. Here the providers use the patient's material, so it does not involve allergy-related issues and rejection.
Hair Transplantation
Today, the experts use a technique named follicular unit transplantation for 90% of cases. The treatment involves removing a strip of scalp from the back portion of the head of the patient and utilizing it to fill up the site of hair loss.
Procedure: The expert removes a tiny strip of scalp and makes hundreds of small graft segments, each having just a small number of hairs. Then the plantation of each small graft takes place in the scalp using a needle at the site of hair loss. It promotes hair's natural growth by creating one to four follicular units.
Advantages: The hair transplantation theory is very effective if hair loss occurs from any injury. It is very cost-efficient and needs negligible maintenance with a high success rate. It has a very low possibility of complications and side effects.
Micro-needling
Micro-needling is effective as cosmetic therapy in treating wrinkles, age spots, etc. Simultaneously, it is a beneficial non-surgical therapy in treating hair loss. Products like Minoxidil, topical steroids, Rogaine, etc., are beneficial to treat hair loss, and micro-needling is the tool to induce the same absorption into the scalp.
Procedure: The experts use a handheld device, a roller with needles. The size and length of the needles may vary from less than one millimeter to a few millimeters. The device causes slight injuries over the treatment area. Topical anesthesia might be used, if needed over the scalp for almost 45 minutes before the treatment to reduce the discomfort. Afterward, the providers offer a topical balm to the area to soothe down. The consumable time may vary from one individual to another, depending upon the severity and treatment area. In general, it takes less than 10 minutes to be completed.
Advantages: It can induce blood flow onto the scalp and wake up the dormant hair follicles. The device used here is very safe, and the needle used here is chosen based on the problem and sensitivity of the patient's skin.
Read more about PRP Hair Loss Treatment in Hyderabad
Mesotherapy
Mesotherapy works very well in treating hair loss, reducing the leading cause of hair fall, hair thinning. It is the process of injecting stem cell serum or PRP into the scalp of the patients. Thus, it induces blood flow in the affected area of the scalp or the entire scalp.
Procedure: The treatment utilizes the application of particular medications through micro injections. The nutrients then activate the inactive bulbs and provide nourishment to the follicles.
Advantages: It can treat dry and itchy scalp and reduce excessive hair loss. The treatment is carried out using a few nutrients, so it can even treat another hair issue simultaneously.
Pep Factor
It is a sophisticated choice nowadays that deals with the scalp's rejuvenation to treat hair loss problems.
Procedure: The treatment relies on stimulating the hair follicles to achieve the right amount of collagen insertions into the scalp. It ultimately results in improving the hair loss condition by improving hair development.
Advantages: As the treatment uses modern technology, it shows fast results even within a few weeks of having the treatment.
What is the cost of hair loss treatment in Hyderabad?
Here is a list below to know the average cost of different hair loss treatments in Hyderabad:
| | |
| --- | --- |
| Low- Level Laser Therapy | Rs. 1,500 to 3,000 per session |
| Platelet Rich Plasma Treatment | Rs. 3000 to 5000 per session |
| Hair Transplantation | Rs. 4,500 to 15,000 per session |
| Microneedling | Rs. 1,500 to 5000 per session |
| Mesotherapy | Rs. 1,500 to 4,000 per sessions |
The costs, as mentioned above, may vary from clinic to clinic and even the patient's condition. The patient needs how many sessions is the main thing that can decide the total cost of the treatment.
Who is an ideal candidate for hair loss treatment?
Whether one is a good candidate or not somewhat depends upon which treatment they are planning to have.
So, let's discuss it-
Low-Level Laser Therapy: The early-stage patients are the best candidates for LLLT. Men who are experiencing general thinning, like on the sides and back, can go for LLLT. The women with more hairs on their brushes than the scalp can think of LLLT.
For PRP: The scalp area, if facing hair loss problems for long days, then may get a sunburn, then PRP would not be that effective to show the total result. The patient's health matters the most in PRP. If one is suffering from anemia, one must not be the ideal candidate as it involves the extraction of blood, and cancer patients are not also suitable. Even smokers and drinkers are not also ideal candidates. One must ensure that the hair follicles are still alive to have PRP. Pregnant women are not recommended to take PRP as they can have too low blood pressure that is not eligible for drawing blood.
Read more about What Is Scalp Folliculitis- Symptoms, Treatments, Prevention and More to Know.
Hair Transplant Therapy: Patients with chronic health problems such as kidney disease, heart or liver problems, diabetes, etc., may not be the ideal candidate for hair transplant therapy. Patients with un-patterned alopecia, psychological disorders, unstable and insufficient hair loss, and unrealistic expectations are not appropriate candidates. Men and women are both recommended to make them assure about the health of their scalp before entering into the treatment.
Mesotherapy: The men and women in the initial stages of Androgenic Alopecia are the ideal candidates for Mesotherapy.
Micro-needling: It is almost safe for everyone. But patients having clotting or bleeding disorders are not the ideal ones. Even patients who take medications to thin their blood are not recommended. The patients must report the robust immune system to be ideal candidates.
PEP Factor: The patients experiencing significant hair loss and baldness are eligible for PEP Factor. But, the patients with initial hair loss would respond best.
Are you new in Hyderabad and worried about which clinic is best for treating your pigmentation?
Ok, let's get some ideas to choose the best clinic-
If you intend to have the best results, don't let yourself search only for low-cost providers. One must prioritize a certified clinic instead of looking for only the low-cost offering. Before letting the providers make you a fool, ask yourself if you are getting any significant low prices from the providers. One should understand that the devices and the process are almost identical all over the country. There is a general cost that is also almost identical in every clinic out of Hyderabad. 
Make sure the clinic offers you the treatment depending on your specific problems instead of general treatment. The problem and the type of treatment used are not always the same for all patients. Even the scalp type and health condition also matter a lot. You must check that the providers are concerned about your current situation.
Be sure about the device and procedure they offer, as low-cost devices can worsen the situation.
Try to have an obvious idea about the treatment provider. Otherwise, one could face difficulties after completing the session and experience worse side effects. 
Read more about Keratin Treatment In Hyderabad
Frequently Asked Questions (FAQS):
Are diet and exercise not needed after hair loss treatment?
Diet and exercise are the key ingredients of a healthy life. Nothing can be a substitute for these two. The dermatologists also suggest carrying on the regular diet plan and exercise routine even after a successful hair loss treatment. Exercise is the one that can stimulate blood flow and circulation all over the body—more blood circulation results in providing more nutrients and oxygen to the scalp. Even cardiovascular exercise can help the hair follicles to be stronger.
Are there any side effects of the hair loss treatments?
The treatments differ, but none of the non-invasive therapies regarding hair loss cause any severe damage to the patients. The patients may experience scalp pain, swelling, itching, etc. But they all stay for a few hours to a few days and are not permanent. All the non-surgical processes do not possess such side effects as surgical ones. So, one can blindly go for any hair loss treatment without worrying about the side effects.
How many sessions are required for best results?
It is challenging to answer in general as every individual has different problems. The severity of the problem is mainly responsible for deciding the number of sessions required by one. Besides, which treatment one is undergoing is also a critical factor in talking about the number of sessions. Even different treatments work differently on individuals. So, one should visit the providers and discuss their conditions to get the exact answer regarding the sessions. 
Read more about Dandruff Treatment In Hyderabad
Are the results of hair loss treatment permanent?
Hair loss treatments cannot show permanent results, but one can enjoy the results for a more extended period with proper care and maintenance. If one is willing to make the results stay for longer days, they should be in touch with the treatment and provider. In this case, proper diet and exercise regimen also play a vital role as our body always starts to heal from the inside and to make the topical treatments stay more, both are needed.
Conclusion:
There are several reasons for hair loss, including genetics and scalp and skin issues. It is not always possible to prevent hair loss; people suffering from this can expect to slow down or inhibit further loss by taking the suggestions of medical experts. Even with a good diet and healthy lifestyle, sometimes we need some medical supports that can lead us to get rid of such problems. We are fortunate that modern technology can bring smiles to thousands of faces by providing treatment to fix hair loss. One can get natural-looking results to get back to the old days.
  We worry about searching for the best clinics when we are new to a city. As nowadays there are a lot make the people fool by offering low-cost treatments and unexpectable offers. But we are very fortunate that something exists on the internet named choose.clinic. It is nothing but a website that is solely intended to help people to find trustworthy and best clinics in any city. Hyderabad is also not an exception. choose.clinic can also suggest the best clinic in Hyderabad with truthful information.