Dandruff is a skin condition of a dry head which is known as seborrheic dermatitis. It causes irritation on the scalp and excessive oil. Seborrheic dermatitis is a severe foam of dandruff that causes skin cells to accumulate and create flakes and itching.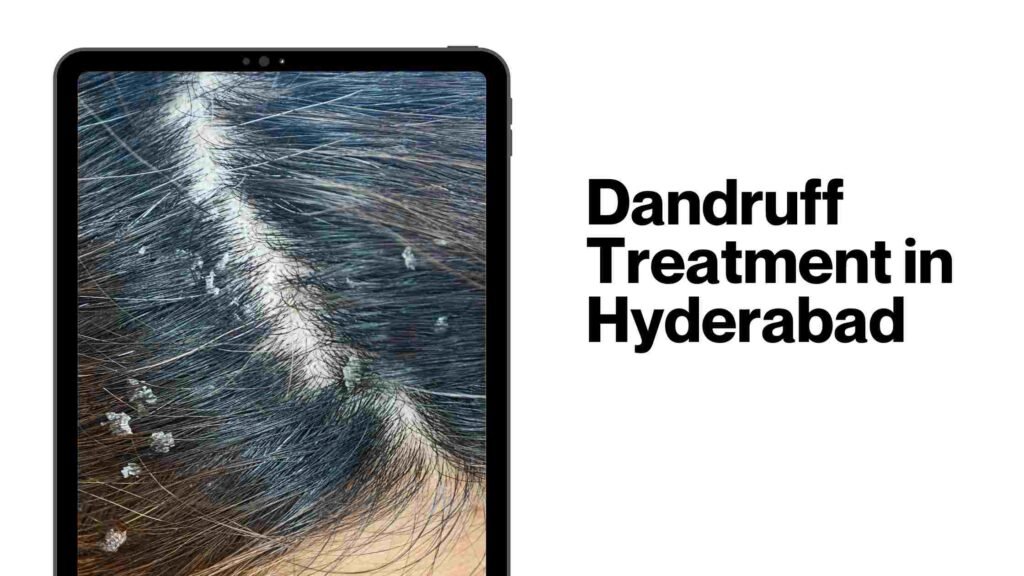 Fungus like yeast which is known as Malassezia that provokes your scalp and causes excess skin cell growth. In most people dandruff cannot cause direct hair fall. But the irritation it causes leads to scratching and can cause your hair follicle injury and it results in hair fall.
Read more about PRP Hair Loss Treatment in Hyderabad
What Is Dandruff?
Dandruff is white, greyish, oily clumps or flakes appear on the scalp. In some people it appears on the shoulders and clothes as a result of dry skin. Common symptoms of the dandruff are flaking and itching and red greasy patches. There are several factors for dandruff such as genetic, environmental causes that affects people.
What Causes Dandruff?
Dandruff is causes due to a fungus known as Malassezia Globosa which feeds on oily scalp. When oil on the scalp breakdowns and it produces an oleic acid and that causes excess shedding of the skin on the scalp. This condition the skin layers continuous replace the skin cells and pushed out the die cells as a result flaking occurs. About 30% to 70% of population suffers with dandruff.
Read more about Hair Fixing Cost In Hyderabad
When Does Dandruff Start?
Most of the cases dandruff starts with puberty as the hormone levels start to change and that produces more oils on the scalp and causes dandruff. Fungus on the scalp also causes due to stress.
Some other factors that cause dandruff are:
Age factors
Male hormones
Certain illness
Bad hair hygiene
Read more about Hair Transplantation Cost In India
What Are The Symptoms Of Dandruff?
There are most common symptoms to detect dandruff. Most common symptoms are:
Flaking:
White or greyish visible flakes are the common symptoms of the dandruff. They form excessive scalp skin cells which sheds because of oleic acid. Dead skin cells build up in to clumps and they are visible.
Itchiness:
In most of the cases, if someone is suffering with dandruff your skin starts itching.
Dryness:
Dandruff breaks the essential moisture barriers that causes scalp dryness. Just like other parts of the skin your calp skin also dry.
Redness:
Irritation on the skin can provokes to scratching and causes redness and some times painful red bumps on the scalp. This is also most common condition for the dandruff.
Dandruff Treatments:
Dermatologist can examine your scalp and they determine the causes and suggests the best treatment option:
Some of the prescribed dandruff treatments are:
1.Anti-Dandruff Shampoos:
Anti- Dandruff shampoos are formulations which contains antifungals and keratolysis such as zinc pyrithione, salicylic acid, ketoconazole etc. These shampoos help to reduce fungal growth, itchiness, redness, inflammation that causes due to dandruff.
2.Topical Steroids:
In some cases, dermatologist may suggest use of topical steroids for short term. These topical medications come in the form of topical lotions and anti- dandruff shampoos. It is always advisable to use these medications only if they are prescribed by doctor.
3.Tar Shampoos:
combination of salicylic acid can treat dandruff in severe conditions.
How To Prevent Dandruff:
However, the results of dandruff treatments may not last for long time without proper maintenance and scalp hygiene. By following the preventive methods, you can keep dandruff away.
Wash your hair regularly 2-3 times a week with dermatologically approved shampoos to control the dandruff.
Dry your scalp properly after hair wash, wet scalp can prone to increase of dandruff.
Include your diet with omega-3 fatty acids, zinc and vitamins that helps in reducing dandruff.
Consult your doctor before adding supplements to your diet.
Some environmental factors like pollution, climatic conditions and humidity also triggers dandruff.
Stress also can trigger dandruff so try to practice stress free life.
When To See A Doctor
You should see a doctor in the following cases:
If your scalp is more itchy than usual.
When there is redness and inflammation
If your dandruff is severe with more hair fall.
When you have signs of psoriasis or any other skin conditions.
Home remedies doesn't work when you have severe conditions, to seek doctors helps is always advisable.
FAQ'S
What areas can dandruff cover?
Dandruff causes itching which leads to scratching ang injury to the outer layer of the skin. Thus, skin layers breaks and penetration of the fungus and forms inflammation that leads to more itching and spreading of more dandruff. It can occur on the other oily or hairy areas like chest, nose, eyebrows, ears, beard etc.
Is dandruff hereditary?
Dandruff may not be hereditary, however lifestyle and food habits followed in the same family may affect with dandruff. It is not a contagious skin disease, but the fungus infection can transmit by sharing unclean comb and towels.
How do anti-dandruff shampoos work?
Anti-dandruff shampoos include active ingredients like pyrithione zinc, selenium sulphides, coal tar that helps to reduce dandruff and its symptoms and also slow down the shedding of dead skin cells. Active ingredients like sulphur and salicylic acid can helps to reduce dry flakes, clumping of skin on the skin.
How often should I wash my have when I have dandruff?
Some needs to shampoo their hair twice a week, in some cases more frequently or even daily based on the severity your doctor will suggest you.
Dandruff is very common problem among all the people both in men and women including all ages. However, treating dandruff is a difficult problem and natural remedies doesn't work consult a dermatologist today, he will suggest you the best treatment.