Have dark circles and puffiness under your eyes due to lack of sleep or tiredness? Though that could be a cause of it, there are many other reasons for getting dark circles under the eyes like aging, some allergy, etc. Dark circles also termed as periorbital circles or periorbital melanosisis or hyperpigmentation are actually dark blemishes under or around the eyes.
Dark circles could look dark brown or black, or seem purplish or blue depending on the person's skin colour.
Under-eye dark circles are not a cause of worry, but mostly women want to remove or reduce these to look prettier.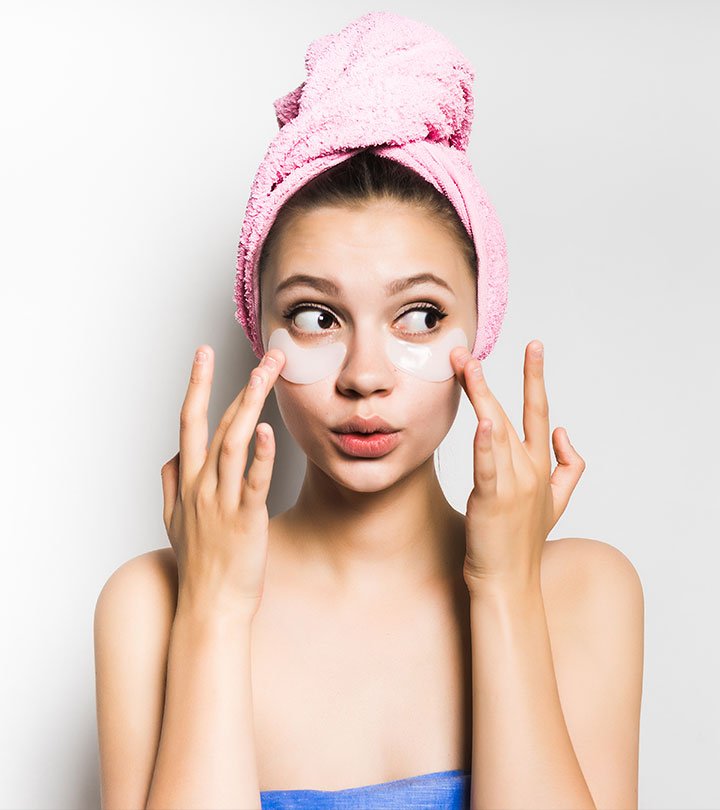 Factors causing under-eye dark circles
Under-eye dark circles could be caused due to several factors:
Lack of proper sleep
Heredity issues
Atopic diasthesis like sinus disorders or asthma
Certain allergies
Anemia
Eye medicines used for glaucoma, etc.
Immune diseases such as dermatomyositis
Loss of under eye volume and aging effects like drastic weight loss, wrinkles
Hormone-related ailments like acanthosis nigricans
Strain due to long hours of work on a computer
Under-Eye Dark Circle Removal Treatment Options
Primarily, the actual root cause of under-eye dark circles should be treated. Your doctor might check and find the reason for your dark circles and then recommend the best dark circle removal treatment accordingly. Some possible dark circle removal treatments are:
Skin-lightening cream
To reduce the under-eye hyperpigmentation, your doctor or dermatologist may suggest a skin-lightening lotion with kojic acid, azelaic acid, hydroquinone or glycolic acid. You can get some of these skin-lightening creams that have a lower percentage of the active ingredient, over-the-counter too.
Topical vitamin C
Research showed how 10% vitamin C lotion would effect in treating the under-eye dark circles if used over six months. The results showed that the lotion could actually lighten the darkness under the eyes quite effectively.
Chemical peels
Chemical peels that use alpha hydroxy acids like glycolic acid can help to reduce hyperpigmentation under the eyes or the dark circles. You could also use chemical peels along with some topical cream for a better result.
Laser therapy
Laser treatments for dark circles use heat energy for vaporizing the damaged under-eye cells. The darker pigment in the dark circles or under the eyes can be targeted. Along with reducing the darker skin tone, the laser treatment might stimulate new collagen formation.
Fillers
In this treatment, a hyaluronic acid-based dermal filler like Juvederm or Restylane is injected inside the tissue in the affected area under the eye by a dermatologist, an ophthalmologist, a plastic surgeon, or some trained doctor. Fillers can help if the cause of dark circles is volume loss under the eyes.
Surgery
Blepharoplasty is a type of surgery that can help in under-eye dark circle removal that happens because of deposits of fat or any excess skin around the under-eye area. This area is quite delicate and therefore, you should first find out any possible side effects. You should also take care that only a certified plastic surgeon or dermatologist does this procedure for you.
How to Prevent Dark Circles?
Before finding the best remedy for dark circles, you should look at how not to get them at all.
Getting proper sleep is the best prevention.
Immediately stopping smoking and excessive use of alcohol.
Avoiding any triggers or allergens that could cause allergic reactions.
Giving rest to your eyes intermittent in long working hours.
Consuming an iron-rich diet.
Using medically-recommended under-eye creams that have hyaluronic acid or some natural skin lightening agents.
Reducing or eliminating stress, ensuring that you rest well, and lead a healthy lifestyle.
Protecting your eyes from the sun by wearing UV protection sunglasses or applying sunscreen around the eyes.
Some Natural Home Remedies
If you don't want to look tired, you could try these natural remedies to reduce or lighten the under-eye dark circles.
Coconut Oil: Coconut oil has a very high concentration of some small-chain fatty acids. These fatty acids can help in lessening the inflammation and boost the blood circulation.
Cucumbers: Cucumbers are a good source of vitamin K, which helps in increasing blood circulation and decreasing clotting.
Cold milk: Milk contains lactic acid, which is actually an alpha hydroxy acid. This alpha hydroxy acid acts as an exfoliant and enables in lessening wrinkles, cleansing the clogged pores and rejuvenating your skin.
Tomatoes: Tomatoes are rich in lycopene, an antioxidant that helps in reducing inflammation and stopping blood from clotting. That's not all; it also protects against UV radiation, which is one of the main causes of dark circles.
Tea bags: Tea is loaded with antioxidants that are useful for you as a whole and not only for dark circles. You could dip a couple of tea bags in hot water and then put them in the refrigerator till they are cooled. After draining the tea bags of any extra water, you can place them on your eyes.
Potatoes: The antioxidants in this vegetable can repair damaged skin cells while also reducing the melanin production in the skin. You could peel a potato and place its slices on your eyes to reduce dark circles.
Lemon juice: Vitamin C and citric acid present in lemon are natural skin brighteners. If you mix lemon juice with other ingredients such as tomato or cucumber juice and some essential oils, then it can give miraculous results. Even applying lemon juice alone can lessen the puffiness and inflammation around the eyes and also brighten the under-eye area.
Rose water: Rose water has anti-inflammatory qualities that soothes your skin, brings back the vibrancy and removes redness. If you use rose water in your night beauty regimen, it can enhance the skin tone and eradicate those under-eye dark circles.
Sunscreen: Dark circles are also caused due to sun exposure. Using a good sunscreen is very important in summers, especially skin products that have SPF would protect your under-eye skin all through the year.
Orange juice: One orange is said to have about 70 milligrams of vitamin C. To get rid of dark circles, you should soak a couple of cotton balls in fresh orange juice and rub this under your eyes every morning and before going to bed every night.
Dark chocolate: This superfood is loaded with fiber and nutrients such as iron, copper, magnesium, manganese and lots of antioxidants. Cocoa, which is the main ingredient in it, improves circulation in the skin and stimulates hydration.
Vitamin E oil: Vitamin E too has lots of antioxidant properties and gently massaging this oil under your eyes every night can improve the skin tone and reduce dark circles.
Avoid excess salt: Too much salt and not enough water dehydrates the body. Curb your diet to follow the American Heart Association's recommended 1,500 to 2,300 milligrams of sodium per day and stay hydrated.
Although dark circles under your eyes isn't a big health concern, you could consider finding the best dark circle removal treatment for aesthetic reasons.
If some home remedies have failed in reducing or treating your dark circles, then you should see a doctor and get a suitable dark circle removal treatment depending on the actual cause of your under-eye dark circles.