If you are just frustrated about the dark patches on your face that are reducing your face value, you are not alone. Many people, regardless of age, gender, race, and nationality, are suffering from hyperpigmentation and looking for ways to reduce it.
However, obliterating hyperpigmentation is not an easy task. But with the correct treatment procedure, if you reduce the pigmentation on your face, hands, or other desired body parts, your skin will look younger for longer.
Hyperpigmentation is a skin condition in which specific areas of the skin become darker than the rest. And almost people of all skin types suffer from this condition. But the only difference is that in some cases where hyperpigmentation appears as smaller patches, in others, it might cover large areas and, in rare cases, the entire body.
Read more about Laser Toning- What Is It? How Laser Toning Helps in Skin Lightening?
The main reason behind the occurrence of hyperpigmentation is the overproduction of melanin. However, many factors influence the production of melanin, the pigment responsible for giving color to our skin. When the excess melanin is deposited deep within the skin, it causes hyperpigmentation.
Hyperpigmentation can be avoided by avoiding direct sunlight, incorporating vitamin C in the beauty routine, applying SPF, etc. But, once it occurs, it requires a well-strategized and effective treatment procedure to reverse the condition.
In the last many decades, various home remedies, treatment modalities, and even techniques have been introduced in the market by scientists, cosmetologists, and dermatologists to treat hyperpigmentation. And the trendiest among all is the Q-switched laser.
This article discusses the use and benefits of a Q-switched laser for pigmentation reduction.
What Is Q-Switched Laser?
Q-switched laser is the type of laser that has currently been commercialized globally. The primary purpose of introducing the Q-switched laser in the market is that this technology delivers much higher energy levels than a continuous wave would. And since the technology takes the help of passive Q-switching, hence the name.
In Q-switching, the gain material used is a variant of neodymium, which is why in some places, Q-switched laser also comes with the name Nd. The most used wavelengths of light come in the infrared range, and for pigmentation problems, the gold standard laser is used. The reason is typical gold laser can target narrow bandwidths of wavelengths, and hence it can target pigments of different color ranges.
The Q-switched laser treats skin conditions such as melasma and dark patches. And apart from treating pigmentation problems, a Q-switched laser is also used to tighten open pores, remove permanent tattoos, and rejuvenate the skin.
Read more about What Is Chemical Peel Treatment? How Much Does It Cost in India?
The Manifestation Of Q-Switched Laser In Cosmetology
Whether you have previously heard about giant pulse formation, that is a different name for Q-switching.
Q-switching is a technique in which a laser can produce a pulsed output beam. In this technique, light pulses with high Peak power are produced much higher than what can be produced in a continuous wave by the same laser.
Q-switching was introduced in 1958 by Gordon Gould, an American physicist who is also credited for his invention of the laser and optical amplifier. Later in 1961 or 1962, R.W. Hellwarth and F.J. McClung independently discovered excuse witching at Hughes research laboratories.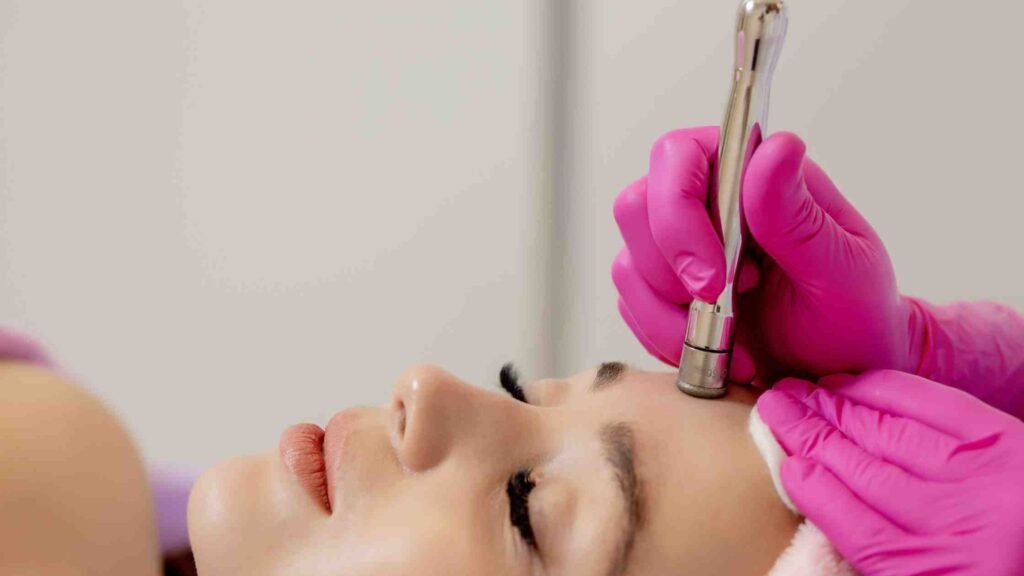 What Is The Principle Of Q-Switching?
Q-switching uses some variable attenuator inside the laser's optical resonator. And when the attenuator functions, the light that leaves the gain medium does not return, and hence lasing does not start. The attenuation inside the resonator corresponds to a Q or quality factor reduction.
On the other hand, a high Q factor corresponds to a lower resonator and loses per round trip and vice versa. And that variable attenuator is called a Q-switch when used for this purpose.
The laser medium is pumped at the initial stage while the Q-switch prevents light feedback into the gain medium. As a result, a population inversion is produced, but laser operation does not occur yet since there is no feedback from the resonator.
Since the rate of stimulated emission highly depends upon the amount of light that enters the medium, the amount of energy retained in the gain medium increases when the medium is pumped. And due to the losses from spontaneous emission and other processes, the stored energy reaches its maximum level after a certain period. Such a condition is called saturation, in which the Q-switch device quickly changes from low to high Q and allows the feedback and the process of optical amplification to function by stimulating emission to begin.
Since high energy is stored in the gain medium, the laser resonator can quickly build the light intensity. As a result, the energy stored in the medium is depleted rapidly and ends up developing a short pulse of light output from the laser known as a Q-switch laser.
Read more about What Is the Best Skin Whitening Treatment in India?
Types Of Q-Switching
Though passive Q-switching is used in Q-switched laser, there are two types of Q-switching:
Active Q-switching
In active Q-switching, the Q-switch is externally controlled. And the controller may be any mechanical device such as a chopper wheel, spinning mirror, or shutter. It can also be a modulator such as a Magneto optic effect device, an acousto optic device, or even an Electro-optic device.
In active Q-switching, the increase of Q is elicited by an external event, typically an electrical signal. The pulse replication rate in active Q-switching is also externally controlled. The modulators used in controlling also allow a faster transition from low to high Q and provide better control.
The best part of modulators is that the rejected light can be coupled out of the cavity and utilized for something else. When the modulator is in its low Q state, the externally generated light beam can also be combined into the cavity through the modulator and used to seed the cavity with a beam with desired characteristics, such as wavelength or transverse mode.
Passive Q-switching
In this type, the Q-switch is generally a saturable absorber, which increases its transmission when the intensity of light exceeds some level. The material can be an ion-based crystal-like Cr: Yag, which is used for Q-switching in Nd: Yag lasers, a passive semiconductor device.
In passive Q-switching, the loss of the absorber happens in a high amount initially, but it is still low enough to allow some lasing when a large amount of energy is stored in the gain medium. When the laser power increases, the absorber is saturated, so a rapid reduction in the resonator loss happens so the power can proliferate.
Ideally, the absorber comes in a state with low losses and facilitates efficient extraction of the stored energy by the laser pulse. And after the pulse, the absorber recovers to its high loss state even before the gain recovers, so there is a delay between two pulses and the gain medium is fully replenished.
In passive Q-switching, the repetition rate of the pulse can be controlled indirectly by varying the laser pump power or the amount of saturable absorber in the cavity. However, direct control of the repetition rate is also possible using a pulsed pump source and Q-switching.
Read more about How to Remove Sun Tan from Face and Body?
How Is Q-Switched Laser Used For Pigmentation Reduction?
Q-switched laser is a non-invasive laser that can create high-intensity pulsed beam light that lasts for some microseconds. The energy discharged from a Q-switched laser is concerted into powerful pulses. Q-switch lasers are known for treating hyperpigmentation without damaging surrounding tissues or causing unwanted side effects.
In the last decades, using a Q-switch laser has revolutionized the treatment of hyperpigmentation and other skin conditions. It has also been widely used worldwide for showing promising results.
The treatment of hyperpigmentation with a Q-switched laser is based on Parrish and Anderson's theory of selective photothermolysis. The idea of selective photothermolysis states that a particular wavelength of energy delivered for a certain period must be shorter than the thermal relaxation time of the target chromophore.
In Q-switch laser treatment, the beam is emitted of a specific wavelength and absorbed by the chromophore being treated. Somewhere between 630 and 1100 nm is the selective window for targeting melanin in cases with good skin penetration and absorption of melanin over oxyhemoglobin. When the wavelength increases, the absorption of melanin decreases, and shorter wavelengths allow deeper skin penetration.
Besides wavelength Q-switch laser is also dependent upon the pulse width and an estimated thermal relaxation time of 50-500 ns. The melanosomes need sub-microsecond laser pulses for their distraction, but if the pulse durations are longer in the millisecond domain, it does not cause any specific melanism damage.
Q-switch laser has been used to treat various pigmentary disorders and achieved variable success.
How Is Laser Treatment Done To Reduce Pigmentation?
Preparation
The laser treatment is done with a consultation with a dermatologist or aesthetician to find out if you are an excellent candidate for the treatment. You need to inform your doctor about any existing or past health condition, especially if you get fever blisters or cold sores around your mouth. It is because, in many cases, laser treatment can trigger breakouts in people who are at risk.
Once everything feels right, and you and your doctor decide to go ahead with Q-switched laser treatment, your doctor will ask you not to take certain medications or supplements such as ibuprofen, vitamin E and aspirin. And if you are taking any of those medicines, your doctor might ask you to stop taking them 10 days before the treatment since they can affect clotting.
If you smoke, you must stop at least two weeks before and after the procedure since smoking prolongs healing. In most cases, dermatologists prescribe antibiotic medications beforehand to prevent any bacterial infection and also suggest taking antiviral medicines if the patient is prone to cold sores and fever blisters.
The Procedure
As mentioned earlier, a dermatologist or aesthetician generally performs a Q-switch laser procedure in their clinic. It is an outpatient procedure, so you don't need to stay at the hospital overnight.
If you have hyperpigmentation at different places on your face, the doctor might treat them individually or can also treat your entire face at once. Your doctor might apply a numbing solution or local anesthesia for small areas, especially around your eyes. General anesthesia might be necessary if the entire face is being treated.
The dermatologist or aesthetician takes 15 to 45 minutes to treat a particular face area. Q-switched laser treatment for the entire phase might take up to two hours.
Read more about How to reduce melanin?
After the procedure, the doctor might apply a sheet mask or a cooling pad. You will need to clean your face four to five times and apply ointment or petroleum jelly after 24 hours from the procedure.
Redness and swelling after Q-switched laser treatment are pretty standard. In some cases, the doctor might also prescribe steroids to manage the swelling, especially around the eyes. Taking an extra pillow while sleeping at night might also ease swelling.
Many people also feel a stinging or itching sensation for 12 to 72 hours after Q-switched laser treatment. And for the next five to seven days after the treatment, the skin might fill a little dry and pale. Depending upon the intensity of the pigmentation, it might take between 10 to 21 days for the skin to start healing, and once the skin heals, you can wear oil-free makeup to cover the redness that usually fades within the next few weeks.
After the treatment, the skin becomes a little lighter, so it is essential to use a broad-spectrum sunscreen to protect the skin from ultraviolet rays during the daytime. While selecting a sunscreen, always look for one specially formulated for use on the face with 7% or higher zinc oxide content and a sun protection factor of 30 or above.
Limiting sun exposure is also recommended between 10:00 AM to 2:00 PM. If you need protective clothing, get out of your home during that time. Reapply the sunscreen every two to four hours when you are out, sweating or swimming.
It is also important to moisturize your skin frequently. If you are using glycolic acid or retinol products, you must stop using them and restart after six weeks of the treatment.
The Difference Between Q-Switched Laser And Other Lasers
Q-switched laser is a specific type of laser that can deliver energy in terse bursts. This technology's unique property makes it an ideal laser treatment for any pigment-related skin conditions such as hyperpigmentation, sunspots, freckles, birthmarks or tattoos.
The ultra-short bursts of Q-switched laser can successfully disrupt the pigment-containing cells within the skin and lead to fading and clearing them out on the treated area.
On the other hand, traditional lasers use a single wavelength on the target to deliver the energy to the target, commonly pigment, water and blood.
Read more about What Is Skin Polishing Treatment?
Some Frequently Asked Questions About Q-Switched Laser
Is Q-switched laser safe for the treatment of hyperpigmentation?
The Q-switched laser procedure is an FDA-approved cosmetic treatment done by experienced dermatologists, cosmetologists or aestheticians. Therefore, it is an entirely safe procedure and is highly recommended for people suffering from hyperpigmentation. The Q-switched laser procedure has no significant side effects, and people of any skin type can go for this treatment. However, it is always suggested to talk to a dermatologist one to one to know if you are a suitable candidate for Q-switched laser and how to keep yourself safe from any possible side effects.
Is Q switch laser procedure painful?
The Q-switched laser procedure is just like any other laser treatment that is entirely painless. Patients who went for this treatment said they had mild stinging sensations during the process due to the emitted light pulses. Most patients who go for Q-switched laser treatment say that they feel like a rubber band snapping against their skin during Q-switched laser treatment. However, in some cases, dermatologists use local anesthesia during the procedure for patients with ultra-sensitive skin. And if you have little or no endurance for pain, you must inform your dermatologist beforehand so they can take necessary action before and during the procedure.
What is the duration of Q switch laser treatment for hyperpigmentation?
The Q-switched laser procedure is quick, and the treatment lasts somewhere between 15 to 45 minutes. However, for a small area like the face, 15 to 20 minutes is enough. Q-switch laser procedure has no downtime, and you can return to your daily routine soon after coming back from the dermatologist's office. However, your dermatologist might ask you to follow a few instructions to keep your skin safe after the procedure.
What result on pigmentation can we see after Q-switched laser service?
Q-switched laser is a gold standard for breaking down hyperpigmentation. Once you are dermatologist suggests you go for a Q-switch laser for treating hyperpigmentation, they also try to prevent further aggravation of your skin condition alongside treating the existing problem. In many cases, dermatologists combine the Q-switch laser with other suitable skin-lightening creams and skincare routines to get the best and long-lasting results from the Q-switch laser procedure.
Can Q-switch Laser Treat Freckles And Age Spots?
Q-switched laser is used for hyperpigmentation alongside many other skin conditions, such as treating freckles and age spots. Most skin care clinics offering Q-switched laser treatment also provide effective results on freckles and age spots. Freckles and age spots are superficial pigmentation on the skin, and they can be effectively reduced after just a few sessions of Q-switched laser. The Q-switched laser also prevents further aggravation of those skin conditions. The service is also beneficial for people with generalized tanning and those who want a smooth and even skin tone with instant brightening.
Is Q-switched laser treatment a permanent solution for pigmentation?
The result of Q-switched laser treatment is quite long-lasting compared to other hyperpigmentation treatments. Therefore, it is considered a permanent solution to pigmentation in many places. However, since melanin production triggers hyperpigmentation and the production of melanin in our body is inevitable, hyperpigmentation can occur even after getting Q-switched laser treatment. But following specific guidelines given by the dermatologist, such as following a broad-spectrum sun protection formula, proper usage of skin care products and staying away from the sun, can prevent reoccurrence.
Where is Q-switch laser treatment available?
Q-switched laser treatment is available at many skin clinics and dermatologists' offices. But remember, not every dermatologist offers Q-switched laser treatment for pigmentation. And one must settle for are licensed and certified dermatologist with years of experience practicing Q-switched laser procedures. Many clinics in every city in India offer Q-switched laser procedures.
Does Q-switch laser lighten skin?
Q-switch laser is used for treating pigmentation-related skin problems such as uneven skin tone, melasma, hyperpigmentation, acne scars etc. Though it takes several sessions of Q-switch laser, it can lighten the skin of your face, chest, neck and back. Generally, dermatologists suggest 6 to 8 sessions of Q-switched laser for best results and to make the result it brings long-lasting.
How often can I do a Q-switched laser?
Dermatologists prefer a gap of three to four weeks between two sessions of Q-switched laser. After the previous session, the skin needs some time to heal before another procedure is done on your face. However, the frequency of Q-switched laser sessions may vary in some cases. One must discuss with the dermatologist the correct frequency according to their skin type.
Conclusion
Over the last few years, Q-switched laser has gained immense popularity among people of different age groups. There are thousands of videos on social media and YouTube advocating the benefits of Q-switched lasers for treating pigmentation problems. Q-switched laser is entirely safe; you must try it if you suffer from hyperpigmentation. But always remember to go for a certified dermatologist for a Q-switched laser procedure since mishandling the device, or any wrong technique may end up causing severe harm to your skin.
I hope this article helped you learn about Q-switched lasers. If you're confident enough to try it, waste no time and find the best Q-switch laser clinic in your area.