Usually, people will search to find the best solution to get brighter, whiter, and softer skin! Here comes the recent chemical peel option called Glycolic Acid. This chemical is especially popular as an ingredient in skincare products and services. So today we are going to discuss this amazing chemical "Glycolic Acid"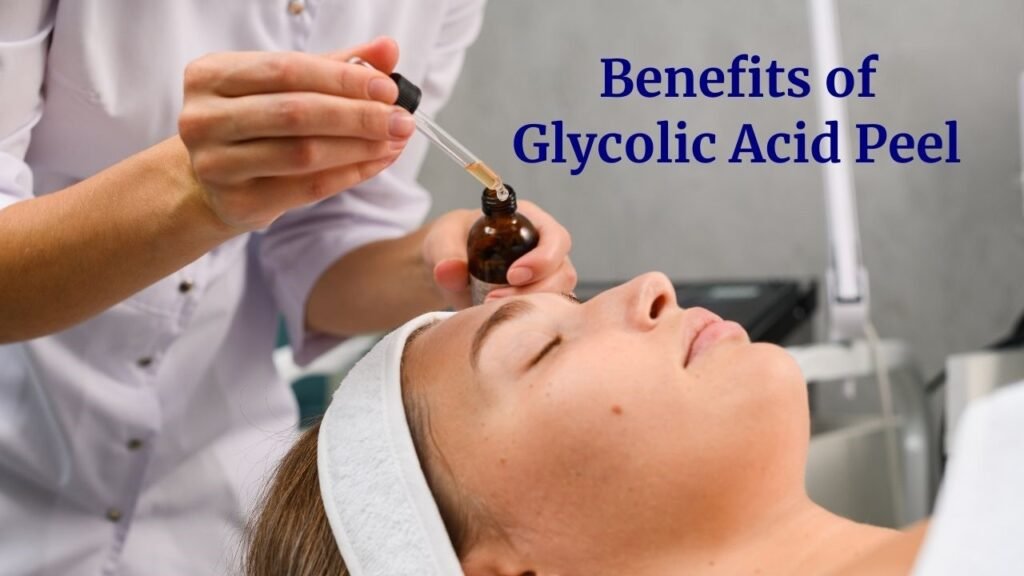 Glycolic Acid's Benefits for Your Skin
This glycolic acid usually belongs to the class of alpha-hydroxy acids (AHAs) which are naturally present in the environment. This glycolic acid is extracted from sugarcane as a powder and this is made up of colorless crystals in its raw state. Extracting glycolic acid from this fruit is considered to be the safest alpha-hydroxy acid for usage on the skin.
After the effect of using this glycolic acid on your skincare routine is skin rejuvenation. Various aspects of using the glycolic acid peel is its benefits and the benefits of using glycolic acid are explained as follows:-
How Much Does Chemical Peeling Cost In India?
What Is Glycolic Acid Peel?
Usually, a different concentration of glycolic acid which ranges between 20% and 50% is used to apply on the skin. Once applied to the skin, this acid starts to exfoliate the top layers of the skin which removes the dead cells on the upper layer of the skin. And the end results will be young, fresh, and brighter skin.
Usually, glycolic acid is used to treat the following skin conditions such as:
Skin Acne & Rashes
Skin scars & wrinkles
Fine lines and pigmentation
Sun damage & sun tan
Freckles & dull complexion
Uneven skin tone & pimples
Shrinking large pores & treats unclogged pores
This glycolic acid extraction is followed by comedone extraction method. After applying the glycolic acid on the skin, since the surface layer of the skin is exfoliated, it becomes easier for the blackheads and whiteheads removal. This process can also lighten by using this chemical peel treatment.
Read more about How to Reduce Body Heat Pimples
Glycolic Peel Benefits
Here are the Glycolic acid peel benefits –
Due to its easy application process, you can get the glowing fairer skin in no time.
Helps to rejuvenates the skin and helps in the skin regeneration process
Replace the dull and damaged top layer of the skin and gives you a youthful skin
Gives your face a fresh and radiant glowing look
Lightens sun spots, age spots, skin acne and hyperpigmentation
Applying glycolic acid can enhances collagen production and makes your skin look more supple and plump
Helps to retain the moisture level of your skin
Helps to exfoliate the dry and flaky skin
During the exfoliation process, dead skin and dirt will be get removed which reduces unclogged pores. Large pores that appear prominently on the skin become less noticeable.
What Does A Glycolic Peel Do?
Being scientifically proven to treat skin acne, rashes, irritation and hyperpigmentation, glycolic acid has been used to treat melasma, photo damage on the skin, signs of aging, etc.
Glycolic Peel Treatment Procedure
The initial process of glycolic acid treatment starts with an initial consultation with your dermatologist at a Skin Clinic.
Depending on the sensitivity level of your skin, the concentration of the acid to be used.
Before beginning the treatment, a pre-care checkup is done to find out whether your skin suits the treatment or not. And your doctor will thoroughly clean the skin with a cleaner and a de-greasing solution.
A patch test will be conducted to determine how your skin will respond to the procedure. This involves applying the acid to the small area of the skin and monitors the reaction or any side effects.
If there are no adverse effects, then your skin doctor will start applying glycolic acid on the skin.
The acid will be applied on the designated skin area using brush, as specified by the dermatologist.
Then, the acid is inactivated with gentle water sprits.
Wipe your skin with a soft towel to remove the traces of the peel.
Now, allow your skin to dry and apply moisturizing cream to ensure protection of your skin from sun damage.
You need to undergo multiple sessions to get the results you desire. You can take 2 continuous sessions with an interval of 2 to 3 weeks. You can discuss with your dermatologists to find the number of sessions required to get the desired results.
Glycolic Peel's before and After Results
Many people have evidence that after the use of glycolic acid peel, they have noticed marvelous results such as brightening the complexion, lightening spots, skin acne, and marks. After this treatment, they felt that their skin looks fresh and smooth. Fine lines and other aging factors have also disappeared and the skin tone becomes normal and even.
Glycolic Acid Peel Cost in India
The cost of the glycolic acid peel treatment in India will vary depending on the clinic you choose and the experience of the dermatologists as well, the quality of the ingredients used for the treatment. Please be noted that the cost of the treatment will also vary based on the cities.
Nowadays, most of the clinics have come up with different package deals which give a set number of treatments as a package. Usually, this glycolic acid peel is used in conjunction with any other cosmetic treatment to get better results.
Glycolic Peel's Recovery Period
Compared to other skincare treatments and methods, this procedure comes with ZERO Downtime! You can fix your schedule to get the treatment done at any time based on your convenience. In case, if you do experience any redness or irritation after the treatment, it will settle down in just a few hours, not more than that. Here we have come up with the pre and post-care advice for Glycolic Acid Treatment.
Pre-Procedure Advice
Before starting this procedure, it is advised to discuss with your dermatologist to understand the uses and effects of using this peel. And also make sure to check out the pre-care and post-care checklist to ensure the safety of the skin condition.
In certain cases, this skincare treatment causes skin rashes or irritation, or skin redness, so it is not advised to do this peel at least 3 or 4 days before the big event. Before doing the peel treatment (it is advised to be 3 or 4 days), avoid doing waxing or threading on the skin area where the peel is going to be applied. Most importantly, if you notice any serious symptoms after undergoing this acid peel treatment, notify your doctor immediately.
Post-Procedure Advice
After the completion of glycolic acid, your dermatologist will recommend you to follow some precautions and after-care routine which you need to follow to take care of the treated skin. And this post-procedure advice includes:
For the next 24hours after the treatment, wash your face with warm water (normal temperature)
Apply sun screen lotion every day and it should be applied 30 minutes prior stepping out into the sun. Make sure to reapply sunscreen for every 3 to 4 hours.
Pause from physical activity like working out in gym and other aerobics.
Say no to make up for the next 24hours after the treatment
Sauna, swimming, and hot tubs should be avoided for the next three days.
Don't do waxing, threading or other facials on the peeled skin for the next 7 days.
Don't apply homemade packs and scrubs for the next 2 to 3 days after undergoing the treatment.
Final Thoughts!
Do you wish to undergo glycolic acid to have brighter and softer-looking skin? Then consult our experienced dermatologists at ChooseClinic & book your appointment today!
Also Read: Skin Whitening Treatment in Hyderabad – Cost, Benefits and Results
Frequently Asked Questions
Is Glycolic Peel Safe?
Yes! As the acid is extracted from sugarcane, it is scientifically proven to work well to rejuvenate your skin tone and to treat skin acne and other marks. But please be noted that the results may vary based on the skin condition, so make sure to discuss with your skin doctor before undergoing the glycolic acid peel treatment.
How Often Can You Apply Glycolic Acid Peel?
You can undergo the glycolic acid treatment every 3-4 weeks to get better results. Since glycolic acids are good for your skin, using them on regular basis can help in bringing a rejuvenating look to your skin. Following this treatment, regular maintenance & proper skincare routine is required to maintain and enrich the results.
Is Glycolic Peel Treatment Worth It?
Yeah, Obviously! Glycolic acid treatment is really worth it! This treatment works better to treat acne marks, hyperpigmentation, tanned skin, wrinkles, crow feet, and other aging signs. You can undergo this treatment under the supervision of an experienced dermatologist. Compared to other cosmetic treatment options, this treatment seems to be very cost-effective which gives the best results in an affordable way. Also, since this treatment has zero downtime, you can opt for this treatment at any time & anywhere! It is the quick solution for multiple skin problems!
So, why are you waiting for? Consult the dermatologists at ChooseClinic & get fairer & brighter-looking skin today!