As a woman, everyone is concerned about the unwanted hair growth in the face, especially in the upper lips and chin area. Are you the one who is having unwanted hair growth in the face? Are you searching for the right treatment to get rid of that unwanted hair from your face? There are many more traditional methods such a threading, waxing, and other home remedies. But, none of it will provide long-lasting and permanent results. Here comes Laser Hair Removal treatment in Hyderabad! Continue reading to find out more information about the upper lip laser removal treatment and its cost in Hyderabad.
How Are Lasers Used For Upper Lip and Chin Hair Removal?
Since the conventional hair removal methods of waxing, threading, and shaving didn't work well, people are now stepping behind Laser Hair Removal. The main reason behind why Laser Hair Removal stands out as the most effective hair removal method is – It helps to enjoy hair-free skin smooth skin with a shorter treatment time, permanent results, and greater comfort.
Laser hair removal treatment targets the hair follicles and then destroys them first to prevent and stop further hair growth. In this process, the laser beams of specific wavelengths on the targeted areas such as the upper lip and chin. The laser beams get absorbed by the melanin present in the skin and go into the hair root where it destroys the stem cells responsible for the hair growth and prevents it from growing hair further.
Read This: Laser Toning For Skin Lightening Treatment in Hyderabad
Benefits of Laser Hair Removal for the Upper Lip & Chin
Long-Lasting Results – Laser hair removal treatment in the upper lip and chin area will provide long-lasting results with a permanent reduction of unwanted hair growth.
Effective & Quick solution – This treatment session for the upper lip and chin area will take around 15 minutes. These results are very effective and will provide a quick solution, i.e. you can see the visible results immediately.
Know more about Laser Hair Removal Cost in Hyderabad
Easy to maintain – This requires little post-care routine and the skin is easy to maintain after the treatment. This treatment will work for all despite their skin type & skin tone.
Easy Procedure – This laser hair removal procedure is a hassle-free and comfortable process that can help to give permanent results in just 2 to 3 sessions. Since this gives permanent results, this is cost-effective and also stops your parlous visits too.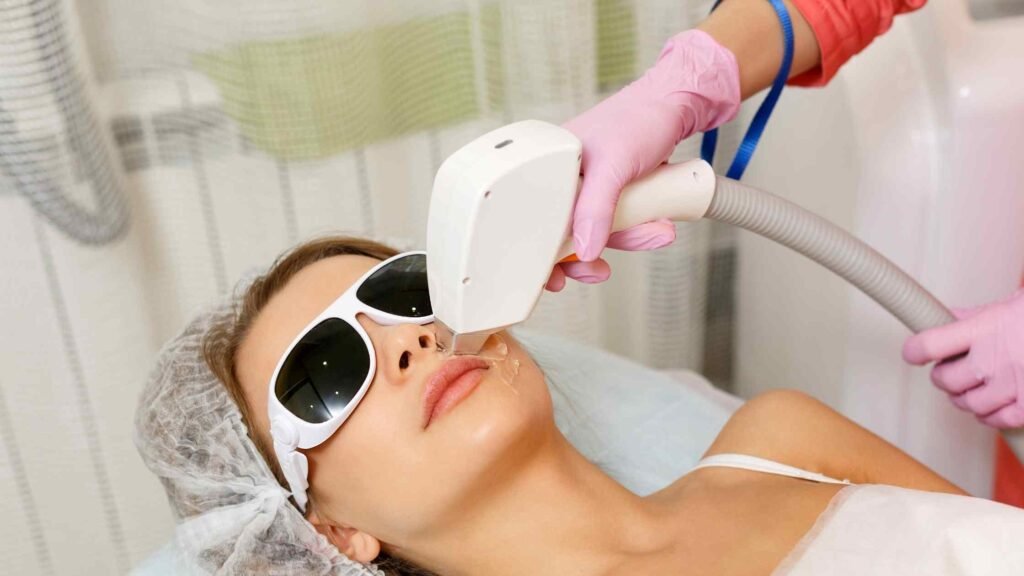 Popular Upper Lip & Chin Hair Removal Packages in Hyderabad
You can choose from any of the three popular packages for laser upper lip and chin hair removal offered by ChooseClinic in Hyderabad. These packages can also be customized for individual preferences. These are –
Both upper lip and chin
Upper lip only
Chin and jawline
What To Expect After Laser Upper Lip & Chin Hair Removal
After undergoing the laser hair removal treatment, you can see the results in form of reduced hair growth after the very first session. This treatment may require 2 to 3 sessions and this can gradually reduce hair growth. Below is the reference of Before and After Laser Upper Lip and Hair Removal treatment.
Are There Any Side Effects, Pain or Risks Involved?
Compared to other traditional hair removal methods, laser hair removal treatment is a pain-free procedure where you may feel a slight warm sensation during the treatment session. Since the laser beam is targeted to a specific area, it will only focus on the target area and will not harm the surrounding skin. Also, there will be no major side effects involved with this treatment and this treatment is approved to be safe and effective with no pain.
Read more about How Much Does Permanent Laser Hair Removal Cost in India?
Frequently Asked Question
Who performs the procedure?
This procedure should be performed by experienced and trained specialists under the supervision of an experienced dermatologist. Both the patient and the doctor who perform this treatment are advised to wear specialized glasses to protect the eyes from laser light.
Read more about How To Remove Chest Hair
Who is an ideal candidate?
If you are one who is above 18, who is looking to get rid of unwanted on the upper lip, chin, or jawline, then you are the ideal candidate for the laser treatment. Also, on the other hand, pregnant women and lactating women are advised not to go for laser treatment.
How Long Does It Take to Complete an Average Session?
For the chin area, the maximum duration required for the laser session is about 20-30 minutes. To remove the hair from the upper lip area will take around 10-15 minutes per session.
Is Laser Hair Removal Treatment is safe and Effective?
Compared to other treatment options, the upper lip and chin hair removal is 100% safe and effective with permanent results. Also, during the treatment sessions, all the equipment used for US FDA is approved and will comply with the highest safety standards.
What Kind of Results You Can Expect After Laser Upper Lip and Chin Hair Removal?
After the first treatment session, you can see the results in the form of reduced hair growth. Also, the hair growth after the session is thinner and it can gradually reduce as more sessions are performed. To get the best results, you need to follow the post-care instructions prescribed by dermatologists for the best results.
Bottom Line!
No more need to adjust with the upper lip and chin hair growth! Book your FREE Consultation with our dermatologists at ChooseClinic and get smoother and hair-free skin! We are here to provide the best treatment options at competitive pricing which helps people to get the laser treatment to remove unwanted hair in a pocket-friendly way! The cost of Laser treatment for upper lip and chin hair will come around Rs.5999/-. So, why are you waiting for? Call us now for FREE Consultation!