Are you healthy? We know it is hard to determine, as numerous factors decide whether or not a person is healthy. People use the term "healthy" in two different situations: first, if someone has put on a little or more extra weight, and second, a person looks hale and hearty with a disease-free body. But whatever it may be, an appropriate equilibrium between a person's height and body weight is one of those many factors that decide whether or not that person is healthy.
While we are incorporating global lifestyles and food habits in the modern world, we are unknowingly prone to many health problems. Obese or obesity is one of those health issues utterly connected with inappropriate lifestyles and food habits. As a result, "weight loss" has become a common term for a significant percentage of the global population.
The saddest part is that while a considerable portion of the world population is dealing with issues like poverty, starvation, and food scarcity, many people face the challenge of losing weight.
Read more about 10 Kg Weight Loss in one Month
But it is not always true that people who eat more are the ones who deal with excessive weight issues. Hormonal changes, pregnancy, certain medications, and genetic components affect a person's susceptibility to gaining weight.
Thankfully, at the same time, the world is getting more thoughtful and more mindful about health with time, and there are multiple ways to lose weight one can choose from. But one must ensure keeping safe from the trap of "quick weight loss ideas" fad that has deceived many people.
Read more about The Benefits of Jumping Rope Go Beyond Weight Loss
Then what is the right way to lose weight?
If this is the question in your mind right now, you need to read this article until the end. Because this article is all about the most sustainable and proven weight-loss method you can ever incorporate into your life.
We are talking about yoga, an ancient exercise technique that originated in India and is practiced worldwide.
The History Of Yoga
It is hard to come up with a date or time when yoga was introduced. But it is believed to be developed by the Indus-Saraswathi civilization in northern India over 5000 years ago. But many researchers think that yoga is up to 10,000 years old, which makes it difficult for people like us from the modern time to understand the actual age of yoga.
Read more about 10 Simple and Effective Tips to Lose Belly Fat
If we dive deep into the old Indian sacred texts like Rigveda and the Upanishads, we can find the mention of yoga. Therefore, it is pretty evident that yoga is a practice defined and developed years ago and is believed and practiced even in modern times.
Read more about Ketogenic Diet for Weight Loss
The Rise Of Yoga As A Weight Loss Exercise Regime
By now, we have gathered a tentative idea about how yoga originated. But what about the rise of yoga as a weight loss exercise regime?
Thousands of years ago, when yoga was introduced, it was derived from the idea of teaching the sacrifice of the ego through self-knowledge, wisdom, and action. And with time, as the practice became prevalent and widespread, various techniques were introduced. Gradually the systematic presentation of yoga came into existence.
A few centuries ago, the believers of yoga, popularly known as the yoga masters, created a system of practices designed to rejuvenate the body for prolonged life. They rejected the notions of the ancient Vedas and embraced the physical body to achieve enlightenment. That is how radical techniques to cleanse the body and mind were introduced. And since losing weight is a form of body cleansing, yoga has become connected to weight loss.
Yoga has benefited many people who want to lose weight healthily. But if the question remains, whether or not yoga is enough for weight loss can become a debatable topic. According to many people, yoga alone cannot promote weight loss. We need to combine yoga with a healthy diet to keep our minds and body healthy.
Well, the belief is somewhat correct. And that is why we will talk about necessary dietary changes to get the most from your yoga practice for weight loss.
Read more about 10 Kg Weight Loss in one Month
Now Let's Talk About The Best Yoga Poses Proven For Weight Loss
Practicing yoga is not just about practicing all the poses you know about. If you can sketch out a specific goal in mind, such as losing weight, yoga has more benefits to offer along with:
Increased flexibility
Improved vitality and energy
Better metabolism
Increased muscle tone
Stress management
Improved respiration and cardio health
Since we are talking about the practice of yoga for losing weight, we will emphasize the best yoga poses for weight loss. But before you start with the Yoga Asanas, you need to remember one simple thing: the result of yoga can only come if you practice it religiously and consistently.
Additionally, the yoga poses we mention below mainly focus on building body flexibility, building muscle tone, and improving concentration. And once you are comfortable with these yoga poses, you can begin to practice power yoga for weight loss.
Worry not! We will talk about power yoga too.
5 Yoga Poses To Lose Weight
Sarvangasana (the shoulder stand pose)
In this form of yoga, you need to balance your body on your shoulder. This yoga pose primarily focuses on strengthening the upper body, abdominal muscles, and legs and comes with multiple benefits such as:
Improving digestion
Increasing your body strength
Promoting good sleep
Boosting metabolism
Balancing your thyroid levels
Improving your respiratory system
Virabhadrasana (the warrior pose)
This yoga pose strengthens the back muscles, hamstrings, and butts and helps in improving our body balance. As deep core muscles are engaged in this yoga form, this yoga helps strengthen our arms, back, shoulders, and mostly the upper body. If you want to tone your tummy and have a flat belly, this yoga pose is perfect. The more you hold this pose, the better the results you will gain.
This yoga pose:
Improves balance
Tones your legs, back, and arms
Trikonasana (the triangle pose)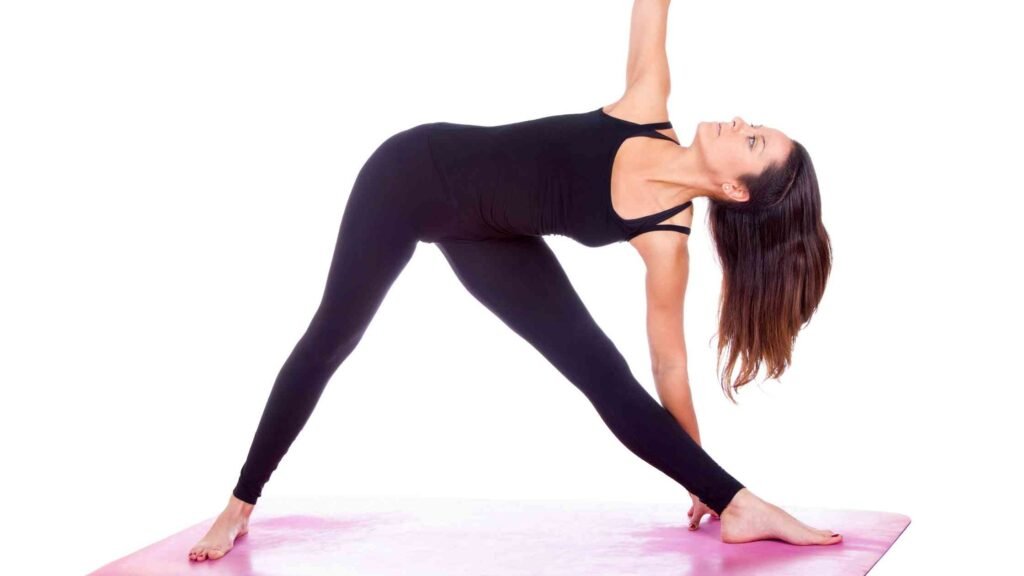 Suppose you deal with the deposited fat in your body and want to reduce the fat from the most challenging areas like the belly and waist. In that case, this yoga pose is perfect for you. Along with burning fat from your waist and building muscles in your thighs and hamstrings, this yoga pose improves concentration and balance and stimulates blood circulation in your body.
Sethu Bandha Sarvangasana (the bridge pose)
This is another yoga pose with multiple benefits. This yoga pose is for you if you want to alleviate your thyroid and focus on glutes and weight loss. The bridge pose:
Regulates hormones
Improves digestion
Improves muscle tone
Controls thyroid levels
Strengthens your back muscles
Reduces back pain
Dhanurasana (the bow pose)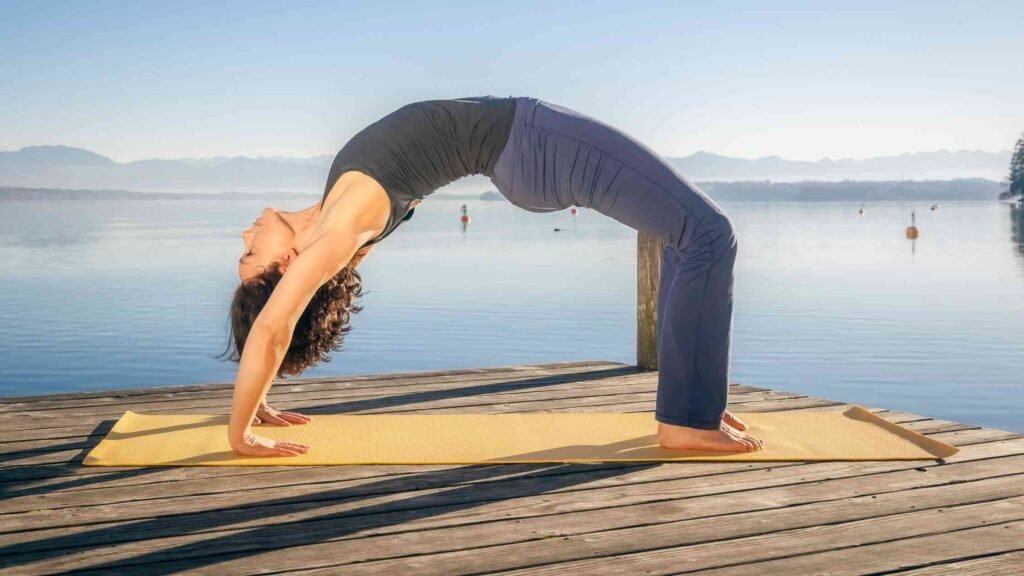 If you are looking for the best yoga pose to lose belly fat, dhanurasana is the one for you. This yoga pose massages the abdominal organs and strengthens your thighs, chest, and back. As you need to stretch your entire body during this yoga pose, it:
Improves blood circulation
Tones your muscles
Let's Move To Some Power Yoga Poses For Weight Loss
There is always a discussion about whether or not yoga is an ideal form of exercise for weight loss. No matter the diverse beliefs regarding yoga and weight loss, it is inevitable that yoga tones our bodies and helps us lose the extra fat deposited in different body parts.
Let's try some power yoga once you are comfortable with the above yoga poses. It is a vigorous form of yoga that helps rejuvenate our minds and body.
Power yoga is more like a cardiovascular workout that promotes weight loss and maintains healthy body weight. If you are looking for something that can enhance your stamina, flexibility, and mental focus along with helping you with losing weight, power yoga is the modern yoga form to help you.
We will talk about some of the most common power yoga poses that you can try for weight loss:
Pawanmuktasana: It is also called the wind releasing pose and helps you drop the extra fat from your stomach and the stomach region.
Gurudasana: The eagle pose is perfect for losing weight and helps you if you want thinner thighs, arms, hands, and legs.
Bhujangasana: Also called the cobra pose, this form of yoga is an excellent choice if you want to solidify your buttocks and tone your abdominal muscles.
Navasana: Navasana, or the boat pose, is very simple yet powerful for weight loss. It focuses on all the major muscles of your body connected with losing weight.
Savasana: Last is the corpse pose which is very important to end your power yoga session. This yoga pose relaxes your muscles and prevents muscle damage.
How To Incorporate Yoga In Daily Life For Weight Loss?
By now, you definitely know about some of the most influential yoga poses that can help you lose weight. But now, we will tell you how you can start yoga as a beginner or incorporate yoga into your daily routine.
We have listed 5 tips you remember before you get into your yoga practice for this job.
Make sure that your stomach is empty:
Yoga is not just a regular exercise, but it is a holistic approach to enhance our overall energy system. The greatest yoga masters of the world believe that practicing yoga on an empty stomach helps move the positive energies that we gather through the practice. So, the ideal time for practicing yoga is in the morning before breakfast and after emptying the bowels. Also, skip intaking food or water during the yoga practice itself.
Take a shower before you start:
Bathing is not merely for cleaning our skin. It helps open up the skin cells and charge the cellular structure of our body with different dimensions of energy. When our body comes in contact with water, the interiority gets washed. Though bathing is completely optional before yoga practice, the yoga masters recommend bathing in cool or tepid water before practicing yoga.
Wear loose-fitting clothes:
There is no particular dress code to practice yoga, but one must wear loose-fitting and comfortable clothes. During your yoga session, you will notice that tight-fitting clothes become uncomfortable naturally when you stretch your body, and energies begin to expand within you.
Start with the easy poses first:
Just like we do regular stretching and jumping before any other exercises, it is mandatory before you start practicing yoga every day.Before you begin practicing yoga, you must warm up your body. Remember, if you start without warming up, you can lead to injure your muscles and cause pain to yourself. Additionally, it is better to start with the poses that seem easy to you and gradually practice the difficult ones.
Don't push yourself way too hard:
We know your excitement about losing weight and discovering an entirely new you. But it takes time for any good thing to show results. The same goes with yoga too. Therefore, there is no point in pushing yourself too hard even when your body is not comfortable with it. Many people think that lengthening their yoga sessions will bring results sooner, but that's not the case. In yoga, consistency is more important than overall length. Therefore, you are more likely to see progress by practicing for half an hour every day than two hours once a week.
What Type Of Diet Is Necessary Along With Yoga For Weight Loss?
Yoga is not just another form of exercise, and we have definitely mentioned that before. Yoga is more like a discipline. Following suitable yoga asanas and eating a healthy diet can bring desired results. The yoga masters suggest developing a mindful eating practice to fuel your yoga regime. And therefore, they recommend eating bland and nutritious foods that nourish our body and maintain a peaceful mind.
You can add a few superfoods to your daily routine, including:
Fresh fruits and vegetables
Fruit juices
Seeds
Sprouts
Nuts
Though many other things can supply enough energy to your body, ensure they are free from chemicals. Also, you must refrain from intaking tobacco, caffeine, alcohol, and artificial or processed sweeteners while practicing yoga.
Most yogis believe in following a vegetarian diet. They don't want to include animal protein-containing too much uric acid and other toxins. But every yoga practitioner doesn't need to follow a vegetarian diet. But whatever you may eat must be high-quality protein and should not pollute your internal system.
Till How Long One Must Practice Yoga To See Results?
Yoga is a holistic approach to cleanse and uplift you as a whole and not just a practice to lose weight. Therefore, don't start your yoga practice with unrealistic goals or expectations, such as losing weight in 21 days. In yoga, consistency is the key, and you will see results with time. But remember, one must not skip doing yoga after achieving their desired results.
A consistent practice of yoga, even after achieving results, will lead to a healthy life, prevent obesity problems, and cure many diseases.
Conclusion:
This article helps you understand how to incorporate yoga and the correct poses to practice for losing weight. Stay tuned for many such articles that help you live better and healthy.