Vacations during summer are fun until you realize that your skin has turned a few shades darker due to the scorchy sun, isn't it? There is no other reason but excessive sun exposure that leads to suntan. And people residing in tropical countries are more prone to suntan than others. Though we take several precautionary measures while going out during summer or for a beach day, sometimes we cannot protect our skin enough from getting tanned. And such a thing happens when we don't know the right skin care approach before stepping out on the beach or sun exposure.
This article will tell you about all the precautionary methods you can follow to get rid of sun tan on your face and body, alongside methods to keep yourself away from suntanning. But before everything else, you need to know what is tanning and causes skin tan. Read on!
What Is Tanning?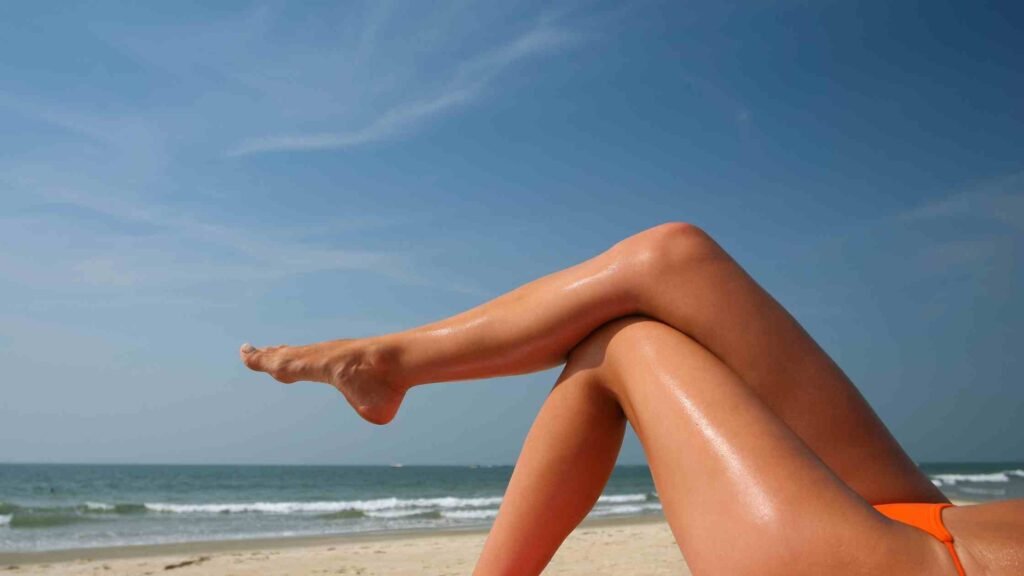 Tanning or sun tanning is basically the browning of the skin caused especially by exposure to the sun. While many people spend hours getting tanned, tanning is one of the most dangerous things to our skin. Many people with bright complexions think that spending time under the sun gets them a healthy tan. But the reality is there is no such thing as called healthy tan. Skin tan is a sign of DNA damage and the body's defense against UV rays. When the skin tans, the body releases melanin under the skin's surface for being exposed to harsh sunlight. Therefore, the higher the UV ray's exposure, the higher the skin pigmentation and darker the skin.
The skin areas that are exposed to the sun are more prone to tan, including:
Face
Hands
Feet
Legs
Neck
Arms
Back
Read This Now: What Is the Cost Of Skin Whitening Treatment In India?

What Are The Causes Of Skin Tan?
It gets tanned when our skin gets exposed to the solar spectrum consisting of ultraviolet rays at different wavelengths. Let's know about the different UV rays.
•	UV A: These rays are the most dangerous element present in sunlight and responsible for skin tan. UVA rays can penetrate more profound into the skin and damage the cells. The melanocytes then release melanin and cause dark brown spots on the skin.
•	UV B: UV B rays harm the upper layer of the skin. These rays don't trigger melanocytes to release melanin. However, UV B rays also damage the DNA and boost melanin production.

Highly Effective Home Remedies You Can Use To Remove Suntan From Face And Body
Many people think applying sunscreens on the skin is enough to stay protected against harmful sun rays. Sometimes, exposure to the sun or missing out on applying sunscreen leads to mild to severe sun tan, depending on your skin type. A wide range of products is available to help you deal with a sun tan. Here are some natural ways to quickly help you get rid of sun tan.

Lemon And Honey

Lemon has excellent bleaching properties that can help you naturally remove tan from the face and body. At the same time, honey keeps your skin smooth and soft. To use the products, take one tablespoon of lemon juice and one tablespoon of honey and mix them together to make a thin paste. Now apply the mixture to your skin and leave it for 15 minutes. Once your skin starts filling chapped and dry, wash it off with lukewarm water and experience the magic it did on your skin.
Honey also has antibacterial and antioxidant properties, while lemon has a bleaching effect on your skin. Both ingredients bring a natural glow to your skin. You can apply this pack to your face at least once weekly for the best results. Also, do not keep the pack on your face for more than 15 minutes.

Turmeric And Besan
Besan or Bengal gram flour is a well-known ingredient for removing suntan from the face and body. If you want to gently exfoliate the dead skin cells and remove tan, mix one tablespoon of Bengal gram flour with a pinch of wild turmeric and add some water. You can also use rose water instead. Make a thin paste and apply it to your skin. Leave it to dry for 20 minutes, and then wash your face with warm or cold water. Before washing your face, gently massage the pack on your face by putting some water on the dried face pack.
Turmeric has anti-inflammatory and antibacterial properties and can fight the intense rays of sunlight. When mixed with Bengal gram flour, turmeric reduces the effect of suntan on your skin. You can use milk instead of water or rosewater if you have dry skin. Some people also prefer using yogurt in this face pack.

Cucumber, Lemon Juice, And Rosewater
We must always use lemon juice in a saturated form to remove tan, but remember, lemon is not suitable for every skin type. So, it is always better to make a face pack without lemon juice if you have sensitive skin. For this face pack, you will need cucumber, rose water, and lemon juice if your skin does not react to lemons. You need to mix one tablespoon of each ingredient in a clean bowl. Now dip a cotton ball in the pack and apply it all over the face and areas where you want to remove the tan. Keep the pack for 10 to 15 minutes until it's scorched. Then wash the pack off with cold water. Voila! Your glowing skin is back.
Lemon is known for removing tan, while cucumber has antioxidants that prove to be suitable for protecting your skin from inflammation and sun damage. Rosewater is also rich in antioxidants and maintains the pH of your skin.

Papaya And Honey
Papaya is not only a great fruit to eat but is also an excellent ingredient for topical usage. For being rich in vitamin A and C and containing an enzyme called pepsin that is greatly helpful for removing dead skin cells and healing skin, papaya makes a great face pack for removing tan. To get most of the papaya's bleaching and exfoliating properties, mash ½ cup of papaya and mix it with one tablespoon of honey. Apply the face pack to the targeted skin areas and leave it for half an hour. Once the pack is completely dried, wash it off with cold water.

Red Lentils, Aloe Vera And Tomato Juice
All the three ingredients we mentioned above even work individually to remove suntan from the face and body. And when mixed together, the result they bring is commendable. To make the face pack, you first need to soak a handful of masoor dal or red lentils and make a fine paste. Now you need to add one tablespoon of aloe Vera gel and two tablespoons of tomato juice and give all the ingredients a good mix. Now apply the pack to your face and leave it for 30 minutes. Wash it off with cold water once dried.
Aloe Vera contains 99% water, and the rest, 1%, contains minerals and vitamins beneficial for the skin. When applied to tanned areas, Aloe Vera soothes the skin.

Tomato Juice And Yogurt
Yogurt and tomato are rich in vitamins and minerals and must be present in your daily diet. Being citric in nature, tomatoes help prevent wrinkles and also tan removal. Yogurt, on the other hand, soothes and moisturizes the skin. When mixed together, tomato juice and yogurt can remove dark spots and pigmentation from the face. Therefore this face pack is extraordinary in removing suntan from the body and face.
To make the face pack, mix one tablespoon of tomato juice with one tablespoon of yogurt. Now apply the face pack all over the skin, especially where it is tanned, and keep it for 30 minutes before washing it off with warm or cold water.

Orange Peel Powder And Yogurt
The citric acid present in the orange peels works wonders for the skin as a skin bleaching agent. Orange peels also contain vitamin C, revitalizing the skin and removing free radicals. Yogurt is known for moisturizing and soothing the skin. When mixed, orange-peel powder and yogurt make an excellent face pack for suntanning. Mix one tablespoon of each and apply the pack to the targeted skin area. Leave it for 30 minutes and wash it off with cold water.

Oatmeal And Buttermilk
Oatmeal is not only an excellent breakfast choice but brings many benefits to the table for your skin too. To make this face pack, add 3 tablespoons of buttermilk with two tablespoons of oatmeal and blend it together to make it a fine paste-like mixture. You then need to apply the face pack to the affected skin area and let it sit for 30 minutes before washing it off with warm water.
Oatmeal is an excellent exfoliator for your skin. The lactic acid in the buttermilk helps improve the skin tone and makes the skin more supple.

Sandalwood And Coconut Water
Sandalwood powder was used for skin health improvement in ancient times. When mixed with coconut water, sandalwood powder helps eliminate skin tan. Mix one tablespoon of sandalwood powder with one tablespoon of coconut water and make a paste-like consistency. Apply the mixture to your face and leave it for 20 to 30 minutes, or until it is dry. Now rinse your face with cold water. For best results, use this pack thrice a week.

Milk And Wild Turmeric
We all know about the anti-inflammatory and healing properties of turmeric. Milk, on the other hand, soothes the skin And exfoliates it. Mix a pinch of turmeric with two tablespoons of cold milk to use this home remedy. Now apply the mixture to the tanned areas and leave it until dry. Now wash it off with normal water and repeat this mask daily for best results.

Lemon Juice And Brown Sugar
Brown sugar is a perfect exfoliating ingredient used to treat skin tanning. Mix a few drops of lemon juice with two tablespoons of brown sugar and exfoliate the dead skin cells from the tanned skin areas. You need to gently massage the areas for two to three minutes and then rinse with cold water.

Cosmetic Skin Treatments For Removing Skin Tan
Home remedies are undoubtedly effective in removing suntan from the face and body. But home remedies take some time to work on the skin. Sometimes a few home ingredients can be a little harsh on your skin, especially if your skin is too sensitive to any particular agent. Therefore, to avoid any kind of harsh reactions to the skin, many people prefer going for cosmetic skin treatments to remove suntan from the face and body. Here we will tell you about some of the most common cosmetic treatments that treat suntan.
Laser toning: Laser tan removal is suggested by dermatologists and is one of the best ways to remove suntan in less time. In this treatment, the dermatologist or an aesthetician uses a laser device to break down the pigment and reduce suntan, brown spots, etc.
Chemical peels: Chemical peels are also extraordinary for skin and help remove suntan through quick exfoliation and regeneration of new skin cells. In chemical peel treatment, dermatologists use different concentrations, types, and strengths of peels to treat dark and tanned skin and remove the superficial dead skin that includes excessive melanin.
Microdermabrasion: This is another exfoliating treatment and is very effective in removing dead skin cells and suntan.

How To Prevent Suntan?
Protection is always better than cure. And therefore, if you can avoid staying out in the sun for a prolonged time, there is nothing like it. It is probably the best way to avoid sun damage and suntan. But there is one more thing that you need to remember- your skin can still get tanned when inside. That is because, alongside the sun, even the LED lights we use in our households cause damage to our skin to some extent. And here is how you can prevent your skin from getting damaged and tanned.

Wear A Good SPF Sunscreen Even At Home
Sunscreens are not only recommended while going out in the sun, but you need to apply them on your skin every day, including those days when you are not going out at all. Always wear a good SPF sunscreen with a minimum SPF of 50. Make it a habit to apply sunscreen on your face while brushing your teeth. Also, remember, applying sunscreen once on your face is not enough; therefore, reapply the sunscreen after 4 hours from the first application. If you stay outside for a prolonged period, instill the habit of reapplying sunscreen every four to five hours.

Avoid Going Out In The Middle Of The Day
From morning 10:00 AM to 3:00 PM in the afternoon is the time that causes most sunburn as the ultraviolet rays are strongest during the time. Therefore, if going out is inevitable in your daily routine, try to avoid this particular period.

Wear Protective Clothes
When going out, especially for an extended period in the middle of the day, wear full-sleeved shirts or T-shirts to protect your body against the harmful sun rays. By doing so, you will be able to protect your hands, neck, back, and legs from getting tanned. Don't forget to apply sunscreen all over your body before wearing clothes and going out during the daytime.

Wear Hat And Sunglasses
It is not enough to protect your skin against the harmful UV rays; your eyes need protection too. Therefore, wearing good, branded sunglasses is mandatory while going out in the sun. If you prefer wearing caps or hats, wear them while stepping out. That way, you will add an extra layer of protection to your face apart from applying sunscreen.

Conclusion
Men, women, and children everyone needs protection while spending time outdoors. Both fair-skinned and dark-skinned people are prone to suntan though the color of tan may vary depending on skin color. Many sunscreens available in the market are very effective when used correctly. If you are buying sunscreen for your children, perform thorough research before buying sunscreens. Applying the wrong product can lead to various skin diseases, including skin cancers. Apply the sunscreen at least 20 minutes before going outdoors and reapply the sunscreen every four to five hours if you are using a sunscreen with SPF 50. For sunscreens below SPF 50, it is mandatory to reapply every two hours while outdoors. Lastly, cover all the exposed areas of your body and wear protective clothes to make sunscreen more effective. If you want a skin treatment to remove suntan from your face and body, consult a dermatologist or aesthetician.