How many of you get that "oh not again" feeling whenever the time of the month comes? No, we are not talking about the menstruation cycle. Though that's painful. But there exists something more painful. You guessed that right. We are talking about your hair removal routine, indeed. Hair removal is a time-consuming and frustrating phenomenon. And we can bet that every time women go for their monthly hair removal routine, a common thought strikes their minds "is there any permanent solution?" All the traditional hair removal methods, including shaving, waxing, and tweezing, are effective yet temporary. Alongside, all the above-mentioned hair removal methods cause severe side effects to many if not done correctly.
Then what is a more permanent solution? Laser hair removal is the answer if you are looking for a long-term solution to eliminate unwanted body hair. Though this method does not permanently remove body hair, it provides up to 95% reduction of your existing hair, delays your hair growth cycle, and ensures that the new hair grows easier to maintain.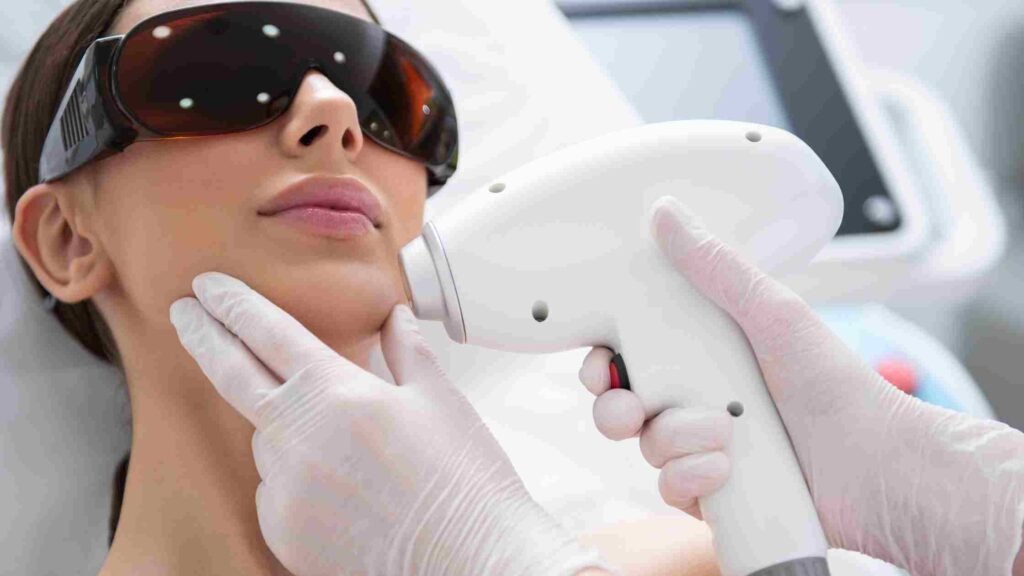 Laser hair removal can be done in any part of your body with unwanted hair. And if you have been hearing about laser hair removal for a long time now, but still it sounds risky, this is the time to hear more about it and decide whether or not it is legit and worth the time, pain, and pain cost.
What Is Laser Hair Removal?
It is easy to guess the working mechanism of laser hair removal from the name itself. Since the name includes laser, there must be an intervention of laser light in the treatment. And if that is how you guessed about laser hair removal or found out during your preliminary research, you are right. In laser hair removal, highly concentrated light pulses are emitted from the laser device into the hair follicles. Our hair follicles consist of a pigment named melanin which is responsible for the pigmentation of our body hair. In laser hair removal, the melanin is targeted as the light finds it easy to target, and the pigment absorbs the light. As a result, the follicle targeted gets destroyed.
According to studies in the first laser hair removal procedure, almost 90% of body hair can be removed in patients who are good candidates for the procedure. Most people who have undergone laser hair removal experienced permanent hair loss after an average of 3 to 6 sessions.
How Was Laser Hair Removal Invented?
Removing unwanted body hair by laser was not as easy a procedure as it sounds now. And many people who have been going for laser hair removal might have eye-witnessed the progress in laser hair removal in the last few decades. And yet laser hair removal results in prolonged hair reduction. The treatment was not accessible when it started.
The Early Methods Of Hair Removal
We must call laser hair removal the latest advancement of the most popular beauty practices that continuously evolved over the years as technology has progressed. Unwanted body hair removal was a common practice among ancient Egyptians. And they used to use sugar-based waxes, tweezers made of seashells, pumice stones, and beeswax to get rid of body hair. During the Roman Empire, the use of razors made from flints was used by men and women to remove unwanted body hair.
In 1760 the first straight razor was invented by a French barber, which gained popularity among some women too until a doctor in the 1800s invented the first hair removal cream. That is the same century that gave birth to the first modern-day razor for men. But women still used the same razors made for men until, in 1915, Gillette first created a particular razor for women. And eventually, the following decades gave birth to wax strips, electric razors, and electrolysis.
Read more about Know About Laser Hair Removal Versus Electrolysis
And Then Came The Laser
In the 1960s, laser hair removal came into existence. Theodor H. Maiman was the man behind the development that minimized hair growth. But some downturns associated caused many people to suffer from severe damage and burns. Later in 1964, the USA Food and Drug Administration approved a new laser named Nd: YAG, which was able to reduce hair growth but could not produce any permanent results.
In the 1970s, another trial in laser hair removal method what's done, and this time, it was the birth of the alexandrite laser. The method was forcing radiation through an alexandrite crystal to reduce hair growth. This method was safer than the earlier lasers, but the heat was not enough to stop hair growth permanently.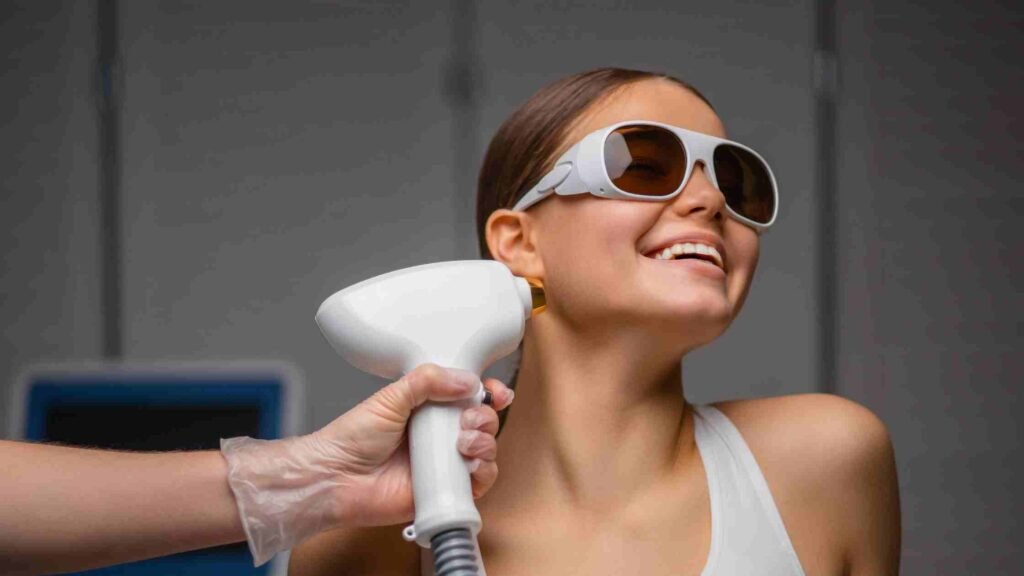 Years later, in the 1990s, Dr. Richard Rox Anderson, who worked at Harvard Medical School, and his new team member Dr. Melanie Grossman started investigating laser hair removal. The duo started their research on hairy dogs, and in 1994 they released their first paper on laser hair removal in humans. The team invented using concentrated light beams directed at the skin that travels into the hair follicle and destroys it. They found that future hair growth is delayed once the follicle is damaged. Though the process they followed worked similar to the earlier studies, Anderson and Grossman perfected the laser's intensity and the duration of application on human skin. In 1997 FDA approved laser hair removal.
Read more about What Are The Side Effects Of Laser Hair Removal?
How Is It Going Today?
In 2022 while I am writing this article, laser hair removal is prevalent alongside being an accessible and affordable hair removal solution along with five leading technologies in use:
Ruby
Alexandrite
Diode
Nd: Yag
IPL
What Is Done In A Laser Hair Removal Session?
Expert dermatologists or aestheticians perform laser hair removal. It is a non-invasive procedure that offers multiple benefits alongside precisely targeting specific hair and keeping you away from awkward in-between growth stages. And the entire laser hair removal procedure is done in a few steps. And we will take you through the process step by step.
The First Step-Preparation
When laser hair removal is quite viral in India, hundreds of clinics India offer the same treatment. And the cost of laser hair removal will not be the same in different clinics and cities. Therefore the first step of going for laser hair removal is to choose a Doctor Who is board certified and has a specialty in cosmetic procedures. Remember, if you go for an inexpert dermatologist for laser hair removal, chances are high that you will face severe side effects if anything goes wrong.
Before starting the procedure, your dermatologist will likely review your medical history and discuss all the benefits and risks associated with the procedure. Since laser hair removal is not appropriate for everyone, you also must expect your dermatologist to tell you whether or not this treatment is an appropriate option.
To prepare for your first laser hair removal session, your dermatologist will ask you to avoid waxing or plucking your hair for at least six weeks before the treatment. Waxing and plucking temporarily remove your hair follicles along with their roots. And since the laser targets those roots, the treatment becomes impossible to perform on freshly waxed skin. Shaving is acceptable since shaving cuts the hairs without uprooting the hair follicles.
If you have excessive hair growth, your dermatologist will ask you to shave 24 hours before the treatment so that the laser can quickly locate the hair follicles and the hair stubbles don't get burned during the process and cause discomfort.
The Second Step- Laser Hair Removal Treatment
Once you are prepared and that particular day arrives when you are going for your first laser hair removal session, here are a few things you know before going. You need to shave your skin before going to the clinic. Your dermatologist will give you an option to choose between applying a topical anesthetic or avoiding it altogether. Applying topical anesthetic is optional as the process lasts 45 minutes and the discomfort during the treatment is quite bearable. But suppose you are unsure about your endurance or getting laser hair removal done in sensitive areas such as the bikini line and underarm. In that case, it is better to receive a topical anesthetic.
Read more about Laser Hair Removal Cost for Face – Benefits, Procedure, Treatment
Your dermatologist will also give you eye protection and will check the setting of the laser equipment and adjust it according to the location where it is being performed, along with the thickness and color of your hair. Once everything is all set, the last step before the procedure is the application of a cold gel or a unique cooling device to protect your outer skin and minimize the side effects of laser hair removal.
During the procedure, the laser device will emit light pulses on the treatment area, which can cause slight discomfort. People who recently underwent their first laser hair removal session described the sensation as a warm pinprick or a rubber band snapping against their skin.
People who went for their second laser hair removal session claim no sensation in subsequent sessions compared to the first treatment. The feeling of discomfort varies from one person to another also based on the treatment area.
The 3rd Step-After The Process In-Clinic
Once the procedure is completed, your dermatologist will apply a lotion, an anti-inflammatory cream, or ice packs to subside the discomfort.
You will likely notice some warmth and redness on the skin that will sustain for a few hours after the treatment. Don't panic, as such things are expected. Even if you feel like a mild sunburn, that is common too and will be relieved with moisturizers and cold compresses.
Laser hair removal has no downtime. Therefore if you are getting hair removal done on your face, you can wear makeup from the very next day. But it is mandatory to wear a good spectrum sunscreen on all the sun-exposed areas, especially if the treated area is exposed to sunlight. If possible, it is better to avoid sunlight at least for a few weeks after the treatment.
The 4th Step- Aftercare
Though laser hair removal is done with cutting-edge technology and scientists have taken the laser devices to a new level, you still need to take care of your skin after the procedure. After all, we should be grateful for getting rid of those painful and messy hair removal methods like threading and waxing by taking good care of our skin. We will tell you some after-care tips, and you can follow the same tips even in your subsequent sessions.
Avoid Saunas And Hot Showers: The working mechanism of laser hair removal is to use heat to destroy the hair follicles. But applying extra heat can lead to irritation in the treated area. Therefore after your laser hair removal session, you must avoid hot showers.
Avoid Rigorous Exercising: When we work out rigorously, our body experiences the same effect as a hot shower since our body temperature also rises. After your laser hair removal session, you must avoid exercising for at least 48 hours.
Avoid Harsh Products And Makeup: Right after the procedure, you need to let your skin breathe for a while. Therefore using harsh chemicals on the skin, especially the face, is a total no-no since they can irritate the treated area. It is advisable to wait for a minimum of 24 hours before applying makeup post your laser hair removal session.
Avoid Going Out In The Sun: Right after the procedure, it is mandatory to protect your skin with a good sunscreen since the harmful UVA and UVB rays can irritate the skin. The dermatologist recommends avoiding sun exposure for at least a week after the session. And another way to protect your skin is to apply sunscreen with a minimum of SPF 30.
Read more about Is Laser Hair Removal Permanent?
How Much Does Laser Hair Removal Cost In Bangalore?
If you get a laser hair removal session done in any reputed skin clinic in Bangalore, the charges may range between ₹2500 to ₹5000 per session based on the area you are targeting and a few more factors. The cost of laser hair removal varies depending upon the number of sessions suggested by dermatologists, the thickness of your hair, the type of laser being used, etc.
Follow the below chart to know the cost of laser hair removal in Bangalore on different body parts.
| | |
| --- | --- |
| Targeted area | Cost per session |
| Face | ₹2500 |
| Hands | ₹5000 |
| Legs | ₹6000 |
| Under arms | ₹2500 |
| Bikini area | ₹7000 |
| Full body | ₹15,000 |
| Chin | ₹1500 |
The Factors That Impact The Cost Of Laser Hair Removal In Bangalore
Numerous factors impact the price of laser hair removal in Bangalore, including the type of laser treatment, the clinic's location, the treatment area's size, the amount of hair that needs to be removed, etc. The time required for each session often determines the cost of laser hair removal. And you must understand the factors that impact the price of laser hair removal in Hyderabad before going for the treatment.
Size Of The Treatment Area: The size of the treatment area is the major contributing factor to the cost difference of laser hair removal in different parts of Bangalore. If the size of the target area is large, it will take more time and effort, costing you more. Laser hair removal can be done in any part of your body, including the pubic area. And the bigger the treatment area, the more price you can expect to pay. For example, if you want laser hair removal for your lip area, it will cost you much less than laser hair removal for your legs.
Read more about How Much Does Permanent Laser Hair Removal Cost in India?
The Number Of Sessions Required: Dermatologists suggest 6 to 8 laser hair removal sessions to get visible results. However, the total number of sessions is subjective; some patients might need more than six sessions. And it is well understood that the more sessions you will require, the cost will automatically go higher.
The Color Of Your Hair: The color of the hair and the skin also determine the cost of laser medications. The laser will work best on you if you have light skin and dark hair. And in such hair and skin color, it will take a few sessions. But on dark-colored skin with dark hair, it will take more sessions, and the expense will somehow go high.
The Color Of Your Skin: If you have a dark skin tone and go for laser hair removal, you might need a few more sessions to increase the effectiveness of the treatment. And since the number of sessions is going higher, the total cost will also be a little high.
Choice Of Laser: Knowing which type of laser will go best on your skin is essential. And different types of laser equipment cost differently. That dermatologist will select the most appropriate laser technology after analyzing your skin and hair type. India's most popular laser hair removal system is diode and Nd: Yag.
Men Require More Sessions: Since men have coarser hair than women, laser hair removal for men needs more sessions than laser hair removal treatment for women. Therefore, men should be careful since laser hair removal can slightly hurt their pockets.
Conclusion
Most women dream of never having their unwanted hair back. And we understand how disappointing the hassle of rushing for a hair removal session is when you have some unexpected occasion to attend. Hurray for laser hair removal; you don't need to face that anymore since it helps you have hair-free skin for a long time, but choosing the right laser hair removal clinic is vital. Therefore, you must do your due diligence in researching the best laser hair removal clinic in Bangalore. And the best method of finding a laser hair removal clinic is to know about the doctors performing the procedure and read testimonials about them. But is it possible to know and read about all the doctors availing laser hair removal in Bangalore? Worry not. At choose.clinic, we are doing all the necessary things to suggest the best laser hair removal clinics in Bangalore so that you can search from the convenience of your home and find the best clinic in your proximity and affordable travel costs. You can thank us later after opting for the best clinic in your vicinity and also the most convenient one.