Fractional Radiofrequency microneedling is a type of cosmetic procedure. It is a new technology which helps in improving the skin texture. Radiofrequency waves helps to rejuvenate the facial skin and also helps to reduce open pores, scars, acne, stretch marks, wrinkles, dullness etc. When compared to other treatments like chemical peels, microdermabrasion, radiofrequency microneedling is low invasive.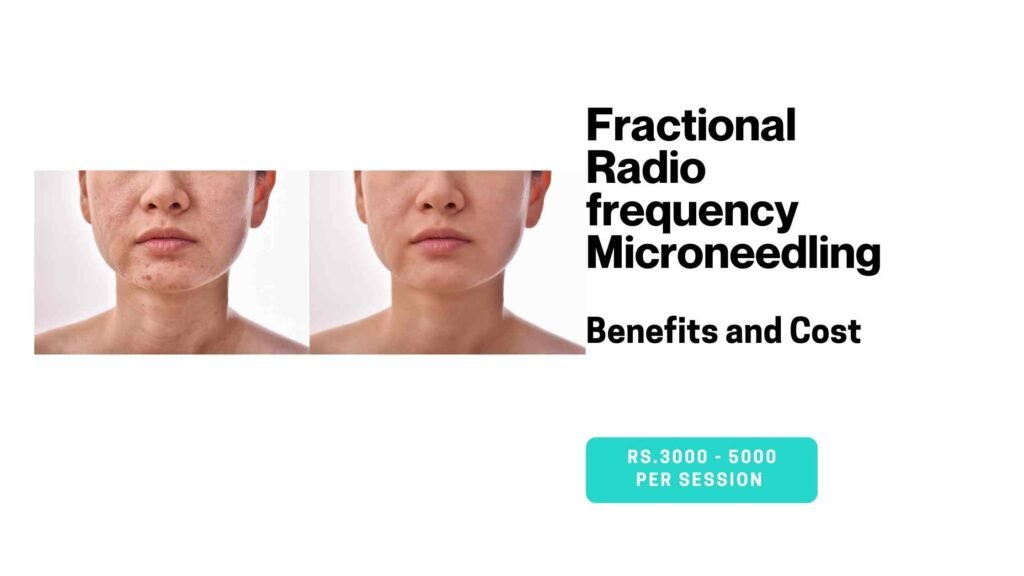 What is Fractional Radiofrequency Microneedling?
Fractional radiofrequency microneedling is a non-invasive technique in which a fine needle is used to create micro wounds in the skin, that can activate the production of collagen. This treatment is also known as collagen induction therapy
In this treatment radio frequency waves are used for micro needling, this needle releases radiofrequency in to the channels, which enhances and rejuvenates the skin. In this procedure you may experience minimal damage for the upper layers of the skin. However, the results of the microneedling can be seen within the downtime. This treatment mainly targets wrinkles, fine lines, large pores, acne, scars, stretch marks etc.
What is the Fractional Radiofrequency Microneedling Procedure?
Doctor first go through about your skin conditions on the face and then clean up your face with alcohol to prevent infection. They apply topical anaesthetic cream or numbing cream an hour before starting the procedure. This cream on the target area to avoid pain while treating. Doctor then uses the equipment by pressing gently in to the skin, which enables the needles to deposit radiofrequency energy in to the skin. These needles make some tiny wounds in your skin. Doctor will continue this procedure with desirable results.
Read more about How Much Does Chemical Peeling Cost In India?
Ideal Candidate for Radiofrequency Microneedling?
As radiofrequency microneedling is a safe procedure, it is suitable for all skin type and seek good benefits. One can avoid this treatment if you have:
Active cold sore breakout.
Skin infection
Pregnant
Skin conditions like psoriasis
History of keloids, hypertrophic scarring etc.
Benefits of the treatment
Radiofrequency microneedling offers huge benefits for all skin types. Some of the benefits mentioned below for this treatment are;
Reduces wrinkles
Rejuvenates skin
Reduces acne scars
Tightens skin
Reduces pigmentation, stretch marks, fine lines, open pores
Dull skin complexion
How much does Radiofrequency Microneedling cost?
Cost of fractional Radiofrequency Microneedling treatment based on the severity, targeted area, thickness, and the number of sessions and varies from person to person. Single session of fractional Radio Frequency microneedling treatment cost from RS.3,000 to RS.5000 per session. The price may vary from clinic to clinic it is recommended to visit dermatologist to know the excat price for this treatment.
Does Radiofrequency Microneedling Hurt?
Fractional Radiofrequency Microneedling is a minimally invasive cosmetic treatment. It can be performed by applying numbing cream, so it cannot hurt much, however one can experience pricking.
Common Side Effects of Radiofrequency Microneedling
Fractional Radiofrequency Microneedling is like cosmetic procedure, it may cause minor side effects.
This procedure may cause mild swelling and redness.
Dryness, scaling, itching etc.
Cold sore breakout
Allergic reactions because of the needles
Fatigue
Headache
Which usually reduces after one are two hours, in some some cases it last up to 2to 3 days.
Post Care after Radiofrequency Microneedling
After performing the procedure your doctor will suggest you how to take care of your skin. This may include following post care tips.
Use of ice packs can reduce swelling and redness
Use of sunscreen for several weeks can be strictly recommended, as your skin will be extra sensitive to sun after the treatment.
Avoid saloon procedure during this treatment
Usage of gentle cleanser
Use of doctor prescribed creams
Avoid makeup next 24 hours.
Fractional Radiofrequency Microneedling procedure not only treats acne, scars but also rejuvenates your skin and also helps you look younger skin, beautiful skin.
In this article you know all about this procedure and if you are looking for the best clinic for Radiofrequency Microneedling treatment book an appointment with the best experienced dermatologist in your city.s