Sunscreens helps us to protect from the dangerous rays from the sun and also protect us from sunburns. Now a days most people use the sunscreen to achieve benefits from a sunscreen. Sunscreen is an essential product for our skincare regime. Mostly many of us apply the sunscreen in hurry or we skip it, because we don't know the right sunscreen to use and we picked the oily one and some have jargon written on them and we are so confused to use it or buy it.
  As sunscreen is the most important in our daily life and we have to face exposure of the sun every day, to protect over skin from sun we have to use sunscreen. Everyone uses sunscreen but the difficult part is that choosing a best non-comedogenic sunscreen. Applying sunscreen can protect us from potential damage such as hyperpigmentation, dark spots caused due to sun exposure.
Read more about How to Reduce Body Heat Pimples
Although, based on the formulations some are thick, oily and greasy. Many confused to choose the right product, but don't worry, in this article we come up with a list of dermatologists recommended non- comedogenic sunscreens.
Here are 7 best non-comedogenic sunscreens:
1.EltaMD UV Clear Facial Sunscreen
The EltaMD UV Clear Facial sunscreen is dermatologically tested. It helps to protect sensitive skin, acne-prone skin from the harmful sun rays. This sunscreen provides with essential protection, moisturizes your skin as well.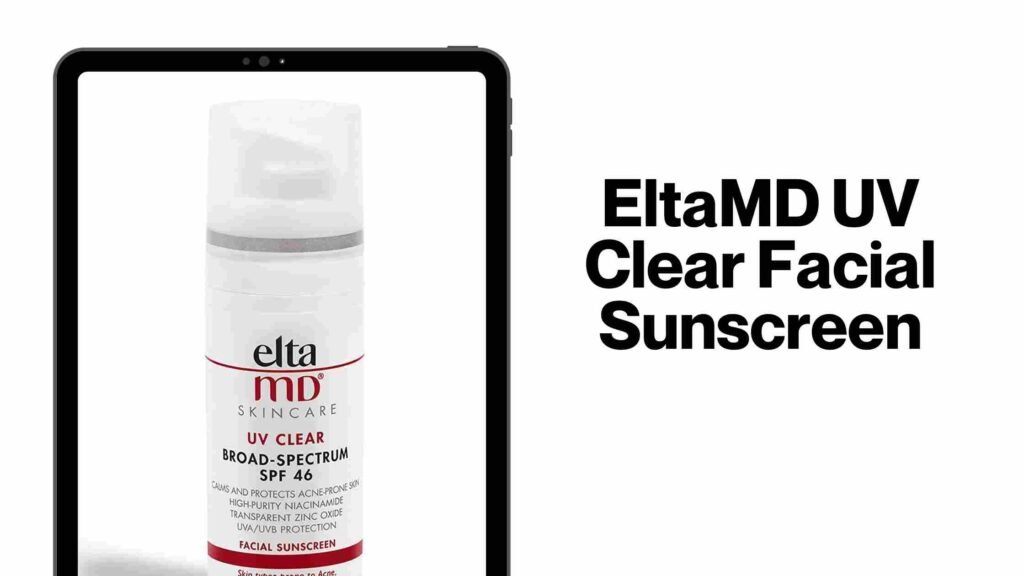 It is a zinc-based cream and also having shielding protection from the UV rays with SPF 46. It also contains nourishing components such as hyaluronic acid, lactic acid and niacinamide which helps to promote healthy skin. This is a non-sticky sunscreen and available in various ecommerce sites.
Features
Absorbed quickly
Lightweight
Oil-free
Dermatologically tested
Francene-free
Cons
Can trigger allergies
Protects sensitive skin types
2.Sun Bum Premium Moisturizing Sunscreen Lotion
The Sun Bum Sunscreen Lotion is dermatologically approved sunscreen with optimum UVA and UVB protection and also contains vitamin E which adds additional nourishment for the skin. This sum bum sunscreen location comes with SPF 30, which is suitable for daily use purpose. This sunscreen has features of water- resistant and ingredients like avobenzone and vitamin E which are recommended by the skin cancer foundation. It is best sunscreen for summer.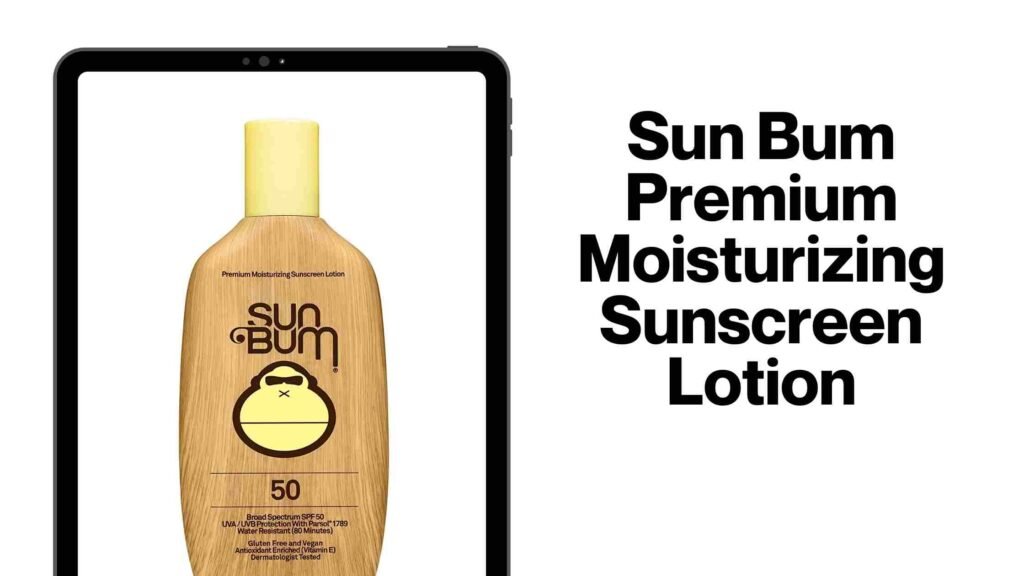 Features
Dermatologically approved
Oil-free
Water-resistance
Hypoallergic
Pleasant mild fragrance
Cons
May leaves chalky residue
Thick texture
3.La Roche-Posay Anthelios Clear Skin Dry Touch Sunscreen
This sunscreen of La Roche-Posay is formulated with cell-ox shield technology which offers optimum UV protection. It comes with SPF 60 to protect from harsh rays of the sun like UVB and UVA. This sunscreen is oil-free, water-resistance, its advanced formula provides protection from the heat and humidity. This product is formulated with avobenzone and coconut oil which not only protect us from the hard sunrays, but also reduces the risk of skin cancers and aging that is caused by the sun exposure. This is 100% mineral sunscreen and works even on the sensitive skin.
Features
Oil-free
Dermatologically tested
Water-resistant
Oxybenzone-free
Paraben-free
Allergy-free
Absorbs quickly
Cons
4.Neutrogena Clear Face Oil-Free Sunscreen
Neutrogena clear face oil-free sunscreen is one of the complete face and body sunscreen. It is a lightweight sunscreen that provides a matte finish on your skin. It is resistance to moisture and sweat up to 80 minutes. This sunburns without causing any breakout of acne. Helioplex technology that offers super protection from the sun's UVA and UVB rays. As this sunscreen is light wight it is great to use everyday activities.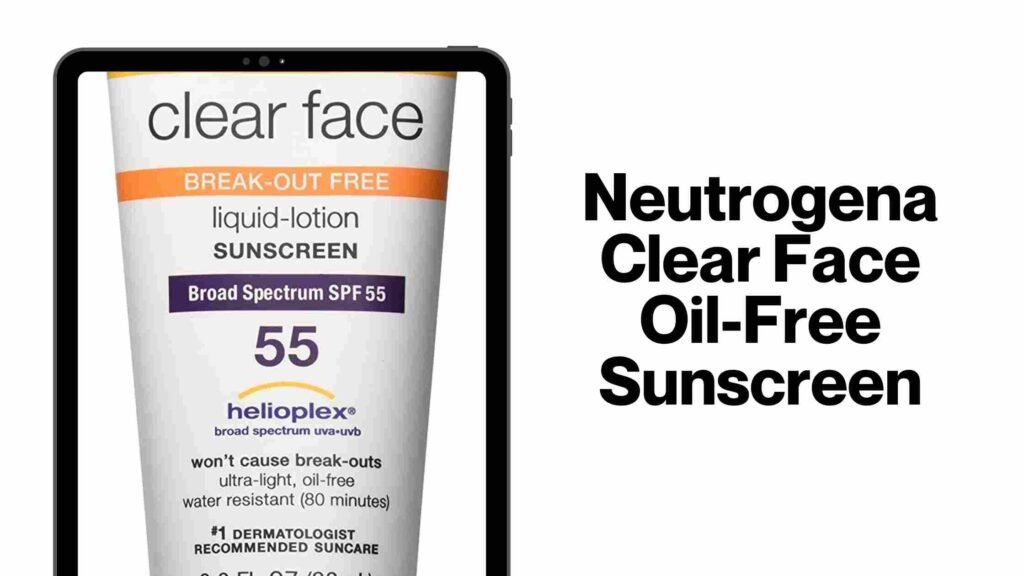 Features
Lightweight
Oil-free
Matte finish
Fast-absorbing
Easy to spread
Cons
It is not suitable for sensitive skin.
5.Differin Moisturizer with Sunscreen Broad Spectrum SPF 30
The Differin Moisturizer with sunscreen provides SPF 30 protects from sun's harsh rays of UVB and UVA to the skin. It is formulated with Oleosome technology which provides a low concentration sunscreen and effective on the skin and offers maximum hydration. It is with Micro Peral technology which removes excess oil from your skin and leaves matte finish on your skin. It is lightweight and oil free sunscreen and also dermatologist recommended.
Features
Non-greasy
Fragrance-free
Lightweight
Matte finish
Dermatologically tested
Hypoallergic
Cons
Takes time to absorb
Causes irritation
6.Cera AM Facial Moisturizing Lotion with Sunscreen
Cera AM Facial Moisturizing Lotion with sunscreen offers UVA and UVB protection. It has oil-free features of hyaluronic acid for the moisture and niacinamide to the skin health.
It also come up the components of micro-fine zinc oxide to protect your skin from sun exposure. It also keeps your skin hydrated through out the day and it is a gentle non-comedogenic sunscreen recommended by the skin cancer foundation. It is suitable for all types of skin such as dry, sensitive, oily and acne-prone skin etc.
Features
Non-greasy
Spreads easily
Absorbs well
Paraben-free
Fragrance free
Cons
7.Tula Skin Care Protect + Glow Daily Sunscreen Gel
Tula skincare protect + glow daily skin care gel comes with broad spectrum SPF 30 that protects skin from the sun harsh UVA and UVB rays. It is formulated with skin benefiting ingredients to remain moisture and strength of the skin. Pineapple and papaya help to promote skins even tone and berry and ginger root protects from the sun blue light. This non-comedogenic sunscreen is suitable for all types of skin.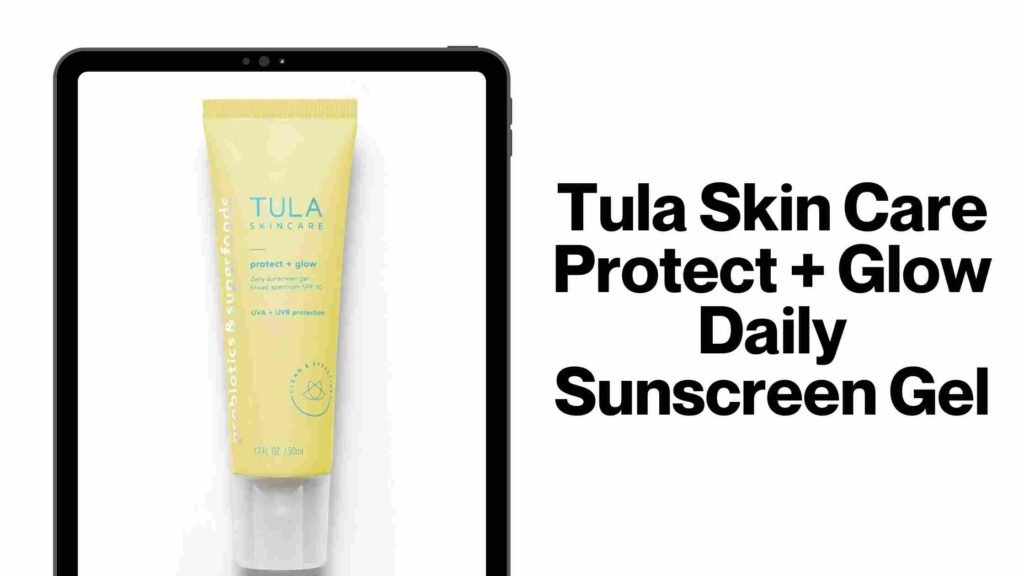 Features
Non-greasy
No residue
Paraben-free
Natural fragrance
Vegan
Cons
May cause breakouts
Stings a bit
Aveeno Baby Sunscreen for Kids
Aveeno baby is the best sunscreen for babies and kids, with minerals and it is mild it used for both face and body. This baby sunscreen is awarded by the National Eczema Association Seal of Acceptance and also recommended by the Skin Care Foundation.
Note:
It is important that, this sunscreen should not apply on the babies under six to eight months.
It is always recommended to wear a sunscreen while going out and never skip this activity. The sunscreens which are listed above not only protect your skin from the sun but also prevent potential damage to the skin. Before using any product kindly take suggestion from your dermatologist, they will suggest you as per your skin type.