Scar is caused when a wound, surgery, acne, injury, burns get healed and they remain scars. Scars may be seen various parts of the body as they can be covered, but facial scars cannot be covered and they are visible. There are many treatments for reducing these types of scars. Most of the clinics offer the scar treatments. In this article you know more about available scar removal treatments and their respective cost per session in India.
Read more about Acne Scar Treatment in Hyderabad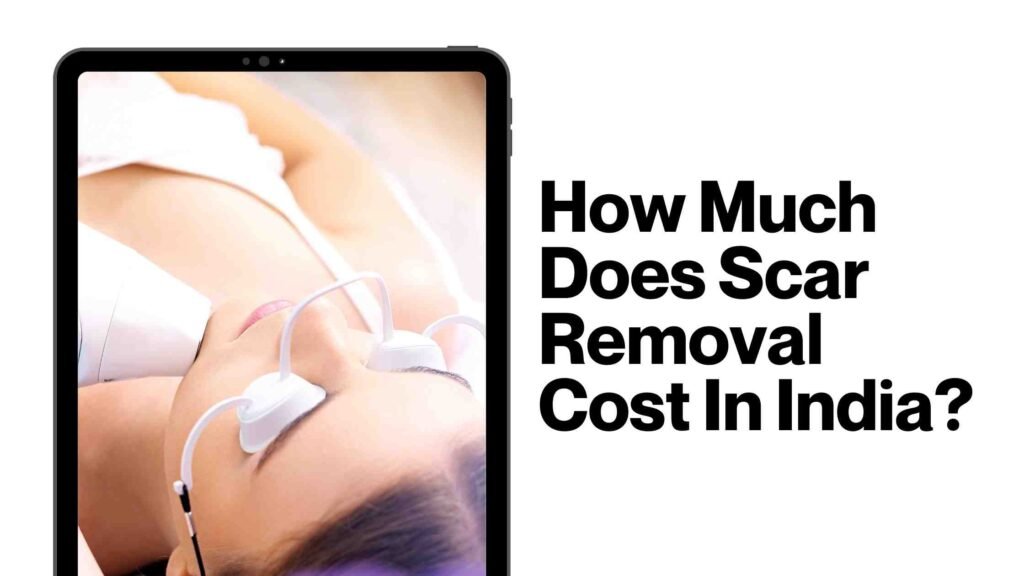 Why Should One Opt For Scar Removal Treatment?
If you are looking for scar removal treatments following are the types of scars
Acne scars- Acne scars are the acne pore swells and a breakdown occurs in the wall of the pore. Sometimes scars due to acne are vary in appearance they create shallow and heal quickly, and the contents of blemishes spill in to the surrounding tissue and as a result deeper scars are created, they severely affect the skin. So that one can need treatment to correct your skin.
Other Scars- There are some other causes for scars not only acne some types of scars cause due to sunburns, cuts, chickenpox, surgeries, injury etc can leave permanent visible scars on your skin.
How Can A Scar Revision Treatment Help?
There are many advanced treatments and options to treat the scar issues. Sometimes scar removal procedure may be surgical and non- surgical methods, each of them has their benefits and different costs. Consult with a dermatologist about the available treatment options and they will determine what type of acne scar do you have and they suggest the best treatments to reduce your scars. Laser scar removal methods gives you the best results. While reding this article you can understand more about laser removal of scar and other methods for scar removal and their benefits and Costs.
How Does Laser Scar Removal Work?
Laser removal for scar involves high intensity lasers in a controlled manner to treat the scar tissue of your skin. In this therapy high-intensity light energy is used, which is send to the deeper layers of the skin to heal the damage tissue. This laser stimulates the collagen cells which improves texture of the scar tissues. This reduces the scar appearance and also improves your skin texture. Lasers can treat all types of scars including chickenpox, atrophic scars. Your dermatologist suggests you the procedure whether combination treatment or single treatment based on the type of scar.
Read more about Laser treatment for acne scars cost in Hyderabad
Cost Of Laser Treatment For Acne Scars
Cost of laser treatment for acne scar removal in India usually, varies between RS.5000 to RS. 7000 per session. The cost may vary depends on the size of the scar and the area being treated. Cost is differed to one person to another and also based on the severity and the treatment and based on the number of sessions.
Some of the other scars treatment packages are:
Laser treatment for burn scars costs between RS. 10000 to RS. 15000.
Laser removal for injury scars costs between RS. 5000 to RS. 15000.
Chickenpox scar removal cost between RS. 6000 to RS. 10000.
The prices may vary person to person and city to city based on the customized treatments, and also based on the experience of the dermatologist and the type of laser technology used.
Below is the price comparison of laser scar removal treatment across major cities of India:
| | |
| --- | --- |
| City | Prices vary Between |
| Delhi | RS.7000 to RS. 17000 |
| Mumbai | RS. 7000 to RS. 18000 |
| Pune | RS.6000 to RS. 15000 |
| Kolkata | RS. 5000 to RS. 18000 |
| Bangalore | RS. 8000 to RS. 18000 |
| Hyderabad | RS. 6000 to RS. 16000 |
| Visakhapatnam | RS. 5000 to RS. 15000 |
| Vijayawada | RS. 5000 to RS. 15000 |
| Chennai | RS. 7000 to RS. 17000 |
| Kochi | RS. 6000 to RS. 16000 |
Why Does Price For Laser Treatment Of Scar Removal Vary?
Following elements influence the price of laser scar removal treatment across India.
Type Of The Scar: Scars are of different types being treated scars involved different methods such as combination treatments or single treatments so it may vary in price.
Size Of The Scar: Based on the size of the scar and the area being treated plays an important role and number of sessions required. These factors influence the price.
Depth OF The Scar: Depth of the scar need more sessions of the treatment as they are in to deeper layers of the skin. Thus, more sessions required and involves cost of the sessions.
Other scar Revision Options And Cost
Here we come up with some other scar removal treatments which are dermatologist recommended and also their cost.
Microdermabrasion: It is one of the most effective methods to treat scars. This method involves to exfoliate the outer layer of the skin or dead skin cells without damaging the inner skin layers. The average cost of microdermabrasion treatment for scars ranges between RS. 2000 to RS. 4000 per session.
Chemical Peels: Chemical peels uses some plant-based extracts or mild chemicals that are applied to the skin, in result the upper layer of the skin exfoliates and new skin develops. The average cost for the chemical peel treatment for the scars ranges between RS. 2000 to RS. 5000 per session.
Dermal Fillers: Dermatologists Uses fillers which contains hyaluronic acid to the depressed scar to fill it, few months later the enzymes of the body digest the hyaluronic acid this reduces the scar in long time. But this treatment doesn't show long lasting results. The price of the scar removal treatment using dermal fillers ranges between RS. 20,000 to RS. 30,000.
Excision: Excision is a procedure in which the scar appearance reduces by cutting the damaged tissue out and fuses the skin with multiple layers of appropriate sutures. The cost for the excision treatment ranges between RS. 10,000 to RS. 20,000.
Topical Applications: Some of the topical creams which have silicon-based components available in the market, they have limited very limited results when compare to other scar removal treatments, as these creams cannot go deep in to the skin layer. Before using this type of scar removal creams ask your doctor first. Price of the topical applications ranges from RS. 400 to RS. 1000 these prices may vary from brand to brand.
Microneedling Radiofrequency: Microneedling radiofrequency send radiofrequency currents to the skin to reduce scars. It generates heat stimulates the collagen production and improves the skin texture. The cost of microneedling radiofrequency ranges between RS. 8000 to RS. 18000.
However, your dermatologist which treatment is opt for you based on the type, depth, severity of the scar. Laser scar removal treatments are most effective procedure for removing scar. Sometimes dermatologist may recommend combination treatments for the best results.
Laser Vs Other Scar Removal Treatments
Laser treatment is most effective procedure for scar removal because of its efficiency. In some cases chemical peels, dermabrasion with combination of lasers work better. Your dermatologist suggest which treatments goes better with your skin to give best results.
Top benefits laser scar removal treatments offers:
It is a quick procedure; it may take up to 2 hours along with the preparation time for the laser therapy which involves numbing cream application.
It has fastest recovery time when compare to the other methods, with minimal post-care support.
Results for this procedure will be noticeable after taking 6 to 8 sessions, your dermatologist will suggest you the number of sessions required, based on the type of scar and the severity.
This is totally non-invasive procedure with less discomfort.
It is an FDA approved latest technology of lasers; it is the safest procedure with minimal side effects.
There is no risk of burns or cuts and infections.
This procedure is suitable for all skin types.
It is the one of the best options when compare to the other scar removal methods.
By reading this article you gain some knowledge about which treatments can remove the scar and their benefits and cost. If you are looking for advanced solutions with best experienced doctors for your scar removal treatments, book an appointment at your nearest clinic today.