Labelle West Marredpally, Hyderabad
Clinics / 887 views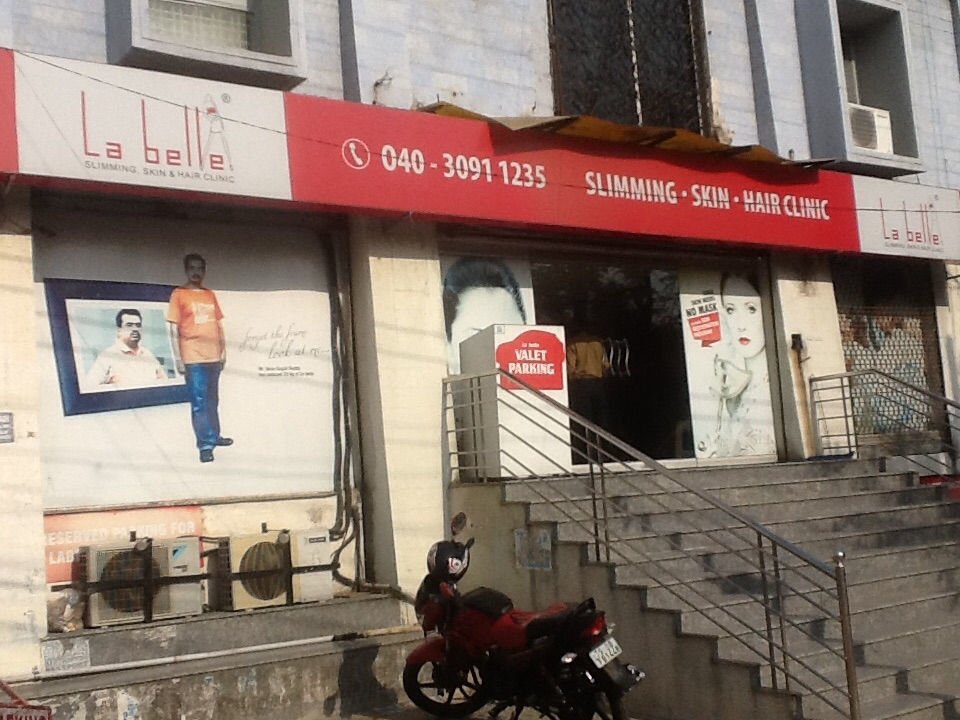 Labelle Slimming, Skin and Hair Clinic in West Marredpally
There are some women we all know that no matter the occasion, always have hair that appears healthy, glossy and full of life. Trust us, no matter how much they protest; however, having such hair that oozes such exuberance is no accident and that take struggle on their behalf. Every woman wants to look charming and for that, it is vital to follow a healthy lifestyle. Luckily, here we are enlisting some flawless hair care tips that will help you to look elegant. Have a glimpse of these tips and follow them religiously.
Skin Care Services 
Skin Polishing
Under Eye Dark Circles
Stretch Marks Removal
Skin Tightening Treatment
Whitehead Removal
Breast Reduction
HIFU Treatment
Skin Fairness Treatment
Wart Removal Treatment
Tattoo Removal Treatment
Dark Spots Treatment
Skin Lifting
Skin Peeling
Pigmentation Treatment
Skin Rejuvenation
Blackhead Removal
Breast Lift
Hair Care Services
Hair Regrowth
Mesotherapy
Hair Bonding/ Hair Fixing
Anti Dandruff Treatment
Damaged Hair Transplant
Non-Surgical Hair Replacement
Hair Weaving
Stem Cell therapy for Hair
Slimming Services
Tummy Tuck Treatment
Figure Correction
Abstain from the Excess Usage of the Dryer
Unnecessary blow drying is a sure-fire approach to harm your locks, as is overheating hair with styling instruments. It might save your time to put your hair curling accessories on the highest setting; perhaps doing such a thing will damage the hairs to a great extent. Therefore, it is advised to cut down the excess use of heat-styling products regularly. However, doing as such will make damage your hair and scalp over a long time. Endeavor to abstain from utilizing heat-styling items regularly. It's also imperative to cease from blow-drying your hair right after shampooing. By enabling your hair to dry for fifteen minutes in a towel turban, you can dry your hair with a dryer with the condition that the dryer must be at the minimum mode. Apart from avoiding heat, make sure that you are drying your hair perfectly. It is recommended drying your hair from a distance in order to give your hair a lift that everyone will notice.
Use Right Products 
It is essential to use the right products for your hair and other things like skin, nails etc. Talking about the quality of hairs, you must go for products that are free from parabens and SLS. You can go for the product that comprises natural ingredients and essential oils. Foremost, before using any product it is essential to know what type of hair you have and which product will be suitable for you. Contact Labelle slimming, skin and hair clinic in West Marredpally to know everything about your hairs. Not only hairs, but you can also get a detailed consultation regarding your skin also. At Labelle clinic, we have professional dermatologists who will help you get rid of skin and hair issues.
Follow Balanced Diet
Having a healthy lifestyle is prominent for flawless hair and skin. To keep your hair nourished, it is vital that you should follow a balanced diet that comprises essential vitamins, minerals, and proteins. A balanced diet helps the person to become slim (if the person is chubby), beautiful and healthy. Even though you are prone to skin problems like acne, pimples, etc, by following a balanced diet, you will get rid of these issues.
In case you have a severe problem related to your skin or hair or nails, or you want to lose weight, then it is recommended to book your appointment Labelle slimming, skin and hair clinic in West Marredpally. The certified doctors will facilitate you in regard to your problem and they will give you the right treatment.
Other Branches of Labelle in Hyderabad
Labelle Ameerpet
Labelle Himayatnagar/Adarsh Nagar